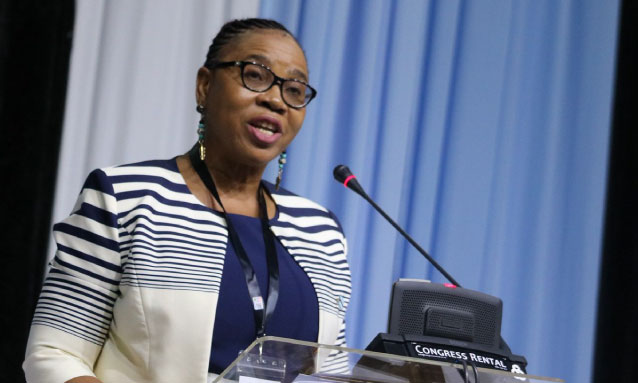 The COVID-19 pandemic has forced the government to put about 4,400 posts across the public sector on ice. According to the Directorate of Public Service Management (DPSM) Director, Goitseone Mosalakatane, the frozen posts are worth over P7.86 million, which has been diverted to fight the Coronavirus pandemic.
"The Ministry of Finance had authorised us to withdraw the posts and use the money for COVID-19. 50% of that money has been taken and used for COVID-19," she told the Public Accounts Committee (PAC) recently.
While she agreed with PAC members that this could affect productivity and effective delivery of services in the public sector, Mosalakatane said where there is a serious need for personnel, departments are allowed to employ or fill up posts.
"If departments have burning cases, we will allow them to hire. The ministries will be allowed to draw from the remaining 50% to fill up pressing post," Mosalakatane added.
She said there are implications on service delivery, but ministries have been asked to look at priority and critical areas while also rationalising positions. Botswana, like many other countries, has been hit by COVID-19, but the government has committed to keeping employees in their jobs. Recently, the government announced that it would increase civil servants' salaries after initially halting the move due to the COVID-19 outbreak. The increment is effective end of September 2020 but will be backdated to April 1.
Meanwhile, Mosalakatane told the committee that they would follow up with ministries if there are cases of unpaid workers employed just before COVID-19. Pule raised concern over government-employed public servants who could not work due to COVID-19 not having been paid. Pule wanted the director to explain whether this was procedural.
"Legally, the employer has to provide work. We haven't looked at the issue of COVID-19. I wish they had come to us on the issue. We will check with the ministries if they had experienced that," she said.
---
YourBotswana view…
There's no doubt that the COVID-19 pandemic is wreaking havoc with global economies. However, we can't deny that it is also exposing administrative deficiencies, forcing governments the world over to expedite systems and procedures aimed at plugging the gaping holes that have now become apparent. There's no doubt in my mind that a lot of the measures that some governments are scrambling to adopt are long overdue.
President Masisi's pledge to slim down bloated public sector
Last year during Botswana's national elections, I remember President Mokgweetsi Masisi pledging to slim down Botswana's bloated public sector. I totally agreed with him and applauded him for going down this route. I have always found it strange that the government employs the number of people it employs. I'm no expert, but I strongly believe the government employs way too many people, it has too many similar parastatal entities that can easily be consolidated into one – case in point; BITC/Brand Botswana/ Botswana Tourism Organisation / HATAB. Don't even get me started on the GoBotswana 'thing' which just adds to the confusion as to what it is, what role it plays, where it slots in in relation to Brand Botswana and the BITC.
A thriving private sector for the creation of jobs
President Masisi swore he'd strive to create a conducive environment for the private sector to enable it to take on the responsibility of creating more jobs. This would take the pressure off the government, allowing it to focus on more pressing national issues. Again, I commended the president because I don't think it's sustainable for any government to employ as many people as ours does. It's a drain on the public coffers and in my opinion, slows down growth. It's no secret that productivity in the public sector is non-existent – you are mainly confronted with rude, sullen, lethargic colleagues you almost have to BEG to do the very job they are employed to do.
A slimmer workforce likely to boost productivity
Visit any government office and you'll see too many people lethargically shuffling around doing nothing, milling around others colleagues trying to work (highly unprofessional), shoddy customer service, service delivery as slow as a snail stuck in mud, no accountability, rife corruption (from land boards to transport offices, government procurement departments etc). I strongly believe it's in part because of waaaaay too many colleagues. We even joke that if you want a job for life in Botswana, get a job with the government because you'll almost never get the sack – so secure is a job in Botswana's public sector that it's next to impossible to be shown the door for outright laziness, corruption, repeatedly reporting for work drunk, performing below set standards etc. As tragic as it is, it's also accurate.
So, with all due respect, I disagree with DPSM Director, Goitseone Mosalakatane that freezing jobs will affect service delivery and productivity. I believe the exact opposite is likely to happen – that is, of course, if decisions on who to retain are based solely on merit, which is another 'problem area' in Botswana.
Going back to basics and streamlining
The government doesn't have a bottomless pit stuffed full of money, least of all now. To my mind, it makes sense to go back to basics and streamline the public sector to boost productivity. We are faced with dire times, which in turn calls for desperate austerity measures.
This is the time for the government to consolidate similar entities, get rid of deadwood and employ the right people in the right roles based solely on merit, not who you know, not because you go to the same church or because you've had your palm greased. I'm sorry but an Accountant does not make for a very good marketing colleague, an English teacher cannot effectively carry out the duties of a qualified graphic designer etc. – unless they have been up-skilled. Sacking not shielding under-performing colleagues sends out the message that the government is not a soft touch and people have to up their standards or risk getting the sack.
A slimmer workforce means colleagues have nowhere to hide and can thus be held accountable. Incentives such as further training are fantastic tools through which to boost productivity. Boosting best customer service practices shouldn't be such a chore for Botswana.

I have always maintained that our culture and spirit of BOTHO form the very basis of customer service delivery. The way I see it, the two can't be separated and by that token, I genuinely feel Botswana should be the shining example of excellent customer service delivery.
I lived in the UK for 13 years where I worked in the customer service sector the whole time I was there. I aced the formal training I embarked on. Even before I received customer service training, it came naturally to me and I consistently received fantastic feedback from my British superiors, even helping train new colleagues. That's because I leaned heavily on our culture and spirit of BOTHO. Colleagues across government entities could do well to return to and borrow from those values.
Forget the 4th Industrial Revolution because I don't think we've even cleared the first and second. Not when we still use tired systems, which can only be described as relics that are nowhere near fit for purpose (they are down half the time!), not when the use of fax is still a thing, not when our filing systems are still largely paper-based, not when cheques are still in use, form filling is common place, hand delivering documents is the norm, we close down offices for an hour-long lunch break – I could go on, but I'm sure you get the idea. 

We need to drag Botswana screaming and kicking into the 21st century to boost growth and productivity, and there's no time like the present!
In my opinion, unless we start with these baby steps, the Botswana workforce will continue to chug along as it is and nothing will ever clean up the image of Batswana being lazy and lacking good work ethic. We need to start somewhere and I believe strongly that if addressing the aforementioned areas (among others) is as good a starting point as it gets.
Reference: https://www.mmegi.bw/index.php?aid=86930&dir=2020/september/07