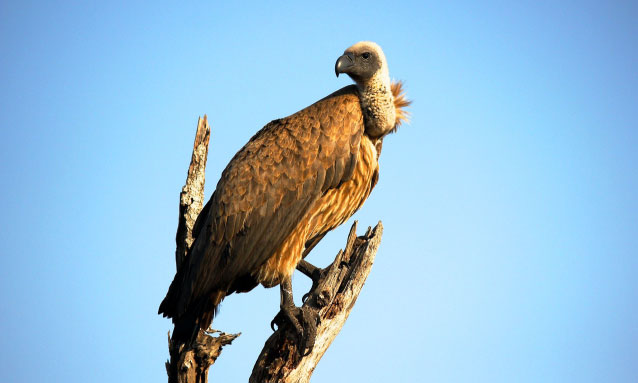 Organisations within Botswana, South Africa and Zimbabwe have established a vulture safe zone to help save the endangered species. This year, the Endangered Wildlife Trust launched an initiative to develop a Vulture Safe Zone (VSZ) within the vulture-rich region linking South Africa, Botswana and Zimbabwe. The trust launched the initiative on this year's International Vulture Awareness Day (5th September 2020) in celebration of Africa's remarkable vultures and the critical role they play to keep our planet healthy.
Specifically, the project will catalyse the formation of a broad network of landowners, communities and key stakeholders in the region. The network will commit to manage their properties in a vulture-safe manner, which will ultimately result in the first-ever African transboundary VSZ.
This VSZ spans approximately 30,000 km2, with the critical vulture breeding habitat of the Limpopo River system at its core. It also links important breeding and foraging habitat throughout the Greater Mapungubwe Transfrontier Conservation Area. The area includes the Thuli Block, Tswapong hills and Makgadikgadi Wetland System of Botswana, Tuli Circle, Bubye Valley Conservancy in southern Zimbabwe and extends down to the Soutpansberg Mountains in South Africa. 

The latter area houses one of the most significant breeding colonies of Cape Vultures in the world, the Blouberg colony. Over 80% of the area is privately owned, and thus the involvement of private landowners to safeguard this Endangered species is at the heart of the VSZ.
The project has created exciting new partnerships and further collaboration between important vulture conservation organisations including the Endangered Wildlife Trust, Raptors Botswana, BirdLife South Africa, and BirdLife Zimbabwe, who will collectively lead the implementation of various activities across this vast landscape. This VSZ, which arises from extensive consultation with stakeholders, implementing partners, conservation and species experts, has the overarching aim of ensuring the following criteria are implemented:
Wildlife poisoning prevention, anti-poisoning and anti-lead initiatives to reduce the impact of poisons
Poison is not illegally used in the control and killing of mammalian predators such as lions or jackals, or crop-damaging species including baboon, elephant and avian pests
Poisons are not illegally used to kill wildlife for its meat/skin or harvesting of body parts for trade and/or use in traditional medicine
Select individuals on reserves and poisoning hotspots within the VSZ are to receive poison response training
A poison response protocol is put in place and, where applicable, drafted into the relevant biodiversity management plan for properties and reserves within the VSZ;
Only lead-free ammunition is used to cull/hunt game/slaughter livestock;
Vulture-friendly infrastructure:
All agricultural and electrical infrastructure in the VSZ is vulture-safe i.e. modified and designed to prevent electrocutions and collisions;
Water reservoirs are modified to prevent vultures from drowning;
Vulture monitoring:
Nesting sites are protected from disturbance;
All vulture populations are monitored following a recommended monitoring protocol;
All vulture injuries or mortalities are reported to the Vulture Safe Zone Alliance. Injured birds will be recovered and taken to affiliated rehabilitation centres
Vulture-safe supplementary feeding areas:
Supplementary feeding sites /vulture restaurants are managed according to the recommended protocols and safe food is provided on these sites (i.e. free from veterinary drugs)
Anti-inflammatory drugs and other veterinary drugs which are toxic to vultures, such as Diclofenac, are not used to treat game/livestock
The establishment of vulture safe zones is a concept recommended in the Migratory Species (CMS) Multi-species Action Plan (MsAP) for African-Eurasian Vultures (Action 11.4.4.).
A VSZ is an appropriately sized geographic area in which targeted conservation measures are undertaken to address the key threats relevant to the vulture species present. The application of VSZs provides targeted, spatially explicit conservation action to address the major risks to vultures. Initially implemented by countries in Asia, the application of VSZs in southern Africa has important consequences for vulture conservation and the targeting of conservation efforts, particularly with regard to the efficacy of VSZs to combat poisoning around vulture breeding populations.
The development of a VSZ is a long-term initiative that can span ten years of conservation work. This initially requires the effective coordination and establishment of a network of willing landowners and other stakeholders that, in due course, commit to managing their land in a vulture-safe manner, as well as the identification of implementing parties to lead the VSZ work within each site. The proposed VSZ project has already gained a significant amount of momentum and buy-in from farmers, reserves and stakeholders. The work will ultimately help to develop sustainable land practices that benefit both the people and a range of wildlife within the VSZ. Importantly, this approach encourages positive action for wildlife, focusing less on prohibition and negative messaging and more on sound environmental practices that could provide landowners with reputational and economic benefits.
Endangered Wildlife Trust believes that the establishment of a VSZ in the vulture rich region that links the Botswana, South Africa and Zimbabwe area will make a significant contribution to the conservation of vultures in southern Africa and look forward to working with all stakeholders in making this a reality.
For the complete article: https://www.goodthingsguy.com/environment/southern-africa-unite-save-endangered-vultures/
Sources: EWT – Press Release