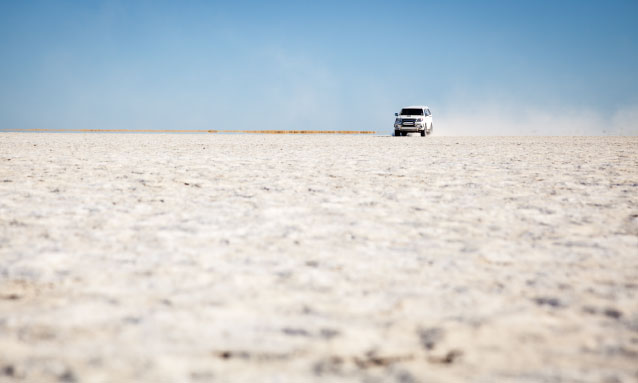 It's safe to say 2020 has been one terrifyingly awful year. Coronavirus has impacted almost every industry, no more so than travel and tourism. The damage caused due to loss of business is already evident and many more businesses may not survive. A large number of safari lodges have already taken drastic measures by furloughing staff or heavily reducing salaries, while others have been forced to make redundancies. We are truly living in uncertain times.
Currently, there are no international travellers coming to Botswana, so attention has turned to domestic tourism. Although this too is a challenge. Many people here have been affected by the numerous lockdowns and lack of business, reducing incomes. Yet for those who do have adequate budgets, there is a beautiful country out there for them to explore.
In a bid to entice would-be travellers, local media personalities, Thalefang Charles and Sonny Serite (in partnership with BTO, among others) embarked upon a campaign called, Rediscover Botswana – an epic 8,000km road trip around Botswana. On 27 July, Thalefang and Sonny, along with an entourage drove from one glorious destination to the next and returned to Gaborone on 22 August. They kept a diary of their trip on social media, sharing pictures of their wonderful experiences and proved, Botswana is one of the most beautiful destinations on the planet.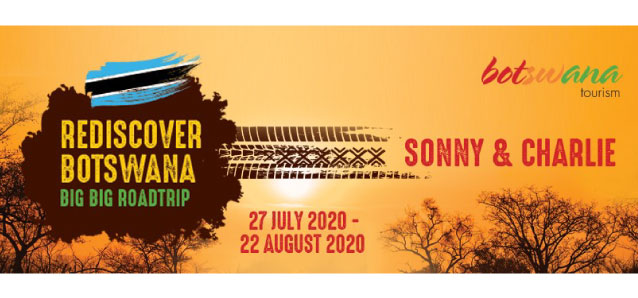 BTO CEO, Myra Sekgororoane, shared that the campaign is aimed at "increasing Botswana tourism product knowledge to influence and increase domestic travel." The recently completed cross country road trip showcased and outlined "practical mechanisms to address the needs of a local traveller, which will be achieved through education and awareness on available, affordable and accessible travel and tourism opportunities and packages from the industry," she further added.
Could it have been better?
At the risk of sounding like a party pooper, while this campaign had its merits, I can't help but think it could have been something more uplifting. Ever since the start of the pandemic, we have seen inspirational hashtags such as #tourismstrong and #togetherintourism, but this campaign was somewhat exclusive. There are currently thousands of people within the industry, scattered all over the country, many of whom are out of work and struggling. These guys are desperate for the industry to recover and I'm sure they would be willing to do whatever they can to ensure its survival.
I just can't shake the fact this campaign missed a trick. I mean no disrespect towards Thalefang or Sonny, but they are reporters. Why not utilise the country's tourism experts currently twiddling their thumbs? BTO could have brought the tourism industry together and made this an inclusive campaign. Imagine how it would have been had contributions come from a variety of people with varying degrees of travel and tourism knowledge and experience.
Thalefang and Sonny could have still been involved by covering the campaign via Skype, interviewing the 'travellers' and publishing their stories and pictures in their respective newspapers. Isn't this a time when we should be using people's expertise and allowing them to share their passion? Why not make those within the industry, the people affected, the focal point, give them a platform and raise their spirits? Does the tourism industry feel two media personalities best represent them and their industry? Who better to promote Botswana than the people who have been doing exactly that on a daily basis for many years? Who better to commit to a campaign than those whose lives and livelihoods literally depend on it?
I also wonder why dedicated Facebook and instagram pages weren't created. Scrolling through the Botswana Tourism page to find the Rediscover Botswana posts is frustrating, since you have to scroll through all of BTO's posts as well.
Could the campaign have considered the current situation?
Another tricky aspect of domestic tourism at the moment is the fact Botswana is currently split into zones. The country has been divided into zonal areas to limit the potential spread of coronavirus. In order to cross into another zone you need a permit along with a good reason. People have had applications approved, allowing them to travel to the Delta, but realistically, it's not ideal to have people leaving their zones. I'm sure the COVID-19 Task Force would prefer they didn't.
The Task Force is literally between rock and hard place. It doesn't help tourism or the country's recovery if infections continue to rise, but domestic tourism is needed. It wasn't too late for the zones to be a consideration since they were announced after the first lockdown ended in late May, this road trip didn't commence until two months later.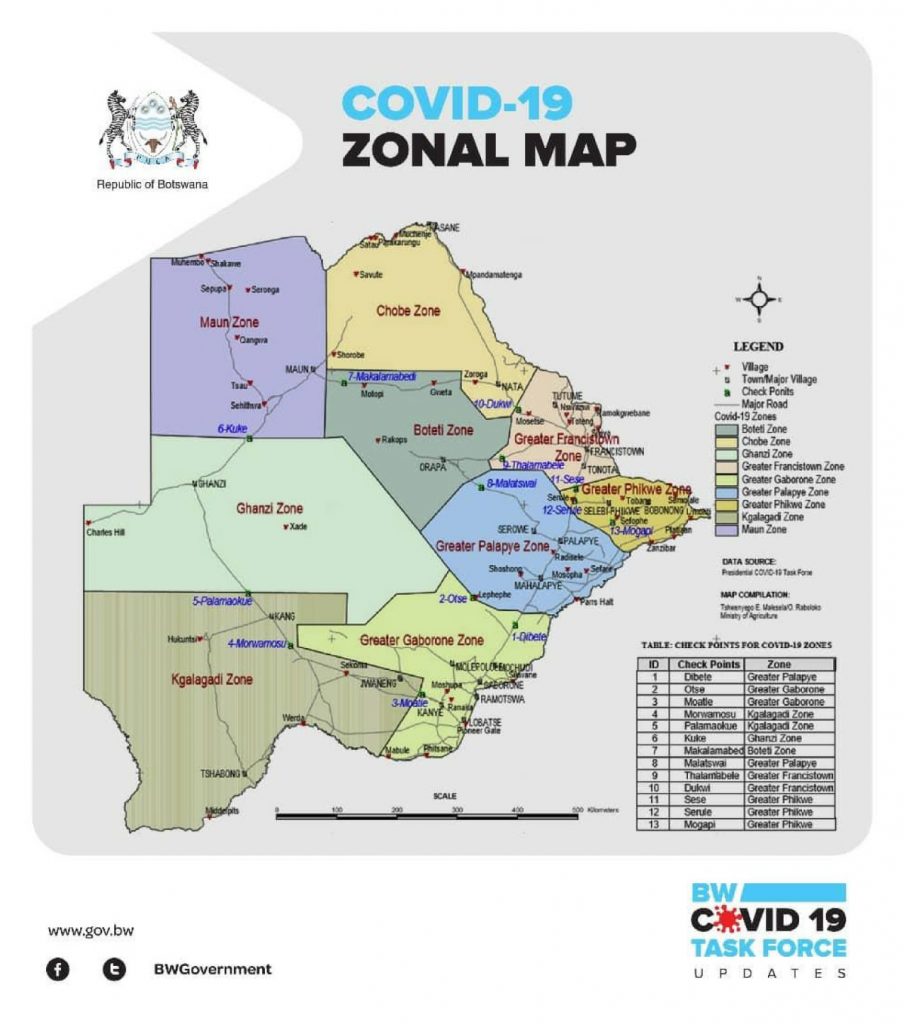 Instead of Rediscover Botswana being an 8,000km road trip, BTO could have assigned tourism personnel in each of the zones to highlight the attractions available within their zones. Obviously, the attractions in the north of Botswana are fairly obvious, but people could have been charged with discovering hidden gems, lesser-known areas and places you don't know exist. In that respect, Rediscover Botswana should have been Explore Botswana or Unexplored Botswana.
For example, the team visited the Makgadikgadi Salt Pans, but this area has been discovered and rediscovered over and over, so they weren't going to uncover anything new. Yet had the road trip passed through an area such as the Tuli Block, they could have explored a relatively unexplored part of the country. Lest we forget, this campaign will appeal to both domestic and foreign tourists.
How do we measure its success?
"I do wonder how they measure their return on investment for this campaign. Tourism is ours, stakeholder engagement is pivotal." Comment made by a concerned citizen.
Another question is how BTO will assess the success of this campaign? Thanks to the Federal Republic of Germany the Ministry of Environment, Natural Resources and Tourism received a generous donation in the region of P65 million towards supporting the tourism sector. But had that donation not been made, what would determine whether Rediscover Botswana was a success?
On the face of it, the campaign was a good idea, but upon further inspection, I wonder if it has actually helped. Has it reassured all those people within the industry that there is light at the end of the tunnel? Has it encouraged residents of Botswana to explore their own country, or have they just enjoyed nice pictures posted on social media?
---
I'm just being honest and objective. BTO (and other organisations) regularly post countless pictures of Botswana's beautiful landscapes and wildlife, but I hope this campaign yields more than just sunset imagery and more endless elephant pictures. Maybe some videos of activities? Did they come across any family-friendly venues and entertainment? Considering these guys are reporters, did they conduct any honest interviews with lodge owners? How have they been surviving so far? Are they offering any specials? Have they benefitted from the COVID-19 Relief Fund; if so, how has it helped?
But hey, it's easy to sit here and find faults and make suggestions on how things could have been done differently. Although, it's not like BTO solicited ideas or suggestions beforehand. But it is what is… well done to the Rediscover Botswana team.
---
But are we together in tourism?
We should be congratulating the team and moving on, but then a post cropped up on Facebook, which cast a shadow over this campaign and touched a nerve for many Batswana. A young lady posted a tweet stating she and her friends submitted a similar proposal to BTO with regards to a tour of Botswana, but their proposal was rejected. Yet further down the line, BTO went ahead with the Rediscover Botswana campaign, which was proposed by Thalefang or Sonny. Naturally, anyone can say they came up with an idea first and I'm sure others have claimed the same.
But in this instance, a representative of BTO responded and cast the dark shadow.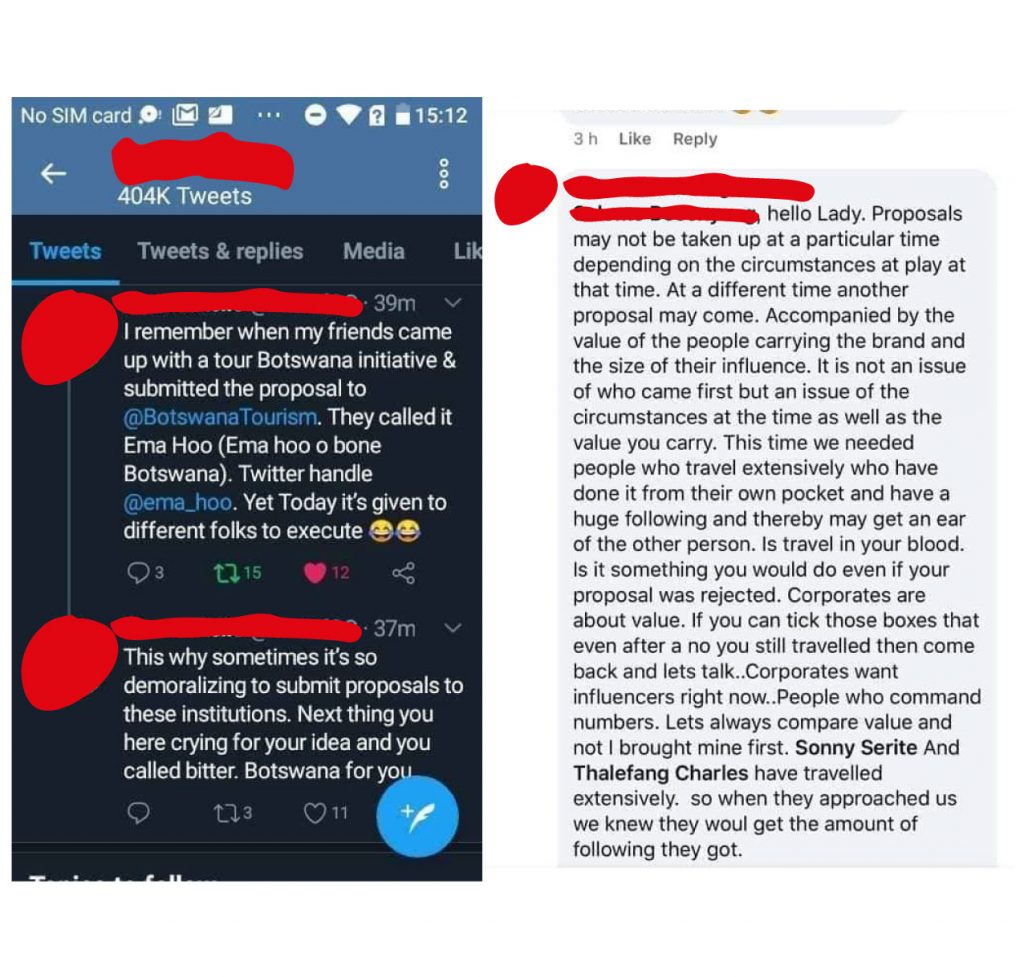 What irks me about this exchange is the way PR and courtesy went out the window and was replaced with a certain degree of arrogance and a distinct lack of sensitivity. We are encouraged to empower people, not make them feel like nobodies.
How can you say (on a public platform) that some people are taken seriously over others because of their perceived value and the size of their influence? This implies the people behind the 'Ema Hoo' proposal have no value and are therefore worthless. I mean seriously, I couldn't believe what I was reading. Is this really BTO's criteria when analysing proposals? This response pretty much implied BTO doesn't take anyone seriously unless they have value and influence… and what exactly determines someone's value and influence?
Touched a nerve
So many people claim their ideas go nowhere, so this opinion must be widespread and the reason Botswana's development is going nowhere fast. Should we only support initiatives or businesses owned by people with influence? Don't engage the services or buy the products unless we recognise the face behind the counter?
This isn't a joke, it's actually a serious problem… Botswana is a 'who you know' culture and its debilitating growth. We all know it and at some stage, we have all been subjected to it. His Excellency President Masisi and the government have done what they can to create conducive environments for local businesses and the youth. Various ministries and parastatals have funds available for SMEs and young entrepreneurs, yet these initiatives can go unnoticed or ignored.
We've spoken to people and asked them why they don't take advantage of these resources. The general consensus is they can actually be quite difficult to obtain, you're more likely to get funding if you have the right connections or status. Quite a few people have told us they refuse to pitch proposals to organisations for fear of their ideas being rejected and later stolen. While there's no evidence to support these claims, it's difficult to ignore them when so many random people are saying the same thing. Have we really reached a stage where everyone with an idea should seek legal advice before presenting them, and request NDAs to be signed beforehand?!
We are experiencing the worst global disaster most of us have ever experienced in our lives. There's no time for selfish behaviour, greed or self-indulgence, we must stick together and work together. Someone who has influence doesn't necessarily have the best ideas, influence means nothing without the right ideas, experience and the skills to execute them. Everyone has value!
The BTO representative then goes on to explain that on this occasion, BTO wanted people who have travelled extensively and out of their own pocket. Why is that so important? Corporates want 'numbers' – what numbers? I can only assume this means the number of 'likes' and followers on Facebook. Well, that's just an imaginary world because Facebook isn't real and 'likes' do not convert to sales. Plus, I don't see many influencers on social media promoting anything other than themselves. Did any other influencers promote the Rediscover Botswana campaign?
---
Tourism is going through its toughest period ever, but on the basis of this response, is BTO really about #togetherintourism? I'm sure a promotional video will be made, but I wouldn't be surprised if there'll also be a book, co-written by Thalefang and Sonny, sponsored by Botswana Tourism. A book that will be promoted by BTO and sold in curio shops and at international events. If that is the case, can we say (hand on heart) domestic tourism was the focus and the ultimate benefactor of the campaign?
We should be happy, we should be proud, but once again, we are left suspicious, sceptical and questioning the true motives behind yet another initiative. It's just so, so sad.
How do you feel about the Rediscover Botswana campaign? Do you think it could have been done better and fairly? Do you think the BTO official's response was appropriate? Do you agree that the stealing of business proposals is a rampant issue in Botswana?
Please share your thoughts.