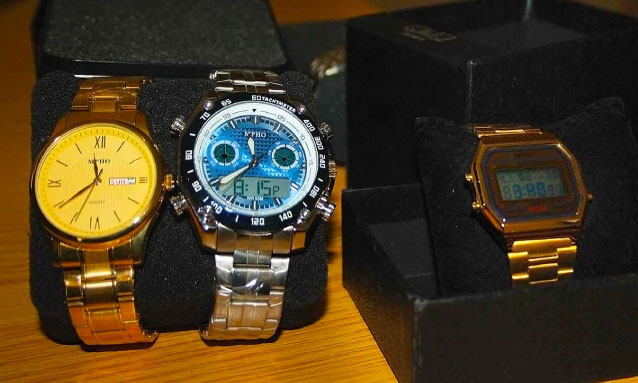 The wristwatch goes as far back as the 16th Century yet it remains as trendy as it ever was in the 21st Century. Today, despite our increasingly digital world, mechanical watches are not just enduring, they are thriving.
You wouldn't think many people would have as much of an appreciation of the wristwatch as they used to because everywhere you look, you can see the time. Technology is advancing at a mind-bending rate. All the modern gadgets we own can tell the time; from your phone to your computer, your car, your microwave etc But just when you would expect wearing a watch to be oh-so-passé, it appears we won't be seeing the end of the accessory any time soon. Around the world, wristwatch trends continue to evolve with the times, defying claims that it has no place in modern times.
Here on home turf, Francistown-based Mpho Gaopelo wants a bite of the cherry! Gaopelo has launched his watch brand "Mpho" which is gaining recognition locally and abroad. Interestingly, Bobonong-born Gaopelo is a registered nurse who works for Tati River Private clinic.
In a recent interview with The Telegraph, the 34-year-old revealed he has always dreamt of designing watches from a tender age.
"I am a trained nurse but my other passion is the art of designing watches. I am fascinated by these inventions, particularly the wristwatches. I have always dreamt of becoming a watch designer. 

I am a self-taught jewellery designer and have been in this trade for four years," he said as he produced some of his self-branded watches.
Gaopelo owns a jewellery stall adjacent to the busy and popular Galo Mall in Francistown, where he sells accessories including necklaces, leather belts and earrings. He revealed that he has a contract with Japanese company, Skime Trading Company in Tokyo where the watches are manufactured. Gaopelo believes the jewellery business has the potential to transform Botswana's economic fortunes as the country mines several minerals such as copper, diamonds and gold.
"I send my designs to this Japanese company where the watches are manufactured. Our country exports raw materials abroad. It is high time that we process our raw materials into finished products. My plea is for the government to assist upcoming jewellery designers in that regard," he said.

"My other plea is for the government to make it easy for local jewellery designers to source raw materials locally as I get mine from abroad. We have everything from minerals, leather and other resources. I dream to have a manufacturing plant in the country, which in turn would help create jobs," he added.
Gaopelo has so far sold 1000 units in America and the United Kingdom where he claims the demand is promising. He markets the watches, which are made of stainless steel coated with brass, silver and gold, mainly online. Gaopelo is set to open two jewellery stores; one in Francistown and another inGaborone.
"My watch designs are inspired by big watch brands such as Rolex, Philip Patek, Casio,  Apple and Hublot," he said.
Drawing inspiration from such big name brands and his aspirations, we hope Gaopelo realises his dream of designing watches that can stand the test of time (excuse the pun!) and can hold their own against the very brands he aspires to emulate.
For the complete article: https://www.sundaystandard.info/francistown-entrepreneur-introduces-his-own-watch-brand/