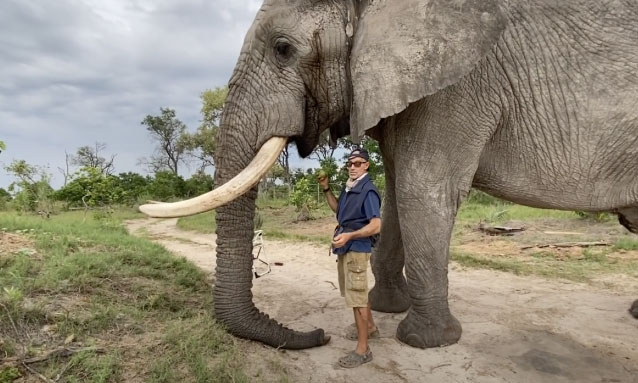 Living with Elephants founder and owner, Doug Groves has been tragically killed by a wild elephant in the Okavango Delta. Doug's wife, Sandi announced Monday morning the tragic incident happened on Friday.
Living with Elephants Foundation is a not-for-profit organisation dedicated to caring for rescued African Elephants in the Okavango Delta, Botswana. The sanctuary provides rescued African elephants with a second chance and safe home in the wilderness of Botswana's Okavango Delta. Currently under care are Jabu and Morula, two rescued elephants, saved from Kruger National Park culling operations in which they were orphaned.
Neither Jabu nor Morula can be released yet into the wild due to their traumatic starts in life and chronic injuries. Doug and Sandi Groves have dedicated nearly 30 years to providing world-class care and refuge to these orphans. The elephants thrive in a supported environment and are provided with specialised care. Jabu and Morula live in expansive natural elephant habitat, which offers the freedom to explore, natural behaviour and wildlife interactions.
Doug Groves had been working with and studying elephants since 1972. Before coming to Africa in 1987 to work on a film project involving elephants, he had worked with elephants in zoological and wildlife parks on the west coast of the USA for 15 years. Once in Africa, he decided to commit the rest of his life to studying elephants and their needs and to educational outreach programs. He is survived by his wife, Sandi.
Take a look at Groves treating Jabu for an infection:
Source: https://africageographic.com/stories/elephant-sanctuary-owner-doug-groves-killed-by-wild-elephant-in-botswana/?fbclid=IwAR20m22ND5-KFdL_It3L5mM9643p7VUHremgkq_8s9eMayChEH4hfYaNYBA
Video courtesy of getaway.co.za