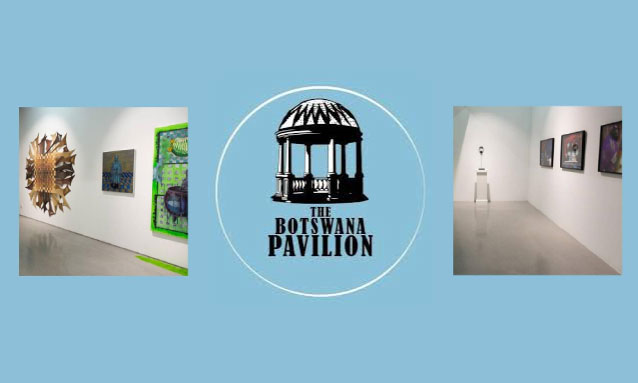 The Botswana Pavilion is the name of an artist collective comprising Batswana artists Thebe Phetogo, Legakwana Leo Makgekgenene, Thero Makepe, Kim Karabo Makin, Sade Shoalane and Mohumagadi Moruti. The collective conceptualised a group exhibition titled Collective Ties which was scheduled to take place in May 2020 in conjunction with an artist residency at The National Gallery of Zimbabwe in Bulawayo by The Botswana Pavilion member, Thebe Phetogo.
The exhibition would have been the third iteration of The Botswana Pavilion. The first and second exhibitions (both 2019) by The Botswana Pavilion took place concurrently with the Venice Biennale. Like many countries in the Global South, Botswana has never presented a national pavilion in Venice, prompting this group of emerging contemporary artists from Botswana to take it upon themselves to actively interrogate Botswana's creative identity collectively, across national and international borders and engage counter-narratives and debates around the nationalistic nature of occasions such as biennales.
The sudden closure of national borders due to COVID-19 gave new dimensions to the collective's trans-nationality, which has informed the reconfigured format of the project. 

Shifting from regional visibility to international circumstance, The Botswana Pavilion will coordinate Collective Ties  as an online exhibition. With an adjusted understanding of space and travel across neighbouring countries, The Botswana Pavilion will respond to the new opportunities to reflect on themes including trans-nationality, identity formation, history and context in the Global South through collaboration. 
The collective's members and selected artists from the region – Akudzwe Elsie Chiwa and Thandi Gula from Zimbabwe and Malwan-de Mthethwa and Katleho Mosehle from South Africa – will explore a process of collaboration through dislocation, where artworks will travel between the participants to be worked on in turn.
Source: https://prohelvetia.org.za/en/2020/08/18/the-botswana-pavilion-collective-ties/