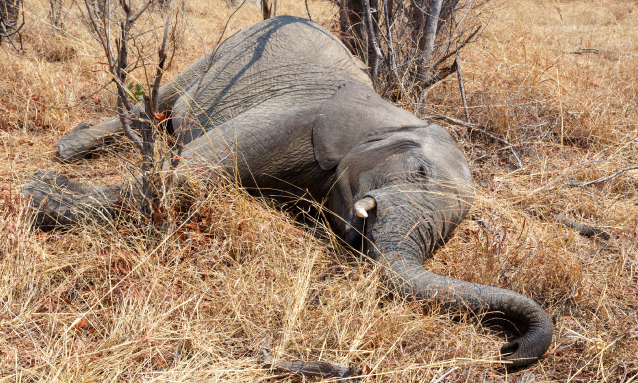 The Ministry of Environment, Natural Resources Conservation and Tourism has ruled out agrochemicals as the cause of mysterious elephant deaths in the Seronga area since March.
A press release from the ministry says the toxicological analysis of nine pesticides and chemicals commonly implicated in wildlife poisoning have tested negative. It says the Encephalomyocarditis virus, an acute viral disease characterised by inflammation and the degeneration of skeletal and cardiac muscle and lesions of the central nervous system has also been eliminated as the cause of mortality. Based on clinical data and laboratory results received so far, infectious pathogens were also unlikely to be the cause of death, the release notes. It further says two suspected mineral elements and starvation have also been ruled out.
"The results received so far do not eliminate poisoning, therefore environmental factors, including naturally occurring toxins, are still being investigated," it said.

"This is a mass die-off on a level that hasn't been seen in a very, very long time. Outside of drought, I don't know of a die-off that has been this significant," National Park Rescue's Dr Niall McCann told The Guardian newspaper. 
However, the release goes on to say the results received so far do not eliminate poisoning and environmental factors including naturally occurring toxins, which are still being investigated. While the ministry awaits more results, it has also confirmed no new deaths have been recorded. Meanwhile, the release says an extensive aerial survey of NG11, NG12 and NG13 has been completed while further statistical analysis is ongoing.
From May to July, the carcasses of hundreds of elephants were discovered in and around the Okavango panhandle. Most of the elephants, believed to have crashed headfirst into the earth, were found near waterholes, indicating a sudden death. The elephants were observed to be emaciated, weak and could barely walk. Early in the investigations, authorities suspected the elephants were being poisoned in a Human-Wildlife Conflict attack. However, that was soon dismissed because no other species were dying.
According to experts, Botswana is home to around 130,000 elephants, the highest population in Africa. Out of that number, about 10,000 live in the Okavango Delta.
This is a developing story.
Reference: BOPA