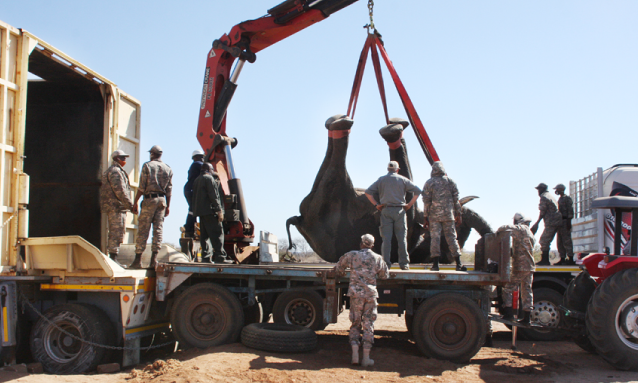 In the first operation of its kind between the Department of Wildlife and National Parks and Limpopo Limpadi Private Game Reserve, 14 out of the targeted 20 bull elephants have been translocated to Makgadikgadi National Park and Nxai Pan National Park.
Principal Wildlife Warden, Thekiso Thekiso revealed this in an interview on Tuesday against the backdrop of an ongoing translocation operation of the elephants which commenced July 23. Thekiso said the translocation came after consultations between the department and Limpopo Limpadi Private Game Reserve management, who were concerned about the degradation of vegetation in the area caused by elephant overpopulation. The two parties agreed to translocate 20 bull elephants to Makgadikgadi National Park and Nxai Pan National Park.
He said the operation had gone smoothly since commencing due to the cooperation of all stakeholders. Thekiso explained that conservation was the department's ultimate objective, hence the decision to translocate the elephants rather than having them slaughtered or hunted.
Furthermore, he said there was an agreement in place between the government and game farm owners to move animals to more conducive areas when their population spikes. The game farm and business partners paid for the current operation, while the WildLife Department monitored the safety of the animals by ensuring they were handled accordingly until they reached their designated destination, he said. Thekiso also noted the department was awake to the Human-Wildlife Conflict hence the translocation of the elephants to a place of safety where they would be monitored through collars or markings on their tusks. He stressed the importance of animals, adding if Botswana continued taking good care of its animals, it would impact positively on its tourism industry.
In a related interview, Dr Eric Verreynne of Vet & Agric Consultants said research was done prior to undertaking the operation. 

"It was a well-planned investigation before deciding where to take them," said Dr Verreynne.
For his part, the private game reserve General Manager, Glen McDonald said the aim was to ensure that the translocation would enable the reserve to increase diversity and protect all big trees in the area. He explained that while there were various options of dealing with increased animal populations, including slaughtering or hunting, the most ideal was translocation. He said some shareholders raised funds that were required to translocate the 20 bull elephants to a much wider location with good forage.
So far 14 bull elephants had already been translocated, he said.
Source: BOPA