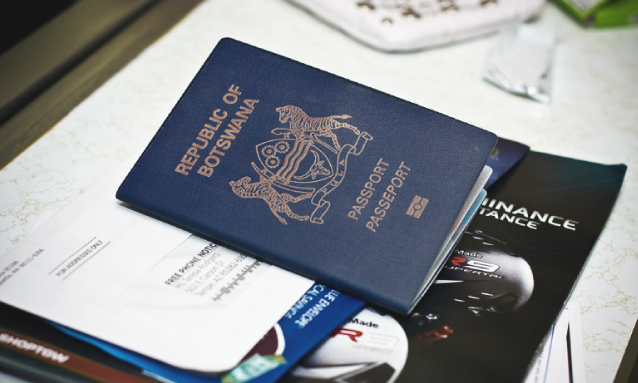 The Minister of Nationality, Immigration and Gender Affairs, Annah Mokgethi says the ministry will present to Parliament proposed amendments to the citizenship act. She said this during a meeting addressed by the Vice President Slumber Tsogwane in Sefhare and Mahalapye on Friday.
Minister Mokgethi said the amendments will protect those with dual citizenship from automatically losing their Botswana citizenship when they fail to renounce.
"With the current act, any person with dual citizenship automatically ceases to be a citizen of Botswana unless they renounce the other nationality upon reaching the age of 21 years," she said.
Minister Mokgethi further noted in the meantime, those who have already lost their Botswana citizenship have been informed to apply for the resumption of their citizenship as dictated by section 17 of the citizenship act. The government considering amending the Citizenship Act is not news, especially since President Mokgweetsi Masisi ascended to power. However, past efforts have not sought to overhaul the Act but rather cherry pick bits of it and introduce various caveats. Quite why the government is so reluctant to allow full fledged dual citizenship remains a mystery.
Government puts Dual Citizenship plans put on ice, introduces Blue Card
When consultations on the Citizen Amendment Bill dealing with dual citizenship were put on hold to allow further consultations, the government said it was considering new mitigations to ensure those affected are not discriminated against and denied their Botswana heritage.
Early last year, hopes for dual citizenship were dashed when the government, through the Department of Immigration and Citizenship, reiterated the renunciation of citizenship process. Children born to a Motswana and a foreigner are considered to have dual citizenship based on the citizenship of both parents until the age of 21 years. At the age of 20, those affected are expected to write to the ministry stating their intention to retain one citizenship and renounce the other. This has to be done before their 21st birthday.
The then Minister of Nationality, Immigration and Gender Affairs, Ngaka Ngaka had earlier told Parliament that any consultations regarding the Citizenship Amendment Bill that are to do with dual citizenship had been put on hold as it affects 34 other pieces of legislation. Much to the people's disappointment, Minister Ngaka, however, then revealed that his ministry was mulling over introducing a new card to help those affected gain access into Botswana.
In an interview with Sunday Standard Minister Ngaka said;
"Most Batswana who have renounced their citizenship did so because they married foreigners and moved to countries that do not allow dual citizenship. These are people who grew up here, their parents live here and their heritage is here in Botswana. 

Foreigners who come here are given a ninety-day permit and so are Batswana who have renounced their permits. For example, if one is coming into the country to visit a sick relative nobody knows when they are going to get better; we cannot put a time on their sickness," Minister Ngaka explained.

"We realised that since they were born here, we would be infringing on the rights of our people to live in a place where their ancestors originate. Also, it does not give us any economic benefits or benefits of some sort; once they come and go, they are gone for good. As the Ministry, we have the Botswana BlueCard.

The Botswana BlueCard is not a type of permit that would require stamps for it to be renewed or allow the person to continue being in the country for ninety days. It is a type of residence card to Botswana. When one gets married and leaves the country we give them the Botswana BlueCard," Minister Ngaka said.
The Sunday Standard claimed at the time it had gathered information that showed that the Botswana Blue Card could turn out to be exclusive to Batswana married to foreigners who live outside the country and those who had renounced their Botswana citizenship.
Minister Ngaka further explained;
"The Botswana BlueCard, when introduced, will give those in possession access into Botswana anytime dependant on how long they want to stay and will not be given three months like the normal procedure. 

Finer details surrounding the Botswana Blue card have already be done and it has been published in past Government Gazettes. The next thing to do would be to introduce it to the public."
It's not clear if the Blue Card ever saw the light of day but it was far from being the Dual Citizenship many had expected.
The ever elusive Dual Citizenship – so tantalising close yet so far
In February 2017, the Mmegi newspaper reported that the Botswana government was to amend the Citizenship Act and allow dual citizenship. The headline was misleading because in actual fact, then Minister of Nationality, Immigration and Gender Affairs, Edwin Batshu intended to present to Parliament a Bill to amend the Citizenship Act to allow for dual citizenship in certain restricted circumstances. Then in May 2018, The Patriot newspaper reported that the government was to cancel dual citizenship for all persons above the age of 21 who have not renounced their citizenship of another country, which wasn't news as it has always been the case.
Understandably, this was met with heavy criticism, as both children and their parents found this decision upsetting, with one saying;
"Why doesn't the government simply request that parents choose their child's nationality at birth? The simple fact remains; people with a non-Botswana parent have two nationalities and that fact will never change, regardless of whether they renounce one citizenship or not to satisfy the government. Making someone renounce one of their nationalities must be upsetting, as I imagine it feels as though they are rejecting one of their parents or favouring one over the other. 

But it also seems unfair for a child to choose a nationality when they turn 21 because in truth, having dual citizenship from birth until 21 is not very useful. Many children are rooted to one country due to school/college/university; it's when they turn 21 does dual citizenship become an advantage because they are finished with their studies and free to travel and explore the world."
---
Implications on foreign investment – YourBotswana view
When President Masisi took over, he was clear about his quest to relax Botswana immigration laws which are often regarded as 'hostile and rigid' to attract foreign investment. This would have been a huge step for Botswana but there are also mixed messages with regards to Botswana's relationship with foreigners. The President wants to encourage foreign investment, yet many organisations conduct tender processes stipulating responses must come from 100% Botswana owned companies.
In reality, what foreign investor isn't going to own at least 1% of a company they own or have invested in? Some organisations also list job vacancies stating the positions are only open to Botswana citizens. It's fine if that's an unwritten policy, but once written for all to see, it could give the impression foreigners are not wanted.
So how is President Masisi going to attract foreign investment if there are local organisations that won't do business with companies that have foreign ownership? How will foreigners feel about settling in Botswana with their families knowing their employment opportunities are limited? 
Of course, these organisations are trying to create opportunities for Batswana, but the perception does not make Botswana attractive to the very audience President Masisi is targeting. It's simply counter-productive and leaves me feeling very perplexed because the only compromise is allowing dual citizenship.
It's 2020 and as each year passes, the global community we live in shrinks and becomes more and more apparent. Botswana's reluctance to allow dual citizenship is even more perplexing because Botswana is very much a multiracial country. At least two of the major contributors to our economy (diamonds and tourism) are heavily dependant on foreign influences. Even as far back as 1965, Sir Seretse Khama was clear about his vision to build a multiracial and independent Botswana, and yet over half a century later Botswana hasn't introduced dual citizenship. Why?
I read a discussion on the quora.com website in which someone asked the question – why don't some countries allow multiple citizenships? A historian and PhD candidate responded by saying it's usually an issue of loyalty – or perceived loyalty. He then went on the site Singapore as a good example of how the perception happens.
Singapore is, obviously, a very small city-state by world standards. The government's view has been that everyone who lives there needs to work to build the country up to be the success story that it is. Allowing dual citizenship, the argument runs, would risk everyone leaving the country when times get tough, which isn't seen as a sensible way of addressing whatever the difficulty may be. Is this the reason Botswana doesn't allow dual citizenship? If so, it seems illogical for a country needing and wanting foreign support.
As far as the anticipated amendment to the Dual Citizenship Act goes, I wouldn't hold my breath with hopes of a speedy and much less, full fledged dual citizenship. Just like previous attempts to commercialise state entities including the ailing BMC, Botswana Railways and Air Botswana, which have become an albatross around the government's neck, it will probably happen some day but not any time soon. If it does and I find myself having to eat humble pie, I'll be the first to commend President Masisi and the government.
References: BOPA, Mmegi Online, The Patriot