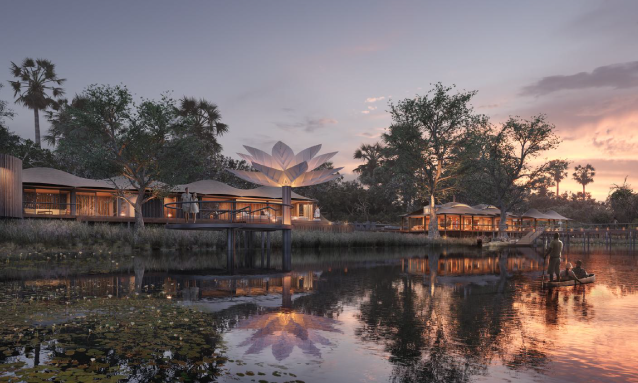 The Red Carnation Hotel Collection's Xigera Safari Lodge in Botswana will open in October.
Xigera Safari Lodge, surrounded by unspoilt wilderness on the western side of the Moremi Game Reserve in the Okavango Delta, will offer 12 individually designed air-conditioned suites including a two-bedroom family suite situated on two linked islands.
The grand lodge will feature two luxury spa rooms, offering a range of wellness treatments, an air-conditioned library stocked with research material, state-of-the-art gym and a swimming pool. Lucky guests will fly in by light aircraft from Maun, 40 km away. Xigera monitors and keeps records of all fauna and flora and works closely with the Botswana Department of Wildlife and National Parks to ensure ongoing protection of the entire area. The Xigera Energy Centre, a solar hybrid power system powered by a 400kW Tesla plant, supplies over 95% of the lodge's energy needs, saving about 175,000 litres of diesel and 500 tons of carbon emissions each year.
Rates start from US$2,320 per adult per night sharing, including accommodation on a fully inclusive basis, park fees and all activities.
Xigera (pronounced "Kee-jera") is a bold new statement set to pioneer a new era for the African bush. Illuminating Africa's most exciting artists and artisans in a new design direction for Red Carnation Hotels, Xigera will be pioneering; authentic and utterly in tune with its surroundings – a legacy project of the Tollman family, the renowned South African born hoteliers.
Light footprint
Using a light footprint, there will be just 12 individually designed air-conditioned suites, including one two-bedroom family suite situated on two islands, bridged together with an extraordinary bronze lily centrepiece designed by Anton de Kock and created by Otto du Plessis. The lodge's design was conceptualised by Toni Tollman, Philip Fourie and Anton de Kock, who collaborated with Southern Guild in a game-changing design partnership like never before. The Xigera Energy Centre, a sophisticated solar hybrid power system powered by a 400kW Tesla plant, supplies over 95% of Xigera's energy needs, saving the lodge an estimated 175 000 litres of diesel, and the environment 500 tons of carbon emissions each year.
Living gallery
Guests will stay in a 'living gallery' of bespoke works commissioned exclusively for the property by more than 30 of the most compelling African artists and craftsmen. Quietly surprising touches will be everywhere; from human-sized woven nests resting on decks for guests to nestle in, to a life-changing sleep-out under the stars in a three-story steel baobab tree located 1km from the camp. Redefining what it means to experience the African wilderness, Xigera Safari Lodge will offer guests a truly restorative experience, where nature provides both the setting and the therapy, taking guests on a journey of wellness in the heart of the African bush. The tranquil spa, overlooking expansive floodplains, will offer treatments and therapies by Tata Harper, exclusively in Africa.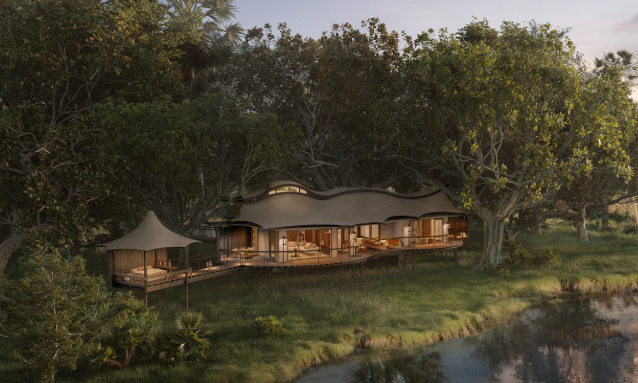 Total flexibility
Unlike other highly structured safaris, Xigera will offer guests total flexibility. Morning and evening game drives are at guests' leisure, as are walking safaris and seasonal fishing. They can also explore the Delta's waterways by traditional canoe, glass-bottom mokoro and motorboat – complete with 'feet-in-the-water' sundowners. Dining at Xigera will be celebratory, with delicious food inspired by Beatrice Tollman and her signature dishes. But it is the people that will define Xigera, as you'd expect from a Red Carnation creation, with an exceptional team, passionate about service and hospitality. Led by bush veterans, Mike and Marian Myers with a team of the most experienced guides in Botswana, ensuring an experience like no other.
Source: http://www.tourismupdate.co.za/article/199747/New-lodge-to-open-in-the-Delta / https://mailchi.mp/perowneinternational.com/perowne-international-introduces-xigera-safari-lodge?e=%5BUNIQID