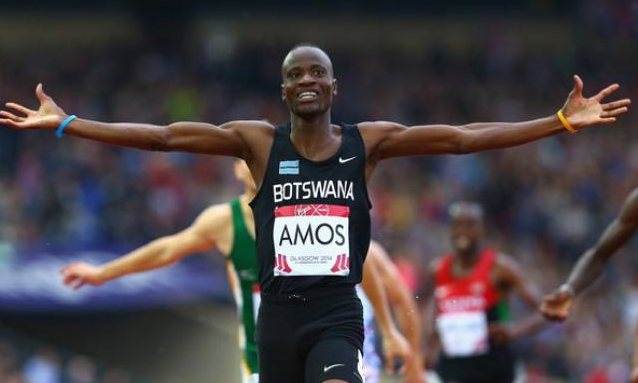 Botswana's 800 metres runner, Nijel Amos last Saturday beat rival, Dylan Capwell of Atlanta Track Club Elite to clinch victory at a closely contested 600m coast-to-coast dual meet.
Amos clocked in 1:17.84 against Capwell's 1:18.93 to win the Return of the Dual, a virtual and first of its kind head-to-head competition, by just over one second. The Marobela-born kicked off the race at a high tempo, reaching the first 100 m mark in 11.41, continuing at a high pace in the 200 m with a time of 22.25. However, Amos reached the 46.61 mark in the 400 m and it was clear that he was fatigued and rightly so, given it was his first 600m race.
In the last 200m, it was clear that Capwell was covering more ground, but his effort was not enough to triumph against Amos. Amos said in an interview with BOPA after the race that the purpose of the race was to raise funds for charity, adding he was happy to  compete in the 600m, which took him well out of his 800m race comfort zone.
Amos said he enjoyed the race despite not running on the same track alongside his opponents, noting it was not clear who would win the race until they crossed the finish line.
"It was a remote race. Capwell and I were in different stadia to adhere to COVID-19 regulations and we were hand-timed to determine the winner," he explained.
The meet took place at Landmark Christian School in Fairburn, Georgia and Hamlin Middle School in Springfield. Meanwhile, track and field analyst, Bonno Modisenyane said Amos started fast as he cruised the first lap in a split of 46.61 and faded in the last part of the race.
"Splitting 46.61 in the first lap means he is in good shape despite being a little rusty. But it is just a matter of time before he regains his rhythm," he said.
Modisenyane acknowledged that it was a tough race considering the effects of the pandemic on athletes' training and competing schedule.
Source: BOPA