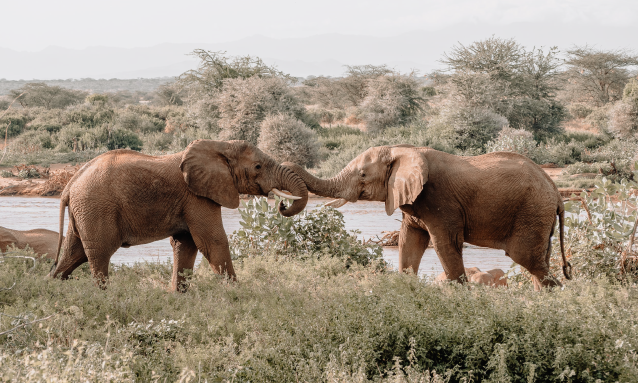 Botswana through the Ministry of Environment, Natural Resources Conservation and Tourism has engaged South African authorities to probe the mysterious death of over 115 elephants in the Okavango panhandle.
As the mystery surrounding the death of elephants in Botswana deepens after initial test results ruled out poisoning and anthrax, authorities have sent samples to South Africa for further testing. The samples were taken on May 28, according to the Regional Wildlife Coordinator, Dimakatso Ntshebe.
The Environment, Natural Resources Conservation and Tourism Minister, Phelda Kereng was in Seronga (one of the villages where the mass death of elephants is reported to have occurred) on 29th May 2020 on a fact-finding mission regarding the mysterious death of the elephants. Minister Kereng was given an update by a team consisting of Wildlife Officers, Veterinary Doctors, Village Leadership, the Botswana Defence Force and the Botswana Police. The deaths were first reported on the 11th of May 2020. The carcasses were found intact, ruling out the possibility of poaching. Further investigations ruled out anthrax and poisoning. The Minister was also taken to the sites where the carcasses were found.
At over 130,000, Botswana has the world's largest elephant population.
"I would say 90% of the new cases we have found are old carcasses we previously did not locate," said Ntshebe. He said more animals could die, as some look sickly.

"We are still experiencing elephants dying in the Okavango Panhandle. We also see elephants that show that they are sick and on the verge of dying," he said.
The Department of Wildlife and National Parks has started removing tusks from the carcasses.
"We have started removing the tusks from the dead elephants and burning the carcasses. We started with the carcasses closest to the villages and those lying in the water. The idea is to burn as many carcasses as possible. However, we have the challenge of some being in areas that are difficult to reach."
Principal Veterinary Officer in the Department of Wildlife and National Parks (DWNP), Dr Wave Kashweeka said they had now beefed-up the team by bringing onboard doctors from the Department of Veterinary Services to collaborate on the investigations. Dr Kashweeka observed that there was a common thread running through all the samples they took – they all had flabby hearts.
He said they took samples from an anaesthetised elephant to compare against those taken from those that were found dead. He was quoted as saying that the latest samples were taken on May 23 and were to be sent to laboratories in Pretoria or Victoria Falls for further testing.
Dr Kashweeka further noted that some elephants in the area were observed to be dragging their feet, having difficulty walking.
Investigations are still ongoing.
For the complete article: https://southerntimesafrica.com/site/news/bots-engages-sa-as-mystery-deaths-of-elephants-deepen