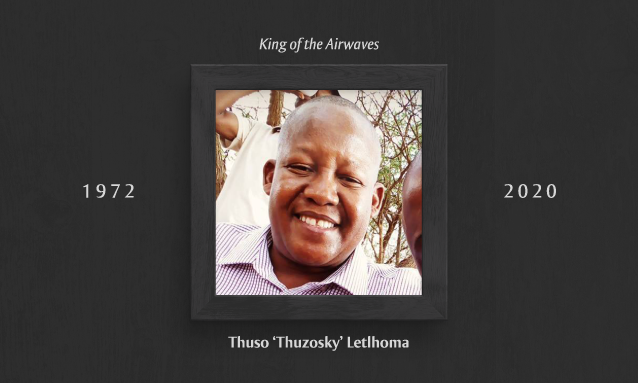 Radio Botswana veteran journalist and radio presenter, Thuso Letlhoma has died. The well-respected and much-loved journalist lost his long battle against leukaemia on May 28, aged just 48.
As soon as news of his passing broke on Wednesday afternoon, various social media platforms were flooded with glowing tributes from the media fraternity, his colleagues and his hordes of fans. Following his death, early Thursday morning calls came flooding into Radio Botswana, including one from Member of Parliament for Maun West, Dumelang Saleshando recounting memories of their time at the University of Botswana. A nation in mourning, callers flooded the Radio Botswana morning show, Masa a Sele to pay homage to the fallen hero. A very affable man of the people, Thuzosky touched the lives of everyone he came in contact with, people from all walks of life regardless of creed or social standing.
Last year, he was hospitalised at Princess Marina Hospital, where he remained for months, gravely ill. However, he appeared to be on the mend as he was discharged late last year and was back at work in the new year, albeit wheelchair-ridden.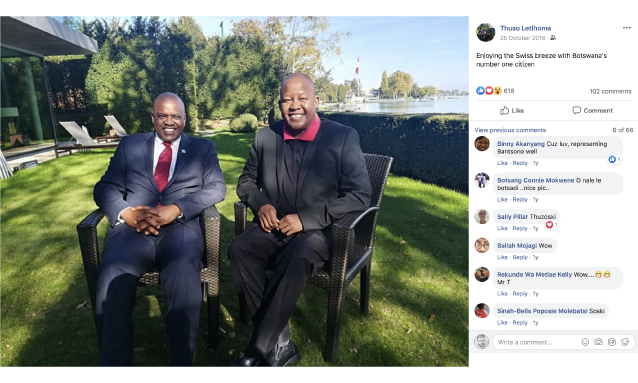 A star is born
Thuzosky was born on April 15, 1972, in Molepolole. He attended Bakwena National School and went onto Kgari Sechele II Senior Secondary School. Before he went onto study at the University of Botswana, he did his year-long National Service in Tutume with the Department of Information and Broadcasting Services. This would set the young Thuso on a path to a long and rewarding career in media as it proved to be a match made in career heaven. He was a clear natural but even more importantly, he LOVED his job.
Thuzosky, Kwankwetla or Zazazaza as he became popularly known, took to the airwaves with aplomb, earning himself legions of fans right across the length and breadth of Botswana – from the young to the old, Thuzosky had the nation, including my mother, eating out of his hand. Every media-related aspect of his journalistic job he touched, Thuzozky turned into gold. Yet his feet remained firmly on the ground. Through his job and love of music and the good time, he rubbed shoulders with people from all walks of life, from presidents to celebrities and the average man on the street and they all loved and respected him.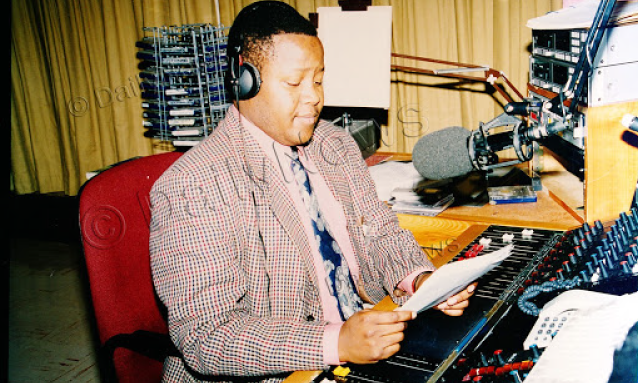 But he never believed the hype, never let it go to his head and would have scoffed at the idea that he was some type of celebrity to be given special treatment. Even in today's superficial climate where everyone desperately craves celebrity, demanding their 15 minutes of fame for doing a fraction of what Thuzosky worked decades to achieve, he remained humble to the very end.
The making of a king – king of the airwaves
Thuzosky was hugely talented, fantastically multi-faceted and very generous with it as well. Over the years, his Radio Botswana career saw Thuzosky turn his hand to various elements of his job, which people in the industry will tell you is no easy feat. When he wasn't entertaining his dedicated listeners with his vast knowledge of music, he was behind the scenes writing and translating the news, mentoring and helping anybody who needed his support, reading the news or out on the field reporting the news – he did it all! And then when he wasn't working, he could be found MC'ing at various events, more often than not music-related shows around Gaborone.
What set Thuzosky apart and made him the darling of Botswana airwaves was the fact that he wasn't just going through the motions, he absolutely loved what he did. When you listened to Masa a Sele, you became enlightened about affairs of the world, topical issues emerging out of Botswana, the background of the music and artists he played for you borne out of his eclectic love and appreciation of music.
Even long before the advent of Google and Wikipedia, Thuzosky's expanse knowledge of music and the artists he played all day long was unrivalled. And he would generously share it all on the shows he diligently presented. His ability to read both the English and Setswana news as well as he did was admirable. Even those people who claimed to hate state-owned Radio Botswana because they felt it was stale would tell you Thuzosky had that je n'ais ce quoi, the pizzazz that many can only ever dream of possessing.  
His was a true calling.
Thuzosky was warm, engaging and affable – and it came across on radio. He was as witty as he was bright, as quick-witted as he was hilarious. He had the gift of the gab which combined with his sharp sense of humour put him head and shoulders above the rest. Being the gifted narrator he was, Thuzosky could turn what would ordinarily be a lacklustre joke into a rib-cracking, uproarious laugh fest. Wherever he went, he had people bending over in fits of laughter. I couldn't be around him and not be laughing, and I mean proper belly laughs that came in waves, as I recalled his jokes in subsequent days to come. Thuzosky could have very easily been a professional comedian, he was THAT hilarious.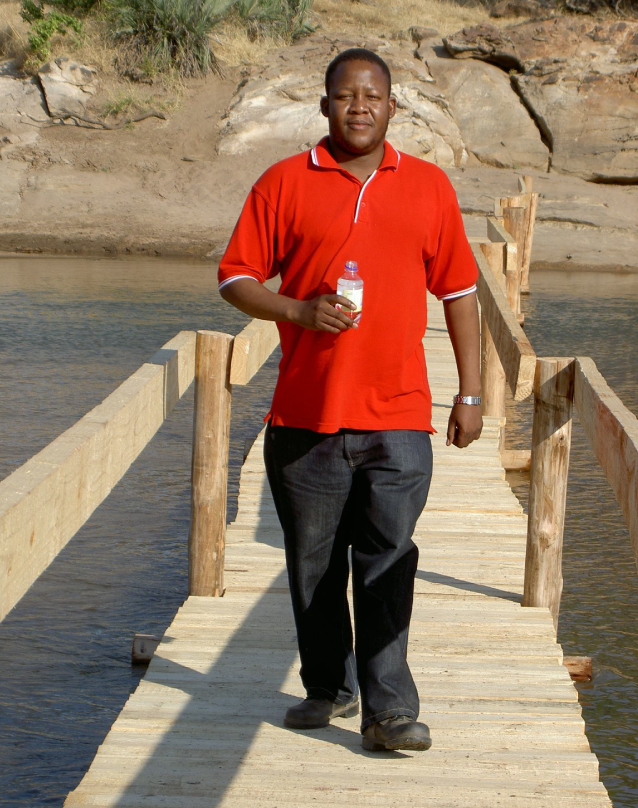 Thuzoski loved life
Thuzosky loved life and had an unmatched zeal for life. He could party with the best of them well into the wee hours, yet he seldom called in sick, rarely ever missed a day of work. He partied up a storm and enjoyed his life to the full. His enthusiasm and energy meant that he couldn't bear to sit idle, which must have made his hospitalisation last year a living hell. Yet when we visited him, he was the same upbeat Thuzosky, never allowing a moan to pass his lips even as we saw he was under immense pain.
He was an outrageous flirt as well. He had an eye for a pretty lady but his flirting was always done in jest, he'd never overstep his boundaries. He had no bad bone and was what you'd describe as true salt of the earth. He had the special gift of building up people, making each person he met feel special. People loved him and he loved them right back and then some!
A man of strong faith
One thing some people may not know was that Thuzosky was unshaken in his faith. A staunch Jehovah's Witness, even while his life hung in the balance, he refused to have the prescribed transfusion and/or leg amputation that his doctors insisted would save his life. He remained resolute until he was discharged without either happening. He appeared to be on the mend but it was around April that it emerged his health had taken a turn for the worse. He never recovered and gradually deteriorated until he tragically passed away on Wednesday. Last year, the Sunday Standard's Mpho Kuhlmann's words on Thuzosky's refusal to bend and embrace medical intervention summed up the true extent of his faith; 
"His decision, however, points to the strength of faith and conviction that trumps even the natural fear of death. For champions of freedom of conscience, it is as deeply stirring as it is inspirational."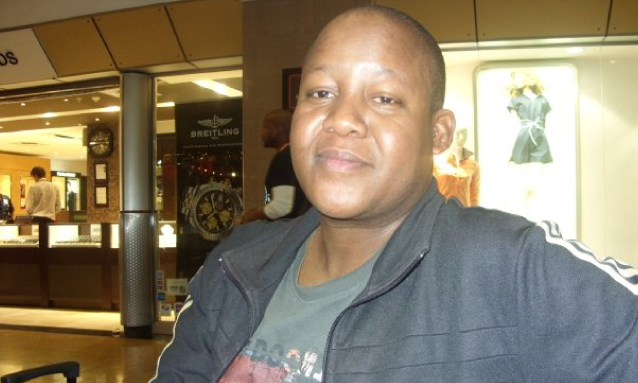 My dear friend, Rra Gaone aka Thuzosky
To many, he was Thuzosky, Kwankwetla, Thuzaza or Zazaza. To me, he was Rra Gaone and to him, I was Mma Gaone or when he was particularly happy, his First Lady. My friendship with Thuzosky goes back many, many years. When I joined Radio Botswana during President QKJ Masire's reign, Thuzosky had already been with Broadcasting Services for years. I learnt a lot from him and he was always very supportive, not just of me but everyone around him. Ever the flirt, he would never pass up the opportunity to declare his undying love for me, going on about being my future husband. And that's how we became Rra Gaone le Rra Gaone, a reference to President Masire and the former First Lady. The names stuck and we never went back to ever referring to each other by our given names.
He was my confidant – I could go to him with anything including work-related frustrations, confident it would remain between us. He was as good a friend as he was a colleague; giving guidance where required, always applauding colleagues for a job well done, never trading any angry words with anyone, always on hand to diffuse awkward situations. I can honestly say I never met anyone who had a horrible word to say about Thuzosky. He was truly one of a kind, irreplaceable. I know I speak for many when I say will miss him desperately.
Rest in Peace, Rra Gaone.
A sample of tributes for Thuzosky
Thuzosky won the hearts of many Batswana as a longterm presenter of Radio Botswana's morning show, Masa A Sele, drawing in hordes of fans with his well-researched topics, quick-witted interview style, humility and love for people.
The minute news of the passing of the Molepolole-born radio icon broke, Batswana from all walks of life took to social media to pay their last respects. Thuso "Thuzosky" Letlhoma died in Gaborone on May 27.
Below are some of the tributes
"A giant has fallen. Radio was your game and you had us enthralled with your homeliness. Your rich baritone and boundless knowledge enchanted the nation and owned the morning airwaves. From Kokotsha to New Stance, they loved your vast musical selection and laughed heartily at every one of your jokes. You taught us to believe in homegrown talent. Zoscky, Rest in Peace, Kwankwetla,"

Dumezweni Mthimkhulu
Assistant Minister for Presidential Affairs, Governance and Public Administration.
---
"Indeed a legend has fallen. One of our great local journos is no more and his departure has left a very painful gap in our hearts. Thuzosky, as our departed hero was publicly known in the local media fraternity, has left a historic mark in society, a mark that will never be easily erased from our memories. The family, relatives and the entire nation have lost a radio broadcaster of note, the young man who had a natural skill of making sure radio listeners became closer to the national radio station, especially when he was presenting Masa A Sele. Some of us who used to meet and have joyful moments with him at Bontleng Shopping Complex during weekends will not forget his admirable character.

I remember sometime this year, he came to where we usually meet and left an hour later. After his departure, an argument ensued with some guys dismissing our assertion that the man who had made us laugh was none other than RB1's Thuzosky. They were surprised by his humility and interaction with ordinary people. Robala ka kagiso Kwena Ya Madiba,"
Malatsi Mokhubami (fan).
---
"Media Institute of Southern Africa (MISA) Botswana has received with shock and sadness of the passing of the Radio Botswana legendary broadcaster, Thuso Letlhoma. Mr Letlhoma passed away on the 27th of May 2020 after battling with illness for a while. This is a loss to MISA and the whole media fraternity as he was instrumental in the growth of broadcast media in Botswana. He was seen by many as a mentor, brother and friend, always ready with a heartwarming smile, laughter and jokes.

He will be always be remembered by how meticulously he read the news and his famous Masa A Sele breakfast show with his informative style of presenting. Here is a life worth celebrating amidst the pain and sorrow. Mr Letlhoma will remain in the hearts of many Batswana for the force he was in the broadcasting industry. May the good Lord comfort his family, friends and Batswana. May his Soul Rest in Eternal Peace."
Media Institute of Southern Africa (MISA).
---
"Earlier today (Thursday) I received news that Thuso was no more. A colleague called to inform me that Zazaza, as he was warmly known to some of us, took his last breath. Reality struck when I went back to my WhatsApp chat with him. No blue ticks. I last sent him a message yesterday asking him, "di kae ka koo?"

An easygoing person. Full of laughter. Hardworking and quick-witted fellow. No words to describe his understanding of music. We enjoyed singing together. Especially after sinking the black one. Last week, feeling a kind of emptiness in my deepest of souls, I dedicated a song to him, "Siwelele". I was full of hope. Now my hope is gone. Rest Zazaza. Rest well Vavava. Rest in Peace Thuzosky."
Baleseng Batlotleng (Journalist – BOPA)
---
"Thuzosky was the epitome of humility. He was a man of the people. He hung out with all of us on the weekend. During the week, he interviewed influencers and power wielders, the aspiring, the rich and the poor. He navigated between the two worlds with remarkable ease.

He interviewed me as a political analyst a few times, the most memorable being two successive interviews on the State of the National Address (SONA). It was a great moment for me, having grown up listening to his heavy voice, intelligent commentary whilst I was a small boy growing up in Phikwe. Through radio, Thuzosky truly, truly served Botswana with honour and distinction. Radio has lost a great deal. Thuzosky was a thorough and diligent researcher, a consummate and quintessential journalist who left no stone unturned in his work but doing all this with a great deal of humility.

We need to ask ourselves an important question. Do we still have the quality of Thuzosky and if not, what is to be done. I hope this great giant will be posthumously and properly honoured. Rest well, intellectual fountain of wisdom."
Dithapelo Keorapetse
Member of Parliament for Selebi Phikwe West
---
Video courtesy of Victor Baatweng (via YouTube) / Tributes: http://www.dailynews.gov.bw/news-details.php?nid=56425