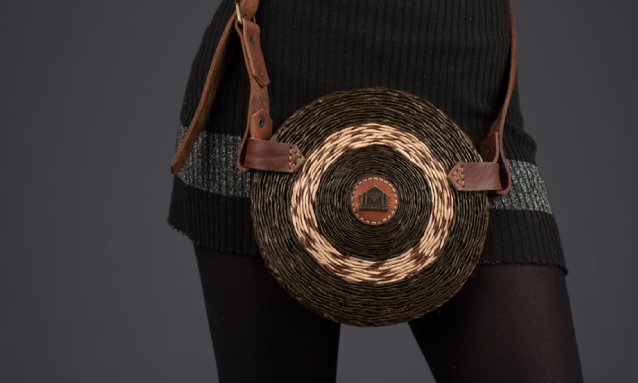 Botswana is not famed for a solid manufacturing environment, as is evidenced by the country's hideously high import bill. However, the tide is turning, there's change in the air. Perhaps because of the severe lack of jobs, a situation that isn't showing any signs of abating any time soon, especially post-COVID-19, Batswana up and down the country are standing up and crafting fantastic products fit to compete on the global stage to keep head above water.
Recently, I was meeting a business partner when a hip young man strode into The Hilton where we were. Straight away, the first things I noticed were his straw cross-shoulder and satchel. I was so struck by their beauty, I just had to stop and compliment him as well as to ask where he'd got them – forward, I know, but the bags were just that eye-catching!
Anyway, to my utter surprise and delight, it turned out this was Phenyo Seleke, the man behind the brand that is A Heritage Legacy! I knew right there and then we had to feature Phenyo's gorgeous bags and share with YourBotswana readers the story behind this amazing, homegrown brand.
Phenyo was generous enough to take some time out of his busy schedule to talk to YourBotswana about A Heritage Legacy.
Who is A Heritage Legacy?
A Heritage Legacy is a premium producer of uniquely made natural handcrafted African artefacts using mokolwane palm (the palm tree fibre commonly used in basket weaving) and leather as well as other materials close to nature.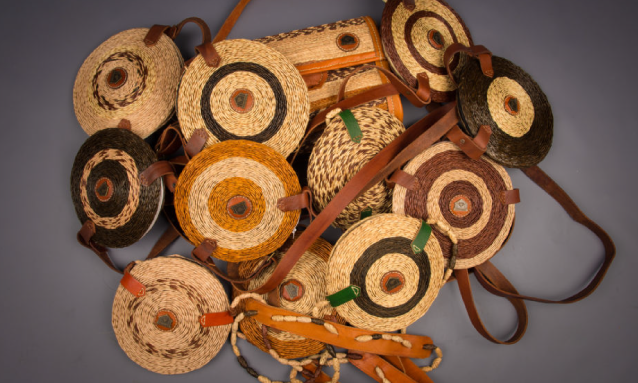 Our vision is to be the leading Industrial design house that promotes cultural preservation. With our vision, the love and craftsmanship of the elderly women in rural areas as well as the modern means of production, we have been able to create unique African artefacts.
Our products include but are not limited to; Laptop cases, briefcases, backpacks, man-bags, sling bags, wallets, purses and cell phone cases as well as home décor pieces. 

We infuse into our products the art and culture of Botswana and Africa in general while preserving our heritage. This way, we re-enforce our indigenous knowledge systems within modern societies. Our products are created with our environment and the people in mind, hence why we collaborate with a community of women in Ngamiland West. These women have dedicated their lives to mastering the art-form of weaving.  
We love the name A Heritage Legacy – how did it come about?
It was inspired by the love for our culture and all the fruits it comes with such as art and language, among others. We believe in leaving a footprint everywhere we go while reducing the carbon footprint and what better way to do this? Leaving a legacy that people will continue to enjoy and benefit from many years from now, inspired by the ancient culture-driven economy to benefit the futuristic, innovative and cultured lifestyle.
You don't find many local bag designers in Botswana. What was the motivation behind pursuing this area?
Our slogan is "Carry our heritage on your shoulder and explore with an African spirit."
Our love for the ancient art of basket weaving, our motivation and determination to explore other lifestyle uses outside decorating households, carrying it around with pride and love for the culture to showcase it around the world. This also extends to modern-day living, for people to carry their gadgets around in style.
We don't imagine manufacturing bags is something anybody can just get up and do. How and where did you learn how to design and make bags?
Our love for all things beautiful, the sheer interest purely based on wanting to learn how to weave, stitch and make beautiful creations helped. We observed and learned from the women in Ngamiland west, who tirelessly shared these weaving skills, thereby sharing with another generation. Additionally, we have worked with a few people who also taught us the techniques of stitching during our journey.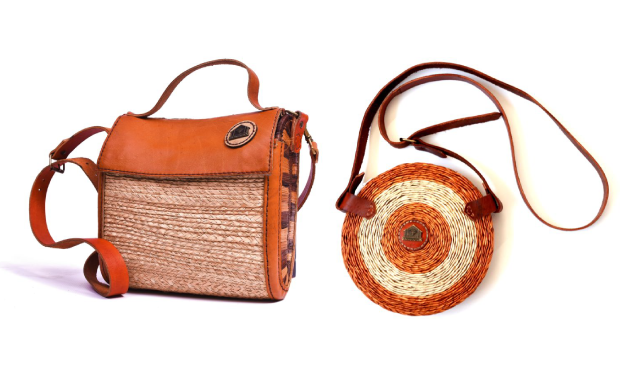 Our Co-Founder, Phenyo Seleke, whose background is architecture with an industrialist interest, is naturally used to creating miniature models, from drawings to prototypes. Lorato Bogopa is a co-founder with a master's degree in industrial psychology.

However, Lorato, Phenyo and the rest of the team all had to learn and practice on the job to achieve the aesthetic quality we envisioned. All this led to the birth of the Heritage Bags. 
We design and make leather tools as well, which became a need as we created our production line. It was the only way to create efficiency in making and assembling our uniquely designed bags, for which we basically used the same formula – learning on the job.
Your bags are very eye-catching and speak to Botswana's culture and heritage as the name suggests. Where do you draw inspiration from and how do you bring it to life in your various designs?
Botswana's woven baskets were the motivation; the intricate weaving that's unique to Botswana, the people who make them as well as our love for all things cultural, handmade and unique. Our designs are heavily influenced by natural forms and resources with the key purpose being functionality.
With modern times, people need to carry their gadgets and various devices with them everywhere – each of our bags is designed with this in mind.
When we first met, you had with you a satchel, a laptop pouch and a cute cross-shoulder bag. Please share what else your range offers?
Our range includes travel bags, laptop bags, corporate pouches, the cross-shoulder Moonwalker for casual outings, fashion lady bags, the 4-in-1 Lineage sling satchels for outings, the Heritage laptop pouch and the luxury hybrid bags that you can flaunt just because you can.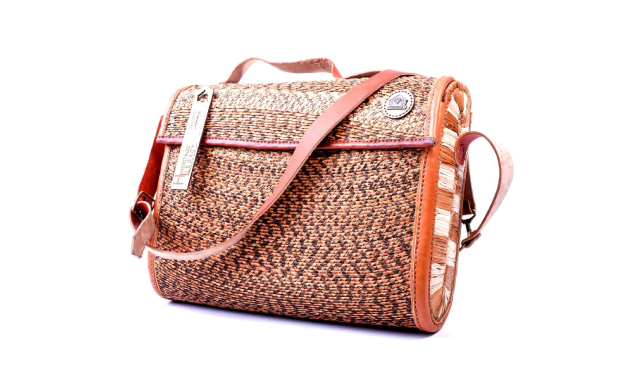 The items we have in our range are laptop cases, briefcases, backpacks, man-bags, sling bags, wallets, purses, Hybrid leather bags, cell phone cases, Moshe baby baskets, accessories (including jewellery and home décor pieces).
Customised corporate gifts include leather diaries and leather diary covers. We can also design bespoke items as per our client's specifications. Additionally, we offer summer/winter casual streetwear. Very soon, we will be releasing our interior décor pieces as well.
What challenges, if any, have you encountered insofar as designing and selling the bags? How would you like to see this change?
We have come across a myriad of challenges.
Convincing a whole community of women set in way of working that goes back many years to work with us as well as showing them the benefits of our business model was one.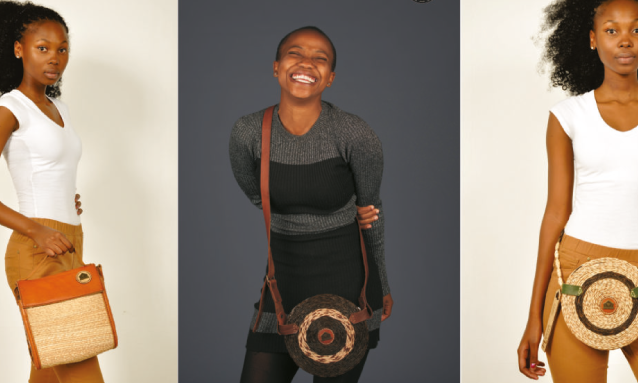 We've all had to be very hands-on, with each of us assigned various aspects of the business ranging from the brand design, manufacturing, marketing, monitoring the weaving process in Ngamiland, mentoring the inspired youth to dealing with various stakeholders such as suppliers. Juggling all these has been a mammoth task, but we are currently bringing in people to assist A Heritage Legacy run more smoothly.
Accessing international markets, meeting all the necessary requirements and marketing the products globally has proven difficult. We have yet to attend international exhibitions that we have been invited to due to lack of resources.
As such, we would appreciate funding and sponsorship from the corporate community in order to attend them the exhibitions and sell the most African bag to ever to the world.
Seeking assistance from various establishments has been a big challenge as A Heritage Legacy is not yet recognised and been represented as an operational outfit that deserves representation and support. In our five years of existence, progress has been disappointingly slow.
The lack of sufficient capital has also meant we aren't able to recruit the professionals we need for various roles, which would then free us up to focus on expanding our product and footprint, industrialising the business and creating better designs so we can compete with the biggest brands in the world.
Who is your product aimed at?
Cultural Enthusiasts of all ages, fashion-forward people of all ages, tourists, the youth – we could go on! But our product is aimed at virtually everyone. The ethos behind A Heritage Legacy will resonate with anyone who appreciates fair-trade products with a story to tell. In essence, that's the target audience A Heritage Legacy is looking to serve.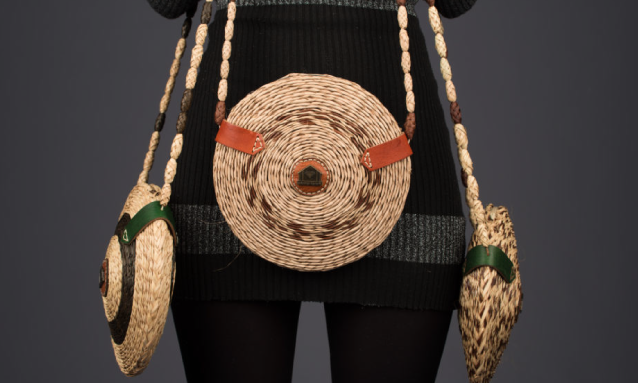 From the starting point to the end, how long does it typically take to design a bag?
The journey from the prototype to a complete, gorgeous and store-ready Heritage Legacy item can take about a month.
How much do your bags retail at – can you give us a price range?
Our product line ranges from a lowly P250 to P5,000.
Where are the items available to buy?
Those who want to buy our products can find them at the following:
LEA Leather Incubator Old Bedu building on Haile Selassie Road directly opposite BPC (Station) Unit 7
Or:
Ina Lebe – Airport Junction 
Or: www.aheritagelegacy.com

Email: info@aheritagelegacy.com
f-@aheritagelegacy
Insta- @aheritagelegacy
Contacts- Lorato – 71750022/ phenyo 0837798219
Naturally, all your items are your 'babies'. But we are curious to know; do you have a favourite out of them all and why?
You are absolutely right! We love all of them as different bags serve different purposes. For instance, the Heritage pouch is ideal for carrying passports, cards and money, while the backpacks are an all-purpose item.
Having said that, a couple of the staff do have their favourites! Lorato's is the unisex Heritage Sling ideal for everyday use. It's good for carrying the pouch, cardholders, phones, the iPad mini, among others.
Phenyo refuses to be without the unisex 4-in-1 Moonwalker which will fit your phone, small wallet and cardholder. She also loves our latest design, the Hybrid.
In all honesty, every day we like different items within the range. They are all unique, so I compare it to music – it depends on the mood.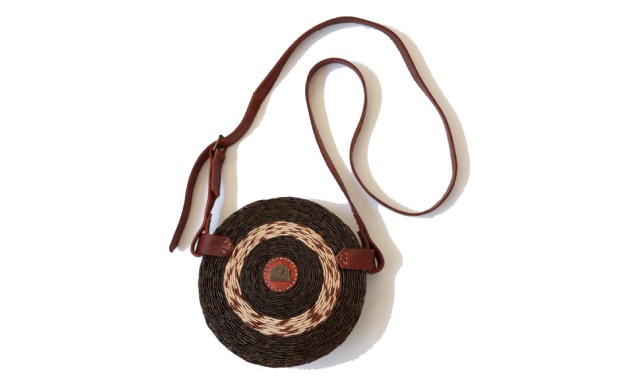 Where do you see A Heritage Legacy going say, in the next five years?
Our dream is to see our products in retail stores across various huge markets like Paris, New York City, London, Berlin and a handful of the Scandinavian cities. We also aspire to:
Farm mokolwane, which is an integral part of our designs, on a 500-hectare piece of land to ensure it's not depleted. We'd like to be able to supply other people who use the material as well.
To offer training to those interested in learning the ancient weaving art forms of Botswana and Africa as a whole.
We also aspire to diversify our product range in a way that pays homage to Botswana and Africa as a whole.
We can all live off of our culture. We need to continuously look within before we embrace western cultures as that's where our unique authenticity resides.
---
Thank you, A Heritage Legacy team, for your time. We wish you the very best for the future. But given how amazing your products are, somehow, we don't think you'll need any luck – their unique beauty speaks for itself!