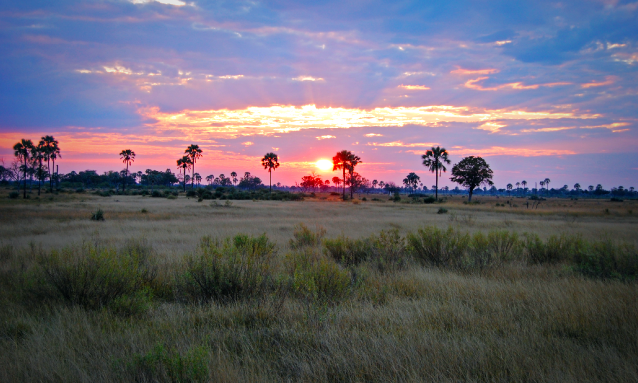 Botswana's Okavango Delta is the second-largest inland river delta in the world after the Niger inland delta and represents one of the most unusual ecosystems on the planet.
It is formed by the Okavango River , which originates in Angola (near Huambo) and reaches the mouth after a journey of over 1000 km and the meeting with numerous tributaries. Overall, the river carries around 11 cubic kilometres of water every year. The water is discharged from the delta directly into the sand of the Kalahari, forming an alluvial plain of 15 000 km² in extension, characterised by a complex and changing grid of canals, lagoons and islands.
In 1965 a part of the delta territory was declared a nature reserve, with the name of Moremi Wildlife Reserve (about 3000 km²). The reserve is managed by the Ngamiland Fauna Conservation Society and represents the main tourist attraction of Botswana. Recently, the Namibian government presented a dam project in the adjacent Caprivi region, a structure that could pose a threat to the delta and its ecosystem. The water that feeds the delta is unusually pure due to the almost total absence of agricultural or industrial activities along the river.
The delta contracts and expands according to the seasonal rhythm of the rains. In March and April, the rains in Angola begin to swell the river. Over the following months, the rains tend to move west, following the course of the river. From June, the delta begins to gain 3 km per day.
In July, however, the water begins to evaporate more and more and consequently, the flood decreases.
On the islands of the delta, "Mokolwane" palms, acacias, ficus and willows abound, while in the canals there are bamboo and papyrus and in open waters, water lilies and lotus flowers. Water and vegetation attract large quantities of birds ; among others, the fish eagle, the African oriole, the black heron, several species of ducks, starlings, kingfisher, herons, parrots, hoopoes, storks and hornbills. The river is teeming with Nile crocodiles and various fish species including the barbs which are very popular with local fishermen as well as numerous amphibians including bullfrogs and the colourful "bell frogs".
In terms of game, the area is a safari lover's paradise, crammed full of elephants, buffaloes, rhinos (both white and black), hippos, lions, jackals, hyenas, zebras, giraffes and baboons, among others. Five ethnic groups of Bantu descent live in the area. These groups of people live through a mixed livelihood system including the cultivation of millet and sorghum, fishing, hunting, the collection of wild herbs and livestock herding.
Source: https://www.goafrique.it/uno-dei-luoghi-piu-interessanti-dellafrica-delta-dellokavango/