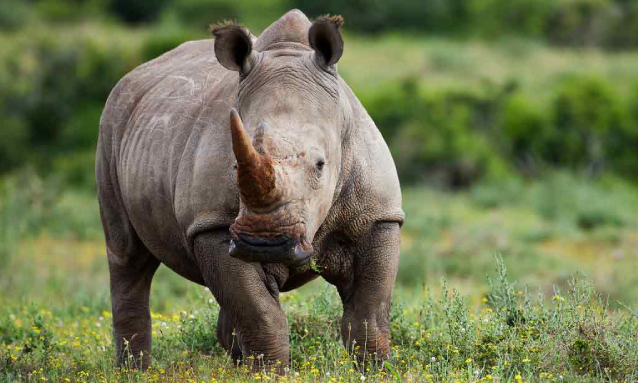 Botswana's critically endangered black rhinos are being evacuated from prime tourist areas to a secret location to spare them from poachers capitalising on the lack of visitors while the coronavirus pandemic grinds on.
Wildlife officers are hurrying to complete the task before the seasonal rise in water levels of the Okavango Delta, which will leave the animals stranded for months. They are also hoping to beat this week's full moon, which can trigger an increase in the number of attacks, as wildlife is easier to track at night.
The decision to move the last of the black rhinos from the delta follows the deaths of dozens of both black and white rhinos in the north of the country in areas close to unfenced international borders. It is feared that there are now too few wild black rhinos to guarantee the local population's future.
The animals were reintroduced to the delta in significant numbers in 2014, two decades after the last rhino in the country had been killed by poachers. South Africa gave its neighbour 87 for "safekeeping" as it was losing more than a thousand a year to poaching gangs. The destination of the rhinos now being relocated remains confidential.
"All I can say is we are taking the necessary measures to protect our rhinos," said Cyril Taolo of the Department of Wildlife and National Parks.
So far, five rhinos have reportedly been evacuated to safety. Recently, Botswana dehorned all its rhinos and poaching is said to have gone down after government intensified anti-poaching in the area.
The illegal trade in rhino horn smuggled to Asia is controlled by criminal syndicates that have drawn in park officials. A horn can sell for as much as $90,000 a kilogram on black markets in China and Vietnam, where it is coveted for exotic remedies and as a symbol of wealth.
Africa has an estimated 20,000 white rhinos left, but only 4500 black rhinos.
Source: Botswana Safari News, theaustralian.com.au