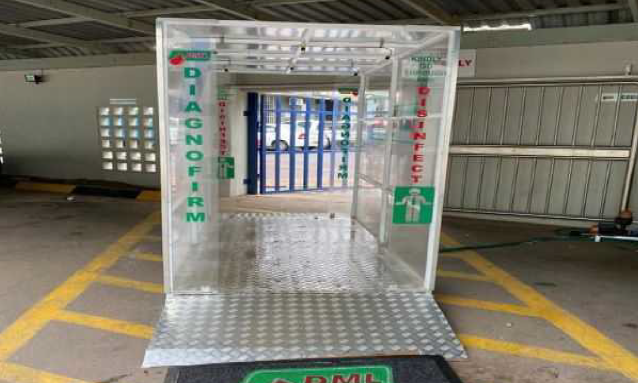 Two local companies have manufactured sanitising bio-booths that can be installed in public spaces to help contain Coronavirus. Tlokweng-based Afriwise and Loadnet Pty Ltd are working under pressure to make booths for both the domestic and export market, in particular, neighbouring countries.
A similar booth is used in India, Dubai, Russia and lately, in Durban, South Africa. It is ideal for use in populated areas such as shopping malls, supermarkets, banks, post offices, border posts, railway stations and airports. The first locally produced booths have been installed at DiagnoFirm medical laboratories in Gaborone and another at Jwaneng mine.
The booths use a potent, water-based sanitiser which kills 99.9% of germs and remains active on clothes and shoes for four days. According to the Botswana Guardian, the Ministry of Health and Wellness has given the booth the seal of approval to be used in the fight against COVID-19.
Project Manager, Julio Ferreira said the 100% local booth is a first of its kind and has the potential to create employment, contribute to the manufacturing sector and make an entry into the medical engineering world. He said the market response is encouraging as Debswana Diamond Company has ordered 16 units for its Jwaneng mine.
Ferreira said they started the design and production at their Tlokweng workshop before the 28-day lockdown. They invited the Ministry of Health for a demonstration at the workshop and both the ministry and the Citizen Entrepreneurial Development Agency (CEDA) were impressed. He said CEDA appreciated the uniqueness and importance of the project.
"We are expecting funding to buy materials to embark on mass production. Finance is our main challenge," he said. 
He said they are currently producing 10 units a day but will increase capacity to work on a 24-hour cycle to meet demand. He highlighted that the product is made locally from scratch, with all materials sourced from local hardware providers. So far, they've already received enquiries from neighbouring Namibia and South Africa, he said.
Reference: botswanaguardian.co.bw