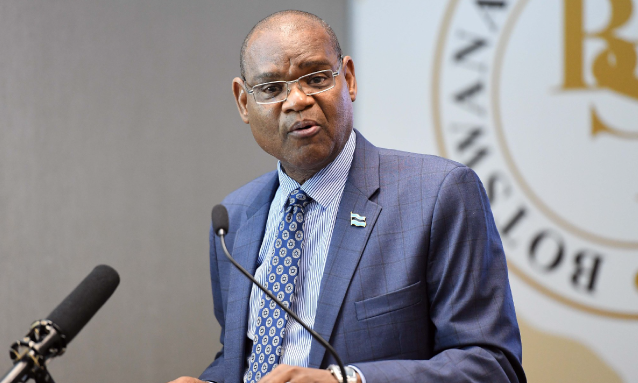 Botswana's central bank on Thursday cut its base interest rate by 50 basis points to 4.25%, as part of a series of interventions to cushion the economic impact of the coronavirus outbreak.
The bank's monetary policy committee also halved the primary Reserve Requirements (PRR) for commercial banks to 2.5%, and the prudential Capital Adequacy Ratio (CAR) to 12.5% from 15%.
To date, Botswana, which has implemented a State of Emergency and a lockdown, has tested 6,210 people for the coronavirus, with 23 confirmed cases including one death.
"Our aim is to provide supportive monetary conditions for economic activity. The reduction of primary reserve requirements will free up 1.6 billion pula,  which will be used by banks to finance economic activity," said Central Bank Governor, Moses Pelaelo.
Botswana's benchmark interest rate was already at record lows due to benign inflation levels and modest domestic demand. Pelaelo said inflationary pressures would be pushed down further by the COVID-19 pandemic and lockdown measures, which have disrupted production and consumption.
"To complement the bank rate in easing real monetary conditions, we have also adjusted the downward rate of crawl of the exchange rate to 2.8% from 1.5%, in a bid to enhance to domestic economy's international competitiveness," Pelaelo said.
Botswana sees its economy shrinking by 13.1% this year while the budget deficit balloons.
Mining, the country's biggest revenue earner, is expected to shrink by a third due to a 6.7 billion pula dip in diamond sales earnings, down from a 20 billion pula forecast earlier in the year.
The global economy is forecast to contract by 3% in 2020. This is worse than the contraction experienced during the 2008/09 global financial crisis, and the fallout from the COVID-19 crisis is projected to surpass that of the Great Depression of the 1930s. Nevertheless, economic activity is expected to rebound in 2021, with global growth estimated at 5.8% anchored by unprecedented policy and resource support by individual countries and multilateral institutions. However, the recovery projections are fraught with uncertainty with respect to several critical factors, namely, the intensity and effectiveness of containment efforts; the extent of supply disruptions; fiscal and market financing constraints; shifts in spending patterns; trends in commodity prices; and, ultimately, business and consumer confidence. A similar pattern of developments pertains with regard to the rest of the Sub-Saharan Africa region.
Bank of Botswana says it remains committed to its objective of ensuring monetary and financial stability and will respond timely to deviations of inflation from the objective range in support of durable economic development. The complete Monetary Policy Report containing the Bank's outlook for the domestic economy and inflation will be published on the Bank's website, https://www.bankofbotswana.bw on May 7, 2020.
Source: af.reuters.com, The Botswana Daily News