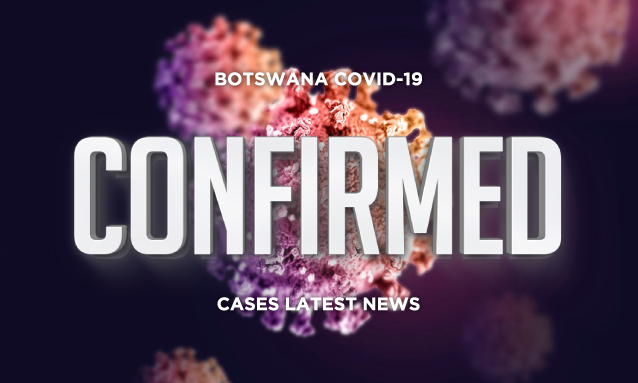 ---
20 April
The Minister of Health and Wellness, Dr Lemogang Kwape has announced that five more people have tested positive for Covid-19. This brings the total number of reported cases to 20.
The new cases are two males, a 53-year-old and 30-year-old who travelled to the United Kingdom. The other three are a 35-year-old man and two females of 32 and 30 years old respectively who are contacts of persons who have tested positive. The minister said with the latest cases, the number of local transmissions jumps from three to six.

---
16 April
The two new confirmed cases… one is a police officer who had gone to the United Kingdom for training, while the other is a 21 year old man from Molepolole, who interacted with the 27 year old man of Molepolole, who had tested positive after his return from the United Kingdom.
---
9 April
The Minister of Health and Wellness, Dr Lemogang Kwape has announced to Parliament that Botswana has seven new confirmed cases of COVID-19, bringing to 13 the total number of cases the country has recorded so far.
Among the seven is a nurse who was appointed to screen MPs ahead of the Special Parliament Meeting yesterday. On that basis, the Director of Public Health, Dr Malaki Tshipiyagae said everyone who was at yesterday's meeting will, therefore, need to be quarantined for 14 days and be tested for COVID-19.
The six cases are as follows
A 50-year-old policeman returning from the UK
A 37-year-old woman and husband quarantined at a Cresta hotel
A Block 8 Clinic health worker who was on duty at Parliament
A 28-year-old man
A 34-year-old man in Masunga who travelled to the UK, now in Siviya. Contact tracing is underway
A 53-year-old man who travelled to Pretoria
Today Members of Parliament were due to continue deliberating on President Dr Mokgweetsi Masisi's request for a six-months State of Emergency that he put before parliament yesterday.
Meantime, the Minister of Basic Education, Fidelis Molao has warned that pupils may not be able to graduate to upper classes should they miss 60 days of the school learning calendar. Molao said should that happen, the ministry would have to suspend the entire academic level transition.
Reference: Btv News / BOPA