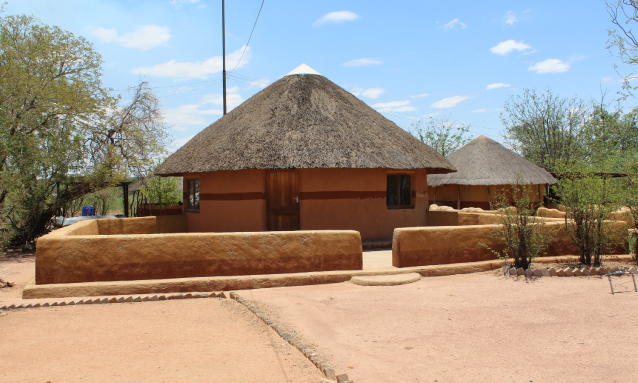 The architectural thinking and materials engineering behind the humble traditional hut is a credit to the genius of our ancient forefathers. To consider the traditional hut at the Kgosi Sechele I Museum in Molepolole beyond its surface appearance is to see a process of high-order thinking hard at work.
That is because the hut's visual essence (simplicity) belies astounding architectural imagination that tells a beautiful story about the unmistakable genius of our ancestors. Let's start with three of the building materials: mud, grass and cow dung which, in the western world, are used more as belittling than as descriptive details. You know exactly what message "The Economist" is communicating when it tells the story of a diseased African who lives in a one-roomed, thatched-roof mud hut plastered with cow dung. Actually, those natural materials are the reason mud huts remain cool in the summer and warm in the winter, yielding untold health benefits.
In late December 2018, Culture Botswana 2.0 passed by the Kgosi Sechele I Museum in Kanye. Outside, the temperature was 40°C but the temperature inside the main model hut would have been around 25°C – or so it felt.
According to capereed.com, the difference in temperature between a thatched roof and one made of bricks and mortar can be up to 10°C. Compared to a concrete and metal roofing, mud, grass and cow dung have been found to possess excellent insulating properties. Mud is a bad conductor of heat and therefore, doesn't allow external heat to penetrate the hut during the sweltering summer months. Equally, it doesn't the warmth to escape during the freezing winter. The surface is also porous, allowing evaporation to take place.
A thatched roof has a similar insulating effect as well as some other benefits. Its dense construction acts as a deterrent for pests and has a natural resistance to salt and liquid. Property24, an online South African publication, cites another less known benefit: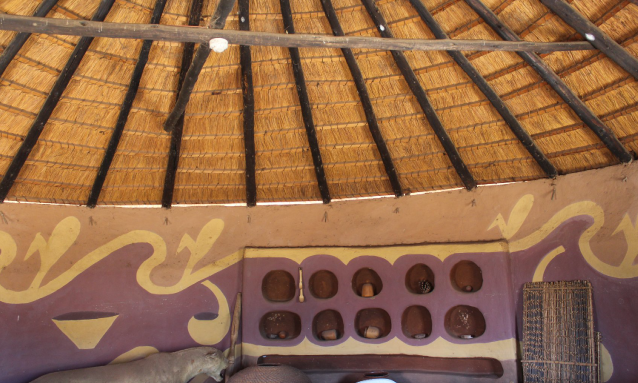 "Thatching is so dense that it tends to smoulder rather than burn, (of course); however, if the fire starts within the home, the thatch will burn, but this is a commonality in all roof types."
Our forebears also discovered that despite its smell, cow dung is an excellent building material. In those days, they applied a mud-and-cow-dung paste to the walls and floors in the construction of mud huts. Cow dung, which has high-fibre content, forms a waterproof layer whose insulating properties are similar to those of mud and thatched grass and also acts as an insect and pest repellant. As undigested residue of plant matter, cow dung is rich in minerals and, according to the United Nations Food and Agriculture Organisation, cow dung and cow urine contain complex degrading substances with antibacterial properties. The latter are considered good for human health. The pungency of cow dung is weakened when it is mixed with mud and water.
The structural design of a mud hut has its own unique set of advantages. Hot air characteristically rises and a mud hut's high ceiling enables the air to rise as high enough as to leave human-height sphere. The high ceiling design of the thatched roof ensures that rainwater runs off it and even protects extremely well against snow (in areas that receive it). Water build-up, as in the case of a flat-roofed modern house, can cause moss and poor drainage. The ventilation holes between the wall and the roof of a mud hut afford dwellers superior air quality which they otherwise wouldn't get in a modern house. In case you are thinking air-conditioning is the answer, highly credible research has shown how harmful it is to human health.
The circular shape of a mud hut performs a miracle that prompted residents of Gujarat state in the Kutch desert areas to start turning to these type of huts (called "bhungas") after an earthquake hit their area in 1819. In a past edition of "The Diplomat", Sugato Mukherjee, an Indian journalist writes:
"Even after the severe earthquake of 2001, it was seen that despite being very close to the epicenter of the earthquake, bhungas stood firm while many other buildings were devastated." 
His explanation of the science is that the hut's shape does not obstruct the lateral forces of the wind and hence reduces pressure on the structure during cyclones. There can be no better way to end the story of the traditional hut than by turning to the cultivated scholarship of Dr. Richard Reid of the School of African and Oriental Studies at the University of London. Writing more generally about the "foreshortening" of African history, Reid has dismissed the "significance of the colonial moment" as a myth. The mud hut literally stands as eloquent evidence of that.
Source: Culture Botswana 2.0 Facebook page
A unique nation-building tool, Culture Botswana 2.0 champions cultural diversity, inclusion, equality and visibility through indigenous-culture journalism that documents and dignifies all of Botswana's indigenous cultures.