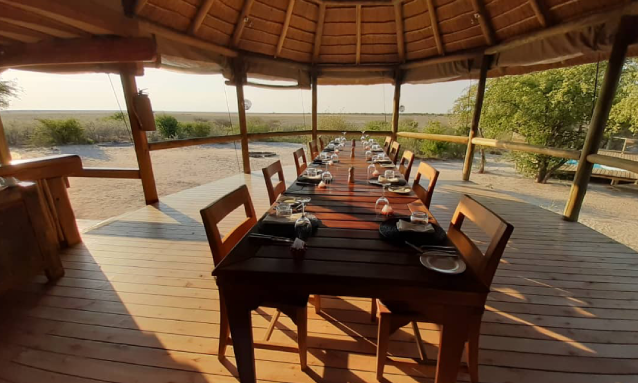 Kalahari Plains lies in a remote part of the diverse and productive Central Kalahari Game Reserve (CKGR) and offers some of the best wildlife viewing opportunities in Africa, particularly in summer. Located in the Kalahari Desert in central Botswana, this reserve is the largest conservation area in the country and one of the largest in the world. Its star attractions include the legendary Kalahari black-maned lion as well as some of the world's best cheetah viewing.
Kalahari Plains overlooks an immense pan with endless horizons and beautiful skies. It comprises eight en-suite canvas units with a sleep-out platform above each from which to enjoy moonlit or star-studded nights. The main area consists of a lounge and dining area with a pool and deck. Solar power provides all the electricity and hot water in the camp and insulated canvas walls and roofs keep temperatures inside the units comfortable.
Wildlife at Kalahari Plains
Healthy wildlife populations are present in the area all year round, but with the advent of the summer rains, the desert comes to life. A plethora of plains game such as springbok and gemsbok converge in their hundreds to graze, followed by lion, one of the highest concentrations of cheetah in southern Africa and leopard. In winter, the Kalahari is a typical desert. General game is still easily seen, from the carnivores to wildebeest, red hartebeest and steenbok as well as small predators like the black-backed jackal, Cape fox, honey badger and myriad mongoose species. Some 220 bird species have been recorded.
The Central Kalahari Game Reserve (CKGR) is one of the largest protected areas in Africa. Our concession is located on its northern plains, where the landscape comprises flat grasslands and undulating vegetated dunes, at times teeming with a multitude of antelope species and large predators. This area is characterised by vast open grassy plains, seasonal pans, wooded acacia islands, prehistoric scrub-covered dunes and fossil riverbeds. As a result of this diversity of habitats, healthy game populations move between dune and valley, depending on the season and the area also holds significant populations of large predators like lion and brown hyaena.
Aside from the enormous open plain in front of camp, other prime wildlife viewing areas include places with such evocative names as Deception Valley and Sunday Pan. The former is all that remains of an ancient riverbed, which today is an 80 km-long (50 mile-long) gentle valley floor covered with short palatable grasses interspersed with picturesque tree islands. The name 'Deception' is derived from the mirage effect caused by the dry surface of the pan halfway along its length that often appears misleadingly full of water.
Species specific to the Central Kalahari and not seen at the camps in the Okavango and Linyanti are gemsbok (oryx), springbok, red hartebeest, Cape fox, meerkat (suricate) and brown hyaena. A trip to Kalahari Plains Camp enables access to the wider diversity and complements the Linyanti and Okavango Delta regions perfectly and is a striking contrast.

During the summer months, after much-needed rains, the area in which Kalahari Plains is situated is characterised by lush green landscapes, floral displays and pans that fill with water. At this time of year, these verdant flatlands are alive with aggregations of gemsbok, springbok and blue wildebeest. 

As a result of these numbers, predator concentrations are also high and sightings of the almost mythical black-maned Kalahari lion can be complemented by some good cheetah viewing. Black-backed jackal and bat-eared fox also occur, with wild dog and leopard seen on occasion. Other mammal possibilities include steenbok, red hartebeest, giraffe and the charismatic ground squirrels and meerkats.
Winter
In the winter months, the Kalahari is more typically a desert-type system: warm and dry. Game viewing remains productive and moves into the vegetated dunal belt and pan systems surrounding the valleys; a series of ecologically-placed waterholes further enhance wildlife viewing. After sunset, the Kalahari is alive with the sounds of roaring lion, southern white-faced scops-owl and the garrulous calls of common barking gecko.
The avifauna in the reserve is equally diverse, with over 220 species recorded to date. There are significant, healthy populations of regionally-threatened species such as Kori bustard and lappet-faced vulture, as well as a variety of arid-west endemic species like Burchell's sandgrouse, grey-backed sparrowlark, Kalahari scrub-robin, shaft-tailed whydah, Namaqua sandgrouse, pink-billed lark and African wren- warbler. The vivid colours of crimson-breasted shrike, green-winged pytilia, red-headed finch and violet-eared waxbill provide a startling contrast to the sometimes stark surroundings.
Summer
In the summer months, there is also an exciting influx of migrant species depending on rainfall: Pallid harrier, Montagu's harrier, Caspian plover and western red-footed kestrel. Larger birds to look out for include common ostrich, secretarybird and raucous northern black korhaan.
Our Purpose at Kalahari Plains
Kalahari Plains is involved in a number of conservation initiatives that include wild dog research and working closely with local communities.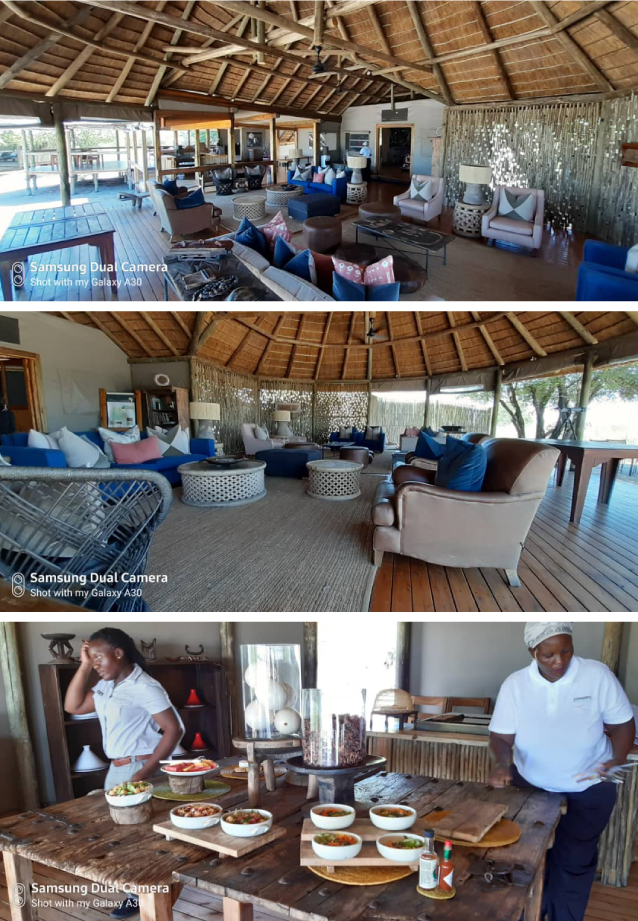 Source: wilderness-safaris.com