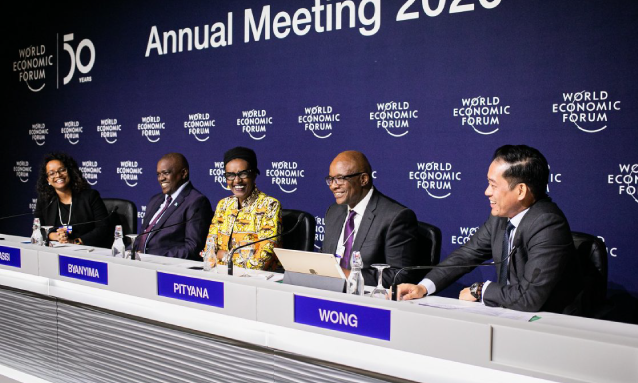 Botswana is one of three countries selected for piloting the World Economic Forum's (WEF) Friends of Africa Growth Platform initiative, President Dr Mokgweetsi Masisi has revealed. He recently told the media in Gaborone that the initiative would be launched in April just before the Forbes 30 summit. President Masisi explained that the WEF launched the initiative during its just ended 50th annual meeting in Davos, Switzerland.
The initiative aims at creating 100 million small and medium enterprises (SMEs) in Africa by 2025. Dr Masisi stated that his participation at the WEF meeting helped raise global awareness about Botswana. His delegation, he pointed out, interacted with influential international government and business leaders as well as global media.
He applauded the Botswana Investment and Trade Centre (BITC) for being innovative in marshalling the country's interaction with other stakeholders, which generated a good level of interest in Botswana.
"Our foremost intention of participating for the second time in this WEF annual meeting was to build onto our experiences of the previous year as we seek solutions, possible partners and options for extricating ourselves of the challenges that bedevil us such as unemployment, poverty and others," Dr Masisi said.
He said compared to 2019, he had taken a larger delegation this year in order to broaden the articulation of the Botswana story, vision, government priorities and experiences as a country.
Together with the Minister of Investment, Trade and Industry, Peggy Serame and the rest of his delegation, President Masisi said he also pursued investment opportunities in order to create jobs with the vision to have a more enterprising, knowledge-based economy. In addition, he said he shared the country's anti-corruption initiatives as he participated in the launch of Transparency International's Transparency Perception Index.
The index ranks 180 countries globally and places Botswana 34th out of 180 countries, the second least corrupt in Africa after Seychelles. Bilateral engagements included his meeting with Professor Klaus Schwab, WEF executive chairman and founder with a view to strengthening Botswana's collaborations with the forum, Mr Alain Berset, former Swiss Confederation president and currently Switzerland's head of the Federal Department of Home Affairs.
President Masisi said it was agreed that Botswana and Switzerland would meet periodically under the framework of political consultations to solidify multilateral cooperation between the two states. The President said the trip would also benefit Botswana because it presents the opportunity to speak to international media houses to clarify misconceptions about the country's political situation.
He further said the benefits of the trip would outweigh any costs incurred, saying his delegation was prudent in their spending; for instance, by not flying first class. Instead of booking into expensive hotel accommodation, he said they opted for a self-catering house which served as their base while in Davos. Before attending the WEF meeting, President Masisi visited France and Belgium.
Source: BOPA