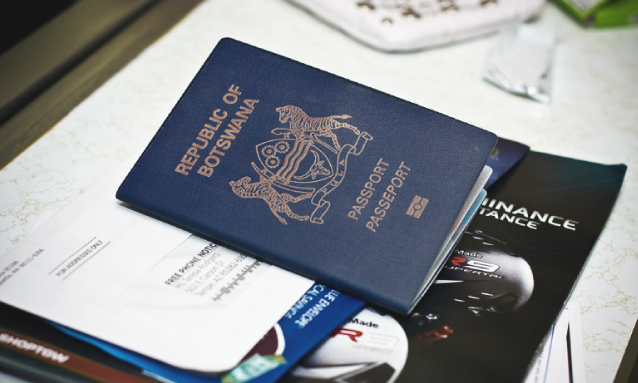 For some people, a passport is a portal to the world. For others, it is a barrier to the travel freedom they seek. Where do you lie on the spectrum of mobility?
The Henley Passport Index is the most rigorous and sophisticated measure of global access. It goes beyond a simple ranking of passports to provide you with an in-depth picture of your travel freedom, including which countries you can access with which type of visa, how your passport has changed over the last 14 years, how your passport compares to other passports, why your passport has the level of access it does and which additional passports would improve your mobility.
The Henley Passport Index is the only passport index that is based on IATA data, enhanced by extensive in-house research, supported by expert commentary and updated regularly throughout the year, making it the most robust, credible and reliable index of its kind.
The just-released 2020 Henley Passport Index ranks the Botswana passport 4th in Africa and number 62 overall with a score of 84. Here's Africa's top 10:
Seychelles
Mauritius
South Africa
Botswana 
Namibia
Lesotho
eSwatini
Malawi
Kenya
Tanzania
Top 5 most powerful overall:
Japan
Singapore
S Korea/Germany
Italy/Finland
Spain/Luxembourg/Denmark
Slight progress on African visa openness
African countries are gradually relaxing their visa requirements and easing up their issuing processes in a bid to foster travel within the continent and enhance intra regional trade; this is according to an observation made by the African Development Bank.
Over the years, it has been extremely difficult for Africans to travel within Africa than it was for non-Africans, defying African Union regional integration efforts. However, many African countries have recently been relaxing their immigration laws, making travel easy for fellow African travellers. The Africa Development Bank's Visa Openness Index for 2019 has found out that for the first time, Africans have travel access to 51% of the continent and will only need visas to travel to fewer than half of other African countries.
Of the 51% of countries Africans can access more freely, 26% offer visas on arrival while 25% do not require prior visas from African travellers. Much of the progress is down to several countries on the continent opting for more liberal visa requirements from African travellers.

Ethiopia announced a more liberal visa on arrival policy for African travellers last October and jumped a record 32 places on the Visa Openness Index. Senegal, Angola, Ghana, Benin and Gabon are also credited with taking up more open visa policies for Africans over the past year.
Overall, 28% of African countries improved their visa openness scores in the period. There are already signs that the liberalisation of visa regimes in Africa will continue over the next year as well. Nigeria, Africa's largest economy, has already committed to begin issuing visas on arrival for all African nationals this year. Seychelles leads the continent with the most liberal and open Visa requirement system in place. Benin and Senegal come second and third respectfully.
Botswana lagging behind
In the case of Botswana, the landlocked country has declined in the rankings, moving down a spot from number 30 in 2018 to 31 in 2019. Botswana has been cited under the "Countries looking to open up" rank. In an effort to improve the ease of doing business in the country, Botswana announced in 2018 that it will offer Tourist Visas at point of entry effective 24th November 2018.
The announcement was made by President Mokgweetsi Masisi at the High-Level Consultative Conference. To promote the tourism sector and boost the ease of doing business environment, the government announced the move to liberalise its visa regime by offering tourist visas on arrival. The new visa-on-arrival policy is anticipated to make travel to Botswana easier for African travellers.
Africa Air Travel
While relaxing visa rules is one thing, smoother air travel for travellers across the continent is quite another. Yet, the African Union has also recorded strong progress in this regard with the launch of the Single Air Transport Market initiative to ensure cheaper and more regular direct flights between African countries. The continent has been advocating and lobbying for easier intra-continent travel and the free skies for various take-homes. The benefits of more open borders for African travellers' range from increased intra-Africa trade to boosting local tourism industries.
There's already evidence of what's possible as a 2017 report by United Nations Conference on Trade and Development showed Africans accounted for 40% of international tourist arrivals on the continent despite visa and travel complications. However, experts say despite progress recorded, there is still a long way to go as in the case of Equatorial Guinea. The tiny oil-rich state ranks low on the Visa Openness Index as it still requires pre-acquired visas from all Africans.
Going Forward
African Development Bank Vice President for Regional Development, Integration and Business Delivery, Dr. Khaled F. Sherif observed that in 2019, a record 47 countries improved or maintained their visa openness scores, which on average are rising year-on-year. Today, African travellers no longer need a visa to travel to a quarter of other African countries, whereas visa-free travel was only possible to a fifth of the continent in 2016.
While the top 10 and top 20 continue to champion open visa policies, more countries in all regions are following this model, including most recently, Africa's upper-middle-income countries. To streamline the travellers' experience, 21 countries across Africa now provide eVisa platforms boosting transparency and accessibility.
"Now, as Africa paves the pathway to prosperity with the African Continental Free Trade Area, we are all responsible for accelerating its progress. Integration depends on investments and interconnectivity, and it is imperative that Africa's population moves with greater freedom," he said.   
African Development Bank President, Akinwumi A. Adesina says Regional integration is crucial for Africa's accelerated development.
"We must connect landlocked countries to ports, we must allow the free movement of people, investors must be able to invest beyond the borders of countries and Africa must trade more with itself.  Apart and divided, Africa is weakened, together and united, Africa will be unstoppable," he said.
Sources: https://www.henleypassportindex.com/passport / weekendpost.co.bw