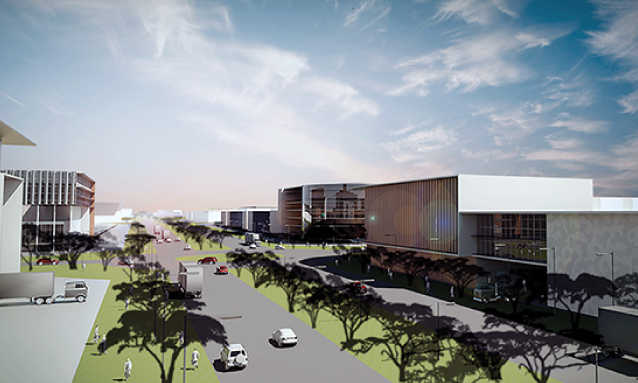 The news that the much-anticipated Special Economic Zones Authority (SEZA) projects are now showing signs of movement will be welcomed by many Batswana. The groundwork for the Sir Seretse Khama International Airport (SSKIA) Special Economic Zone (SEZ) project is now reportedly ready to commence.
BusinessPost has established that P100 million has already been released to commit to a 1.8-kilometre road which is part of the Phase 1 strategic plan for the initial development of the Sir Seretse Khama International Airport (SSKIA) SEZ. According to SEZA, the project will open up a 90 hectares development near the SSKIA. The national airport has been declared as a multi-use SEZ and its boundary has been approved by Gaborone City Council (GCC), according to SEZA. The aim is for economic activities at the SSKIA-SEZ to be more focused on innovation and diamond value addition while also catering to opportunities in pharmaceutical manufacturing and distribution.
"Other miscellaneous economic activities will include industrial, commercial, air-related logistics and distribution. From a real estate, financial and fiscal standpoint, it made sense to integrate the Innovation Hub and the Diamond Hub into the SSKIA-SEZ," said SEZA Acting Chief Executive Officer Thatayaone Ndzinge in an interview with BusinessPost.
The legislation enacted the Special Economic Zones Act in 2015 with a mandate, "to make provision for the establishment, development and management of special economic zones; for creating a conducive environment for local and foreign investment; to facilitate the expansion of employment opportunities, attainment of economic growth targets and to provide for matters related therewith and incidental thereto."
The government has zoned seven land spaces to be used as SEZs; Lobatse (70 hectares), Sir Seretse Khama International Airport (780 hectares), Fairgrounds (50 hectares), Palapye (500 hectares), Selibe Phikwe (1100 hectares), Francistown (700 hectares), Tuli Block (400 hectares) and Pandamatenga (41000 hectares).
The SEZs have been divided into phases and in the first phase, there is Sir Seretse Khama International Airport (added with the Diamond Hub as industrial and business transport zone); Selibe Phikwe(like base metal beneficiation, chemical manufacturing and agro-business and Francistown(mining and logistics).
In the second phase there is; Lobatse(meat and leather hub), Palapye(coal beneficiation), Tuli Block(horticulture), Pandamatenga(agro-business) and Gaborone Fairgrounds(financial services hub. Last month Bothakga Burrow won tender number 014/03/2019 for constructing: "detailed urban scheme, detailed infrastructure services design and production of construction tender documentation for the designed Boulevard one of the Sir Seretse Khama International Airport Special Economic Zone (SSKI-SEZ East) in Gaborone." This tender should be completed by next August, according to the contract.
According to SEZA, the project will also include a design scheme for the provision of underground services like water, fibre, power and CCTV.
"We are committed to delivering a quality project within time and budget. The success of this project will no doubt set the tone for the SSKIA-SEZ," Ndzinge told BusinessPost.
Botswana's SEZA was benchmarked against leading economies like Singapore, Malaysia, South Korea, Mauritius and China. Already P145 million has been approved for SEZA projects. Gabana Architects Consortium is awarded a tender to construct the P8 million Lobatse SEZ, expected to finish next year June.
In Gaborone, apart from the SSKIA, SEZA has a zone at the Fairgrounds commercial area where SEZA is headquartered. This tender was awarded to Royal Haskoning at the tune of P13 million and is expected to have been concluded by June 2020. Gabana Architects Consortium won another SEZ tender to construct the Selibe Phikwe economic zone before July 2020. Like Gabana, Royal Haskoning was lucky to win a second tender by snatching the Francistown SEZ. The Pandamatenga and Palapye SEZ projects are yet to be awarded. Ndzinge said all the projects would start early this year. He said they are still marketing and seeking an investor for Palapye.
The land issue
The SEZA Director Investor Attractions and Monitoring Officer, Joel Ramaphoi revealed last September during the Business Botswana Annual General Meeting that the process of acquiring land and transfer of land use in Botswana has been delaying the Authority. Ramaphoi said the issue of land allocation or availability of land has proven to be a big impediment.
"Land acquisition has been a big problem. There are always delays in land acquisition and it is a big challenge. We need to get enough land to enable us to carry out our mandate," said Ramaphoi.  He cited Lobatse as an example of where they struggled to acquire 200 hectares for SEZA as "it took too long to secure land."
During last year's National Business Conference, President Mokgweetsi Masisi said the government is working on legislation "that will fast-track the processing of applications for the change of land use so that the landowners can benefit from its optimal utilisation." President Masisi revealed that the target date for the finalisation of the legislation was December last year.
In an interview, Ndzinge said SEZA has a lot of land for SEZ safe for the Tuli Block area, which is not necessarily a top priority area. He said land at Tuli Block is mostly privately owned, hence the difficulty in acquiring it.
The legislative debate on SEZA
When briefing Parliament on SEZ last year, the then Assistant Minister of Investment, Trade and Industry, Moiseraele Goya said that the conferring of all the eight SEZs would be finalised during 2018 and land servicing of the serving of all seven sites' land was to be completed by December 2018 and March 2020 respectively. He further revealed that the sale and marketing of all sites started in April 2018.
This led to the debating of the Special Economic Zones Bill No. 10 of 2015, which was lauded by the former Sefhare-Ramokgonami legislator, Dorcas Makgato. Makgato said the SEZ initiative would expedite industries competitiveness on the global market, hence strengthening the country's export earnings.The then Maun East MP Konstantinos Markus bemoaned his region being left out of the initiative even though it is a tourist attraction.
Four investors found for SEZA
Ndzinge has revealed that they have so far secured four investors who have committed to come and do business in Botswana in April. He said their investor attraction mission which took them to Dubai, South Africa and Germany bore fruit as they met with 30 investors, including the four who are all but ready to convert. He said most of the businesses interested in coming to Botswana are impressed by the country's Ease of Doing Business regulations and reforms.
Incentive packages for the investors
Last July, cabinet approved a 5% Corporate Tax incentive for the first 10 years in Botswana. After 10 years, the incentive goes up to 10%. There will also be zero-rated VAT on raw materials for manufacturing for export. Cabinet sought to remove the hurdle of land shortage by allowing the swift allocation of land to investors.
Foreign investors will also be offered long-term renewal of land leases. Investors will also enjoy a waiver on transfer duty on land and property and a Property Tax exemption for 5 years. The government will also allow duty-free imports for specialist plants and machinery manufacturing purposes. The government of Botswana will also ensure that there are no exchange controls but rather full repatriation of profits and capital.
Reference: weekendpost.co.bw