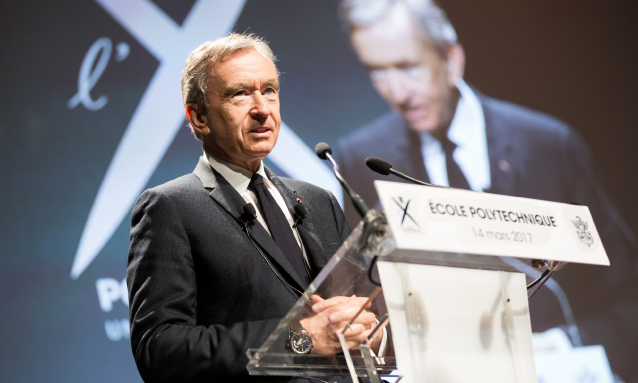 LVMH Moët Hennessy – Louis Vuitton SE, the world's largest luxury goods giant has reached an agreement with the board of Tiffany & Co, in a move that will see the company purchase the world's most iconic jeweller.
This week global business corridors were awash with the historic acquisition which will see the French multinational luxury goods conglomerate cement its position as a universal elite goods powerhouse. The Paris headquartered empire run by Billionaire Bernard Arnault will bring the iconic American jewellery brand into its fold at a cost of over $16 billion, making it the biggest luxury brand acquisition in history. The acquisition will add to the firm's portfolio, which includes Louis Vuitton and Sephora.
The watershed deal was confirmed by LVMH on Monday. According to Forbes, LVMH will acquire Tiffany for $135 per share for $16.2 billion, almost $2 billion higher than the initial bid that LVMH made for the luxury jeweller in October. Tiffany will sit among LVMH's 79 brands, in its watches and jewellery division. Global analysts say the deal will strengthen LVMH's position in North America and build on its foundation in the jewellery market. The deal is expected to go through in the middle of 2020, LVMH said.
Shares of the Paris-based fashion house were up 2% on Monday morning, while Tiffany shares were up 6% in premarket trading. LVMH Chief Executive Officer & Chairman, Bernard Arnault told global media houses that his company was excited to bring Tiffany into its fold. 
"We have immense respect and admiration for Tiffany and intend to develop this jewel with the same dedication and commitment that we have applied to each and every one of our Maisons."
New York Times says the acquisition will give LVMH a bigger foothold in the United States, as well as help Tiffany in Europe and China. It will also cement the status of Bernard Arnault, the LVMH chairman and Chief Executive, as the most acquisitive deal maker in the luxury business.
Tiffany & Botswana
LVMH's acquisition of Tiffany & Co makes the Benard Anault-run conglomerate one of the most important businesses in Botswana major economic sectors. Tiffany & Co is one of the major buyers of Botswana's polished diamonds. In 2011, Tiffany opened a full diamond polishing and sorting factory in Botswana, valued at $4.8 million. In January this year, the 182- -year-old American Jeweller in a bid to increase its transparency and raise ethical jewellery standards across the industry, announced that it would expand its diamond polishing operations in Africa, particularly Botswana.
Botswana, the world's largest diamond producer after Russia, is the only African country where Tiffany & Co buys and manufactures its stones. About 80% to 90% of Tiffany's polished diamonds are acquired and manufactured through its Antwerp-based subsidiary, Laurelton Diamonds, which sources stones mined by De Beers from their operations in Botswana, Canada, Namibia, South Africa as well as Russian giant Alrosa, amongst others. Laurelton has manufacturing operations in Belgium, Botswana, Mauritius, Vietnam and Cambodia.
Masisi's visit to Tiffany's
Early this year President Masisi visited Tiffany & Co headquarters in New York and held talks with the company executives. He noted that Tiffany will continue being Botswana's major trading partner in the diamond business. Masisi's visit to Tiffany was just a few months after Tiffany & Co-Chief Executive Officer, Alessandro Bogliolo visited Botswana.
While in Botswana, Bogliolo paid a courtesy call on President Masisi, during which time he highlighted that his company is what it is because of quality and ethically sourced diamonds mined in Botswana. Tiffany & Co started buying Botswana diamonds 50 years ago and had been operating polished factories in Botswana for the past 12 years. It employs about 200 people, the majority of whom are citizens.
Tiffany takeover makes Bernard Arnault second richest person on earth
According to Forbes, Bernard Arnault is now worth nearly $108 billion. Arnault's net worth jumped over 1% Monday and nearly another 3% Tuesday along with LVMH's stock, following his company's agreement to buy Tiffany (TIF) for more than $16 billion.
Arnault and his family own more than 47% of the French luxury goods giant. The spike in LVMH shares puts Arnault just ahead of Microsoft (MSFT) co-founder Gates, who has a net worth of $107 billion. Arnault trails behind Amazon (AMZN) CEO Bezos, who tops the Forbes list with a fortune of just over $110 billion.
LVMH Botswana tourism interests
Having clinched a lucrative value chain stake in Botswana's diamond industry, LVMH Moët Hennessy – Louis Vuitton SE now has billion-dollar interests in Botswana's two major economic sectors. Early this year, Botswana's Competition Authority approved an acquisition by the French conglomerate.
The billion-dollar global powerhouse acquired Belmond Botswana, a company that operates Eagle Island Lodge situated in the Okavango Delta in Xaxaba Island. The lodge is frequented by world-leading personalities, musicians, billionaires, royals and business people who visit the tourists' attraction country.
Early this year, LVMH completed the acquisition of Belmond Group for $25.00 per Class A share in cash, mirroring equity value of $2.6 billion in the transaction and $3.2 billion in enterprise value. This transaction directly gave LVMH full ownership of three safari lodges in Botswana being Belmond Kwai River Lodge, Belmond Savute Elephant Lodge and the Belmond Eagle Island Lodge.
Source: weekendpost.co.bw