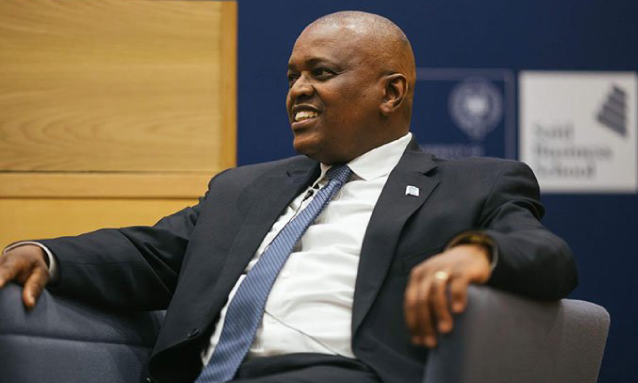 President, Dr Mokgweetsi Masisi has assured the African Union Commission (AUC) of Botswana's solidarity and support, on the basis that the two are entwined not just physically but also emotionally, intellectually and conceptually.
President Masisi was speaking at a brief press conference following the AUC chairperson, Moussa Mahamat's courtesy visit to him. This was at the recent Cabinet retreat at Manong Game Lodge near Pitsane on November 23. President Masisi said the country was also prepared to serve the commission, including through the timely payment of its contributions and ensuring such contributions were fully accounted for.
"We are also willing and ready to commit in other ways such as human resource if the commission so wishes. Botswana will play its part fully as a member in good standing of the African Union," he said.
The President further said that Botswana welcomed AU initiatives such as the African Continental Free Trade Area and the commitment to dialogue in order to harmonise and improve coordination, which he labelled as milestones of activities and projects of Agenda 2053. He said other projects on the agenda include a commitment to peace and security by the resolution to silence the guns on the continent.
"We are part of all these and others such as migration and the movement of goods and services. The AUC is at liberty to raise any issue with us that they may want us to help with, and they will not find us wanting," he said.
Dr Masisi assured Mahamat that Botswana would continue to play a more involved role in helping the commission with the appropriate management of its resources to liberate the continent from dependency on donor funding for its development.
President Masisi also expressed his appreciation for Mahamat and his delegation's visit, saying the latter had been a pillar of stability and intellectual foresight in the AUC. He said Botswana was grateful for his complimentary words, particularly in reference to the country's early leaders. This was on the basis that they made Botswana what it is today and contributed to the affairs of the continent such as peacekeeping efforts.
For his part, Mahamat said that his visit to Botswana was mainly to congratulate President Masisi and exchange views with him on the AUC agenda, including the commission's will to 'silence the guns', which also happens to be the theme for the next AU summit.
Mahamat stated that he wanted to share ideas with President Masisi on strategies on how to deepen integration on the continent for economic and trade prosperity. Mahamat hailed Botswana as a country characterised by good governance, and therefore a point of reference for the continent.
President Masisi has always been aware of African issues and AUC programmes through his previous engagements as a senior minister and Vice President, he said.
"As president of Botswana today, we have come to rely on him, on his wisdom because of his commitment and that will help us execute the flagship projects that are contained within the AUC programme," he said.

 "You cannot have peace and security, socio-economic development, and neither can you have good relations in terms of good partnerships on the continent if you do not have good governance at home," he stressed.
He said it was vital for Africa to put its house in order before it can expect to have good relations with the rest of the world. He highlighted the fact that Botswana had distinguished itself in terms of good governance, raising the need for the country to share its secrets with the rest of the continent.
Reference: BOPA