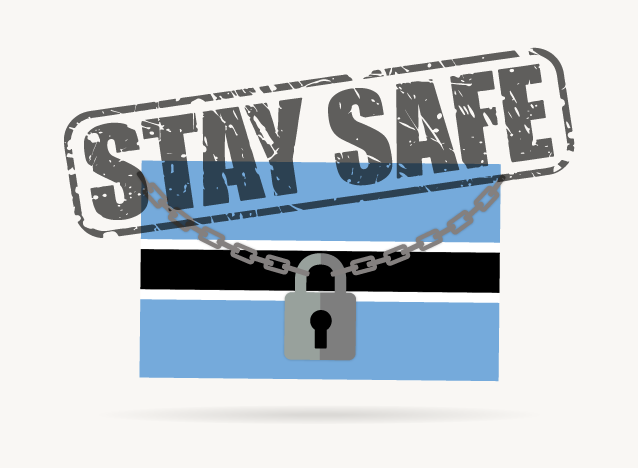 Overall, Botswana is a safe country – arguably the safest in Africa and attacks towards tourists are a rare occurrence. While the crime rate is low, it has been on the rise in the last couple of years. Tourists shouldn't be too worried but still need to exercise caution just as they would anywhere else in the world.
The main areas where you should exercise caution are the country's capital Gaborone and the tourist capital, Maun, which serves as the gateway to one of Africa's greatest natural regions and tourist destinations, the Okavango Delta. However, you are likely to have no incidents, as tourism is a huge part of the economy and tourists are welcome in the country.
We've put together a list of pointers to help you stay safe in Botswana and enjoy your holiday while in the country.
1. Street crime
Botswana is one of the safest countries in Africa and travellers might only encounter petty crime. Most tourism in Botswana is centred around Kasane, Francistown and the tourist capital, Maun. The good news is Maun, the gateway to the Okavango Delta doesn't experience high levels of crime.
As you would in any country, keep your valuables secure and only take out with you what you need for the day.
Exercise caution when talking on a cell phone while walking because pickpockets can frequent crowded spots and transport hubs. Occasionally, travellers have been robbed around Gaborone Dam and Kgale Hill in the capital, Gaborone. So, it'd be prudent to be extra vigilant in these areas particular between dusk and dawn.
Always be aware of your surroundings and who is around you. Avoid walking around alone at night or in poorly lit areas. Instead, take a taxi to get around at night.
2. Theft from vehicles
Theft of property from vehicles has been reported in Botswana. Never leave any valuables in your vehicle if parked somewhere or overnight. Even when you're driving around, avoid putting handbags on the seat and rather stow them away underneath and out of sight.
At night, do not hang around too long at traffic lights. Ensure the coast is clear and drive on – the police are very understanding of this, given incidents of "smash and grab" attacks.
Drive-by snatch and grab style theft from vehicles whether in traffic or parked does occur, so always make sure your windows are up, doors are locked and valuables are out of sight.
3. Avoid placing any valuables such as electronics and laptops in checked luggage
Travellers arriving in Botswana via South Africa should also be aware that there is a continuing baggage theft problem at OR Tambo (Johannesburg) and Cape Town International Airports.
Avoid placing any valuables such as electronics, jewellery, cameras, laptops etc. in checked luggage. If you don't want it lost, then carry it on you.
4. Road safety
Although traffic is light on most roads outside of the major towns and cities, the most significant concern for most travellers is road safety.
Sadly, Botswana has one of the highest accident rates per capita in the world, and drunk and reckless driving are common, especially at month's end (wage day).
Cattle, goats, sheep, donkeys and even elephants are deadly hazards on the road (Kasane/Chobe), especially at dusk and after dark when visibility is poor. Never drive at night unless you absolutely have to.
Public transport: If you plan to catch a taxi, always negotiate the fare before hopping in to avoid any nasty surprises at the end of the ride. Also, stick to blue registration plate or branded taxis as these are licensed to operate and less likely to overcharge. You're also insured against these.
5. Women's Safety
Women travellers are pretty safe in Botswana with most locals tending to be polite and respectful. The only time a woman traveller might be hassled is if they are in a bar alone and might receive some unwanted attention from a guy (local or non-local) who has had one too many drinks.
Use your common sense as you would where ever you travel. Avoid walking alone at night or in poorly lit streets. It's also a good idea to dress modestly, particularly in rural locations. In the more touristy spots, it's more acceptable to wear shorter sleeves and shorts.
6. Law in Botswana
Drug use and trafficking are illegal in Botswana. Botswana's prisons aren't known to be pleasant. Homosexuality was decriminalised in Botswana in June 2019 after 130 years of colonial law.
Don't forget to always carry your personal ID with you when travelling around.
As in many countries, photographing military or government buildings is forbidden. Always ask someone before taking their photo.
Although police and veterinary roadblocks, bureaucracy and bored officials may be tiresome, they're mostly harmless. Careful scrutiny is rare, but you may have to unpack your luggage for closer inspection at a border or veterinary checkpoint.
The Botswana Defence Force (BDF), on the other hand, takes its duties seriously and is best not crossed. The most sensitive base, which is operated jointly with the US government, lies in a remote area off the Lobatse road, southwest of Gaborone. Don't stumble upon it accidentally!
Also avoid State House, the official residence of the president in Gaborone, especially after dark. It's located near the government enclave, where there's not much else going on in the evening, so anyone caught 'hanging around' is viewed suspiciously.
7. Animal Souvenirs
Botswana law makes it illegal to possess or remove from the country any living or dead animal or animal trophy without a government permit.
A trophy is considered to be any of the following: horn, ivory, tooth, tusk, bone, claw, hoof, hide, skin, hair, feather, egg or any other part of an animal, whether the item has been treated or not.
With many animals in Africa struggling to survive against poachers, it's best to avoid purchasing these items.
8. Botswana tap water
The tap water in Botswana is generally considered safe to drink, but as a precaution against stomach upsets, you may want to drink bottled mineral water, which is readily available from shops, hotels and restaurants.
9. Do I need anti-malaria tablets for Botswana?
There is the risk of malaria in certain areas of Botswana, especially in the north. So it is very important to check with your doctor before you go, to see whether malarial medication is required for the areas you are visiting.
Generally, it is a good idea to avoid mosquito bites as much as possible while on holiday in Botswana. So it's advisable to wear long sleeves and trousers, sleep under a mosquito net and lather on an insect repellent that contains at least 50% DEET. Mosquito repellant wrist bands, which can be found in most pharmacies and curios stores, are also brilliant.
Vaccinations: You should seek medical advice from your local health practitioner before travelling to Botswana and ensure that you receive all of the appropriate vaccinations. As a guide Polio, Diphtheria, Hepatitis A and Tetanus are strongly recommended. Rabies may also be recommended. If you have previously been in a Yellow Fever infected country, a valid Yellow Fever vaccination certificate is also required if travelling into Botswana.
10. Wildlife
Respect wildlife laws and keep a safe and legal distance when watching wildlife. Only use reputable guides or tour operators and follow their lead as they only have your safety in mind. Follow park regulations and wardens advice.
---
Is there anything else you wish we'd included on the list? Do you have any further questions? Please go ahead and comment or drop us an email. And lastly, Stay safe and enjoy your stay in Botswana!
References: worldnomads.com, travelsafe-abroad.com