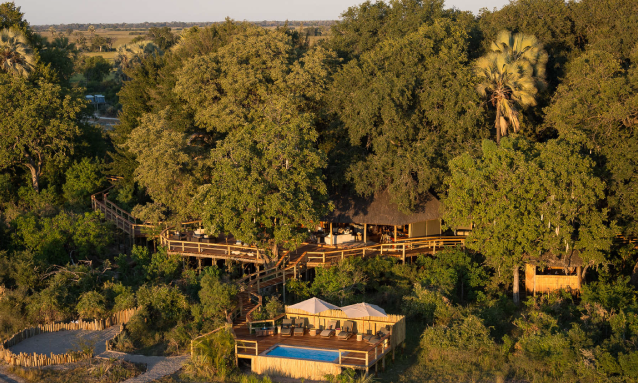 Kwetsani is a magnificent camp set high up in the trees on an island that looks over the northern plains of the Jao flats. Kwetsani is extremely spacious, has stunning views and great balance between activities. With only 5 rooms all spread out along the fringes of the island, you can be sure to find your escape and privacy here.
Kwetsani Camp – The Details
Kwetsani is located on the private Jao Concession, in the west of the Okavango Delta and only a 20-minute light aircraft flight from Maun.
The camp looks out over an enormous flood plain, more than often dotted with Lechwe and Wildebeest. The main area is very spacious and airy, with the dining room, lounge and bar situated under a cool thatched roof. All of this is a good few metres up in the trees, offering a great height advantage to spot nearby game and absorb stunning, panoramic views. Just down from there and on the edge of the plain is the pool.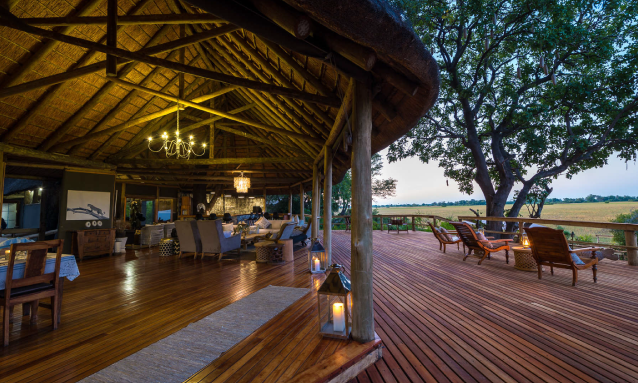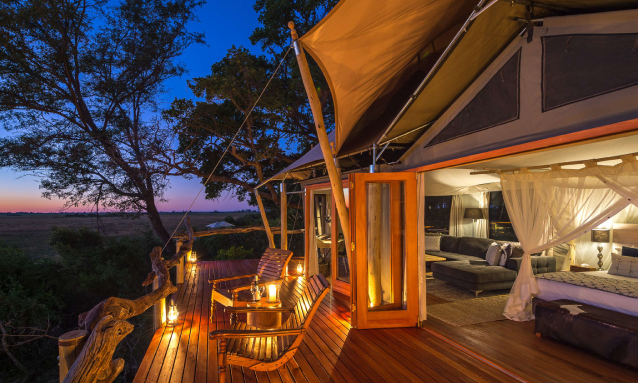 The accommodation
For such a spacious camp, there are only 5 rooms, all raised about 6-8m off the ground and accessed via a long, raised walkway through the trees. You will almost always see the resident bushbuck underfoot! The rooms have en suite bathrooms and a large wooden decking. With the advantage of height, you are guaranteed a cool breeze to blow through.
Activities
During the high floods in May and June, the water is right up to the foot of the main area and actually underneath the tree-house chalets. Boating activities can take place from in front of the camp from about April to the end of July. But in the drier months, you have to drive out to the boats.
Jao flats, where big herds of lechwe, buffalo, wildebeest and zebra congregate, is only a stone's throw away. To top it all off, a hungry predator can often be spotted lurking along the fringes. During the high floods, the floodplains fill up completely. The water can reach up to about knee-level deep and runs for kilometres, allowing for amazing boating excursions.
Source: africaodyssey.com/botswana/kwetsani