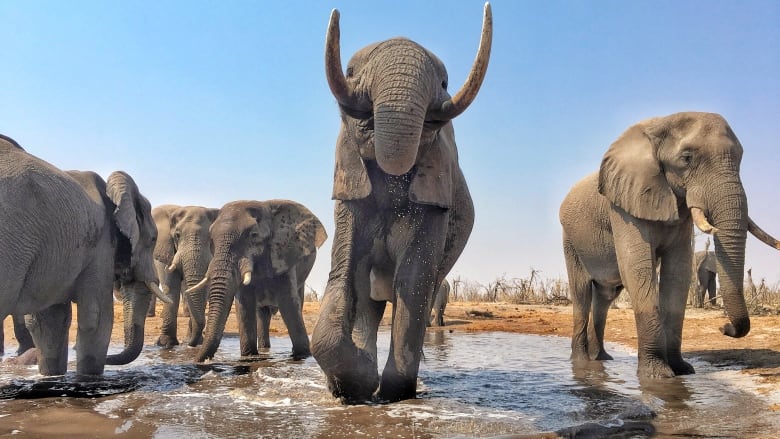 Brian Keating says you have to experience it to fully understand
'One of the highlights was sitting in a wildlife viewing blind at water level and seeing elephants,' Brian Keating told The Homestretch of his recent trip to Sable Alley in Botswana. Brian Keating says it's one of those things you have to see up close and personal to fully have the beauty wash over you.
"One of the highlights was sitting in a wildlife viewing blind at water level and seeing elephants. The volume was overwhelming. At one point, we had about 25 right next to us," Brian Keating told The Homestretch.

"When you are that close to a herd of elephants that are drinking, wallowing, mud bathing and interacting, it is pretty special."
Keating is currently exploring Botswana and Zimbabwe, places he is intimately familiar with, but through fresh lenses this time. Brian Keating's wife, Dee, experiences a herd of elephants up close from a wildlife viewing blind near Sable Alley in Botswana.
"The edge of the Okavango Delta and another camp, the Linyanti Concession, on the Linyanti River, not far from the Okavango Delta as the crow flies," were the starting points of this trip, Keating said.

"Okavango Delta gets its water supply from a huge river that flows out of the highlands of Angola in the northern part of the Kalahari Desert, seeps away into the water table and evaporates, creating thousands of square kilometres of water wilderness, dotted with islands. It's just a paradise for elephants, hippopotamus and birds and all kinds of other classic African animals."
A travel company, Natural Selection, recently started a safari operation in the Khwai Private Reserve just for photographers.
"Sable Alley is 200,000 hectares of pristine wilderness, dotted with all kinds of lakes and waterways because of the Okavango Delta," Keating said.

"They have partnered with the local community that owns that chunk of land, and part of the proceeds go to the community, supporting schools and all kinds of other things."
African painted wolves, or wild dogs, have made a comeback and seem to be thriving now, naturalist Brian Keating says. Sable Alley is where Keating experienced the incredible elephant interactions. He also noticed something he hadn't seen before.
"The African painted wolves are a real success story in this part of the world. Twenty or 30 years ago, we rarely saw any wild dogs, over a dozen or so trips I did around that time," Keating said.
But that's changed.
"Within the first three days at Sable Alley, we encountered our first pack of wild dogs. The wild dogs, or African painted wolves as they are now called, are the African equivalent of our own wolves. They operate in a pack, working together to take down animals to get their prey. In the first group we saw, there were about seven or eight youngsters and the same number of adults."
A second pack, he said, had 14 babies of about 2½ months old with a dozen adults.
"We observed the youngsters getting their food from the adults by the regurgitation process. The social interactions were mind-blowing. All this happened just metres away from where we sat in our vehicles. It was incredible."
Later this week, Keating was off to Victoria Falls for a few days, which will be the basis of his next Homestretch report.
Source: cbc.ca