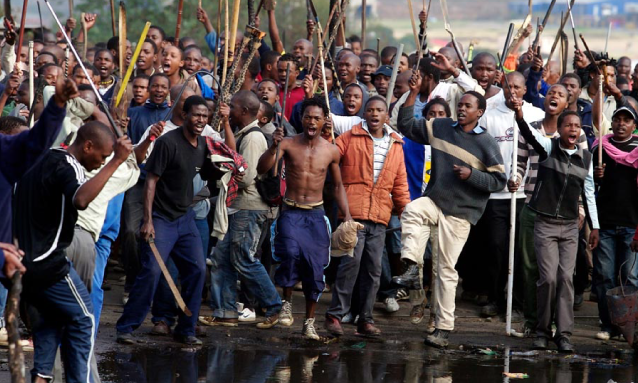 Botswana and Lesotho have both issued travel alerts for citizens headed to South Africa as the nation faces riots and apparent xenophobic violence. The countries have issued the warnings in light of ongoing unrest and attacks which flared up in various parts of Gauteng this week.
Widespread looting of foreign-owned businesses hit areas including Alexandra, the Johannesburg CBD and Kempton Park. EWN reporter Nthakoana Ngatane says visitors to South Africa have been told to exercise extreme caution in areas such Johannesburg, Kwa-Zulu Natal, Mpumalanga and North West.
The presidents of the DRC, Malawi and Rwanda apparently withdrew from the World Economic Forum (WEF) event taking place in Cape Town this week. Meanwhile, Nigeria's Foreign Affairs Minister says their government will take action against what has been happening in SA. Various South African business including Pep Stores, Shoprite, and MTN stores in Nigeria have been looted in retaliation.
At the same time, Zambia's football association has also called off its friendly match against South Africa due to the xenophobic attacks. Their national football team, Chipolopolo was scheduled to square off with Bafana Bafana in Zambia on Saturday. Nigerian authorities said the continuing attacks on Nigerian nationals and businesses in South Africa are unacceptable. Enough is enough – Nigeria will take definitive measures to ensure the safety and protection of its citizens, they added.
---
SA unrest causes knock-on effect on Botswana
The Botswana government this week issued a travel warning to its citizens over the growing unrest in South Africa. The attacks, targeting foreign nationals in South Africa, are likely to affect Botswana, which is dependent on its neighbour for food imports and petroleum products.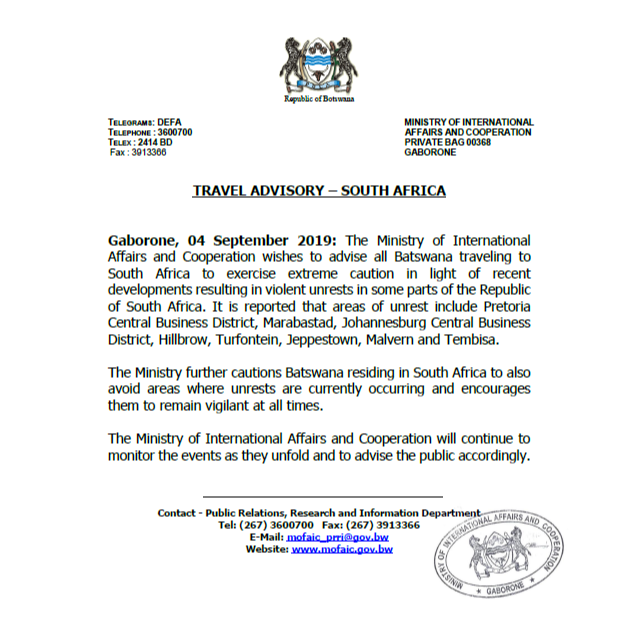 Mpho Keitumetse is a cross-border trader who buys second-hand clothes in Johannesburg, for resale in her home country, Botswana. However, her business has come to a standstill since attacks targeting foreign nationals in South Africa broke out last week. Keitumetse has been forced to stay home until the situation improves.
"The attacks in South Africa are really bad for business," Keitumetse said.

"They are affecting us all. As neighbouring countries, we do business together. Ever since these attacks started, I have not been able to deliver on my business because I buy my stock from South Africa. Everything has been put on hold, for how long I don't know."
While Botswana immigration officials say it has been business as usual at entry points, taxi operators are not taking chances, with some, like Mompati Kobe, grounding their fleet.
Kobe argues it is too risky to drive to Johannesburg where most of the attacks have occurred.
"These unrests have really affected us," Kobe said. "It is now difficult to take our vehicles there because you never know, they might burn them. Some of the vehicles are not insured. For now, we have grounded our services until the situation calms down."
Botswana imports two-thirds of its goods from South Africa including petroleum products. While the country has allayed fears of looming fuel shortages, fuel truck drivers are not prepared to risk their lives by crossing into South Africa.
Albert Phiri, a Zambian truck driver who works for a South African fuel company, has been stuck in Botswana since the start of the week, afraid of driving back to Johannesburg.
"Our trucks are grounded, I have been at the border since the start of the week," Phiri said. "We can't cross for fear of violence. I don't even know when I will cross to South Africa, I fear for my life, but at the same time, I still want to keep my job."
Gaborone-based political analyst Lawrence Ookeditse says all affected countries should voice their concerns to the South African government and bring back their emissaries if necessary.
"In the event that the South Africans are not responding adequately, then they (affected countries) need to immediately consider all options, and all options including recalling their envoys or ambassadors," Ookeditse said.
Botswana's President Mokgweetsi Masisi attended the World Economic Forum Africa meeting at the Cape Town International Convention Centre, on Sept. 4, 2019, in Cape Town. While Botswana issued a warning to citizens about travelling to South Africa, the country's president, Mokgweetsi Masisi, flew to Cape Town on Tuesday for the World Economic Forum on Africa. Leaders from the Democratic Republic of Congo, Malawi and Rwanda have pulled out of the meeting, amid concerns over the deteriorating situation.
---
Nigeria calls for sanctions against South Africa
Nigeria is calling for sanctions against South Africa after wave upon wave of xenophobic attacks on its citizens and other African foreigners. Nigeria is one of South Africa's main oil suppliers. It's also the largest market for many of South Africa's biggest companies. Already frail relations between the two regional superpowers have reached a breaking point after days of looting and attacks on foreign-owned business in Gauteng.
Source:  702.co.za, oanews.com