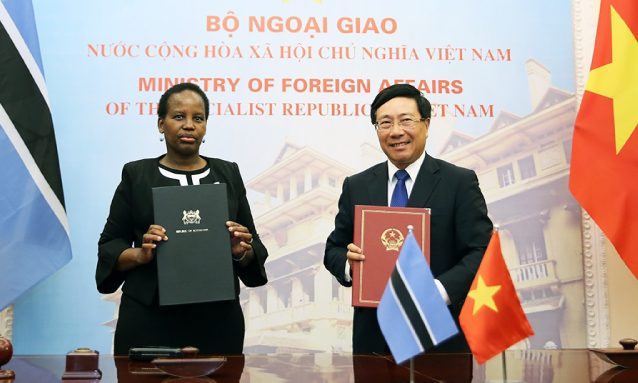 Vietnam's Deputy Prime Minister, Foreign Minister Pham Binh Minh and Botswana's Minister of International Affairs and Cooperation, Unity Dow on Monday signed a visa exemption agreement for diplomatic and official passport holders in Ha Noi.
This is the 88th agreement of this kind that Vietnam has signed with foreign countries so far. During their talks earlier the same day, Deputy PM, FM Minh highly appreciated the significance of Dow's ongoing official visit to Vietnam, which took place on the occasion of the 10th founding anniversary of the two countries' diplomatic ties.
Minh asked the two countries to actively support their business communities to organise trade promotion and market research activities in a bid to beef up bilateral economic cooperation. He also welcomed the signing of a Memorandum of Understanding between the Vietnamese Chamber of Commerce and Industry and Botswana's Center for Trade and Investment, within the framework of Dow's Vietnam visit.
The host also asked the two countries to launch talks on several agreements on economic, cultural, education, science; investment encouragement and protection; and double taxation avoidance to create a legal corridor for the bilateral ties. On the multilateral aspect, Minh spoke highly of the two sides' effective coordination in multilateral forums, welcoming the positive role played by Botswana in the Southern African Development Community (SADC). Minh expressed his wish that Botswana would support and coordinate closely with Vietnam as the Southeast Asian country will take over the UNSC non-permanent membership for 2020-2020 tenure.
Meanwhile, Dow congratulated Vietnam for having won the UNSC non-permanent seat and expressed her deep appreciation of the country's development achievements. The pair discussed regional and international matters of common concern, including the East Sea issue, underlining the importance of peace, stability, maritime security and freedom, and observation of international law.
Source: news.chinhphu.vn