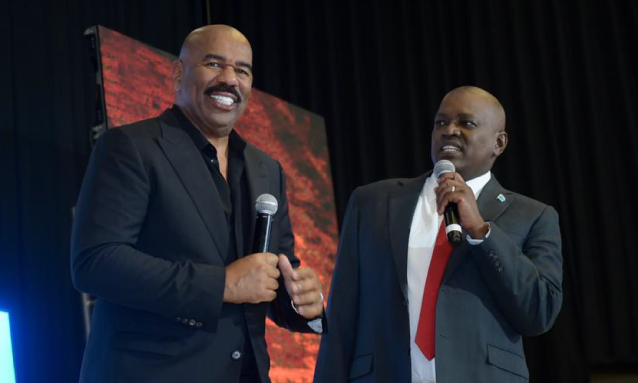 American comedian cum radio and television host Steve Harvey on Wednesday held live networking sessions with the youth of Botswana in Gaborone at the University of Botswana Indoor Arena.
Harvey, who is also an actor, author, producer and motivational speaker, was in Botswana at the invitation of President Dr Mokgweetsi Masisi in a bid to promote the local creative industry.
According to a press statement from the Government Communications department, Dr Masisi invited Harvey as part of his ongoing initiatives to attract world-renowned international investors to explore opportunities for the youth of Botswana to participate in business.
Harvey committed to start working with Botswana's social media content creators
Following the networking sessions with Harvey, President Masisi issued a statement on Thursday stating;
"We had a really good session with Steve Harvey yesterday. The turnout was very impressive from our youth, showing the hunger and drive that many have.
Steve Harvey has committed to immediately start working with social media content creators from our country. He has already asked that young people in this space submit their creatives for consideration since he has jobs lined (up) already.
As well, Steve has said that if we make minor refurbishments to the Mass Media Complex studios he will, before the end of the year, move production of two of his shows to Botswana and create employment for Batswana. He has also pledged to work with top Hollywood Producers to train local creatives on content creation for the global market. We want to turn Mass Media Complex into a hub of entertainment excellence.
I am also happy that merely having Steve Harvey in the country is a huge boost for our tourism as he draws quite some attention from across the globe. I want to take this moment to thank Steve for a keen interest in our country and its development. I also thank the youth and all who supported this visit.
Please remember what Steve Harvey said and dream big, importantly, do not let anyone kill your ideas. Use the networks and contacts you got at the session to uplift yourselves.
I am serious about transforming our economy towards a knowledge-based economy and we will need a lot of our people to dream and be creative. On my part, I will bring those that are already advanced in the industry and remove any barriers that stop you from succeeding.
I intend for us to increase our investment in the creative sector, build more performance spaces, free up licensing spaces for various media enterprises and also find ways to protect your creative works. Let's build this country together!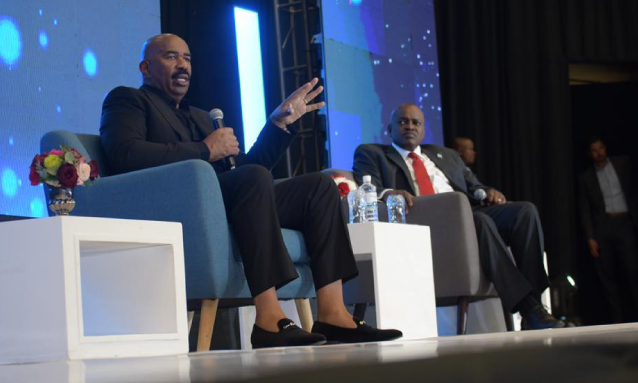 Steve Harvey not paid millions for visit – Botswana government
Harvey has a huge following in Botswana and naturally, his hordes of fans couldn't wait to attend the event. However, some cynical naysayers took to social media to accuse the government of paying the talk show host an eye-popping P45- million to come to Botswana. Typical of social media mob psychology, the discussions soon escalated to outright rude and disparaging remarks that depart from Botswana's spirit of botho.
Inevitably, word of the nasty allegations soon reached Harvey and the government, forcing both to respond to deny the claims.
---
Here's the statement the government issued:
Contrary to some mischievous allegations on social media platforms, the Government of Botswana is not paying any money to the American businessman Mr Steve Harvey, who is currently visiting the country. As mentioned in an earlier press release, the visit by the American comedian, television host, producer, radio personality, actor and author follows his expression of interest to promote the creative industry in Botswana.
Mr Harvey's interest in Botswana follows his visit to the Diamond Conference Women Summit during the Diamond Week in Gaborone last year, subsequent to which he met His Excellency the President Dr Mokgweetsi Eric Keabetswe Masisi and expressed the interest to visit Botswana again to explore opportunities for investment in the creative industry and to promote the youth of Botswana to participate in business.
Mr Harvey of Harvey Corporation, which is in the creative industry, also offered to invite other investor friends for potential investment opportunities. He has brought with him some prospective investors on the exploratory tour. President Masisi extended the invitation to Harvey at no fee or cost to the Government of Botswana. The invitation is in accordance with normal international protocol when an investor of Mr Harvey's stature wishes to visit a country. Furthermore, His Excellency the President has extended conventional courtesies to Mr Harvey including meeting and appearing with the American celebrity at a live town hall networking session featuring Steve Harvey this morning at the University of Botswana Indoor Arena.
The youth, in particular, have reacted enthusiastically to the invitation to participate in the town hall networking session. Registration has reached the maximum target of five thousand in Gaborone only. His Excellency the President will continue to welcome prospective investors who react positively to Botswana's international efforts to woo investment to the country. Such investors are not paid to explore business in Botswana.
Andrew O. Sesinyi | Permanent Secretary | Government Communications
---
Who is Steve Harvey?
The American media personality has authored two books, Act Like a Lady, Think Like a Man (2009) and its follow-up, Straight Talk, No Chaser (2010). The two instantly broke the best-seller lists and the former was adapted for the big screen as Think Like a Man in 2012 which also became a blockbuster.
He started his career as the host of Showtime at the Apollo, a variety show filmed at Apollo Theatre and thereafter, went on to start his own sitcom, the Steve Harvey Show. The show formed partnerships with the likes of comic Cedric The Entertainer. Harvey also launched a radio talk show, The Steve Harvey Morning Show, which is on YouTube. He got acting parts on The Fighting Temptations, You Got Served, Johnson Family Vacation and in the animated Racing Stripes as a voice actor.
---
Last word – YourBotswana…
Regardless of the circumstances around Harvey's visit, I personally hung my head in shame when I saw all the horrible comments laced with suspicion on Facebook. It was gratifying to see some people were opposed to the rude comments posted, with some expressing sorrow at the loss of the spirit of botho. Whether or not they believe the government's insistence that Harvey was not paid a thebe to come to Botswana, people would do well to make hay while the sun shines, capitalise on the opportunities being created for them.
The very youth for whom the government continues to bend over backwards to create jobs for are spitting in President Masisi's face. I find a huge proportion of Botswana youth petulant, ungrateful and spoilt because the government has all these initiatives geared at assisting them but all you hear are complaints. The youth of this country don't realise just how lucky they are. They could do well to watch, listen and learn from Harvey and his business associates – that's if he's not been put off by the Facebook trolls. He's clearly where he is for a reason.
I urge you all to learn some decorum, learn to be gracious and grateful for the opportunities set before you. Learn to move right along if you don't like something you see. Learn to be gracious and not say a word if you have nothing nice to say. Learn to give people the benefit of the doubt and stop being so cynical all the time. If you choose to continue down this path, don't complain about the lack of jobs, about the government not trying hard enough to help you. Remember, not everyone is as privileged as you are to have so many opportunities handed to them on a silver platter. Take a moment to mull that over.
Harvey was accompanied by a business delegation to explore potential investment and development prospects in Botswana. His visit to Botswana was made possible through collaboration between government, private and parastatal entities such as First National Bank Botswana, Botswana Insurance Holdings Limited, Botswana Tourism Organization, BOFINET, Cresta Hotels, Duma FM, De Beers Global Sightholder Sales, Gabz FM, H&G Advertising, Liquorama, Motatrim, Mudhut, Naledi Motors, Roswell Chauffeurs and Yarona FM.
References: BOPA, Mokgweetsi E. K Masisi Facebook page