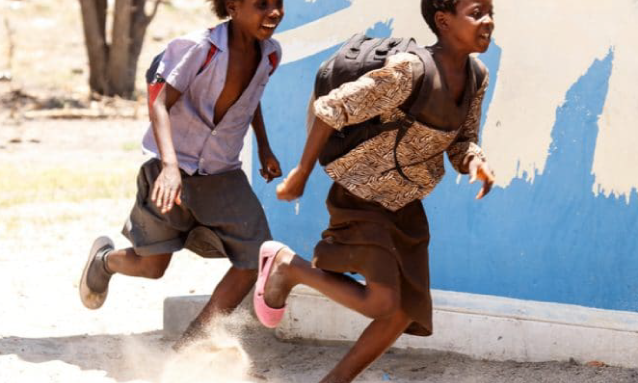 The solar bag distribution programme for Botswana students was officially launched on August 7, 2019 at Ramonaka Primary School in southern Botswana. This initiative, led by two local organisations, aims to provide electricity to young learners in order to improve their academic performance.
As of next school year, Botswana children will be going to school with solar-powered backpacks. The project was initiated by two organisations whose aim is to improve access to education. The Botswana Foundation of the First National Bank (FNB) and the Botswana Power Corporation (BPC) worked on this project in collaboration with the Ministry of Local Government and Rural Development. The initiative was officially launched in early August 2019 at Ramonaka Primary School, located in the south of the country, in the Kgatleng District. In several villages and towns in Botswana, it's already underway.
The school backpack project offers students in the upper classes each received a backpack equipped with a lamp. The lamp is recharged by solar energy, when children go to school and in the evening it serves as lighting for the young learners. In addition, school supplies will be provided to students in the lower grades.
Solar energy to boost academic results
According to the Deputy Minister of Local Government and Rural Development, Botlogile Tshireletso (quoted by Afrik7.com),
"The main objective of the initiative is to provide primary school children in remote areas with solar backpacks to support their learning at home." 
In rural Botswana, electricity is often scarce. Many children living in these communities are forced to travel miles to get to their school. This exercise seems even more difficult when they return home in the evening and cannot study or do their homework because of the lack of electricity.
The rate of access to electricity was 62.8 per cent in 2017, according to World Bank estimates. At the same time, Botswana produced only 60% of the total energy consumed in the country. The deficit was covered by imports from South Africa and Zambia. In addition, 29% of the available electricity comes from the Morupule B coal-fired power plant, which has a production capacity of 600 MW.
Source: afrik21.africa