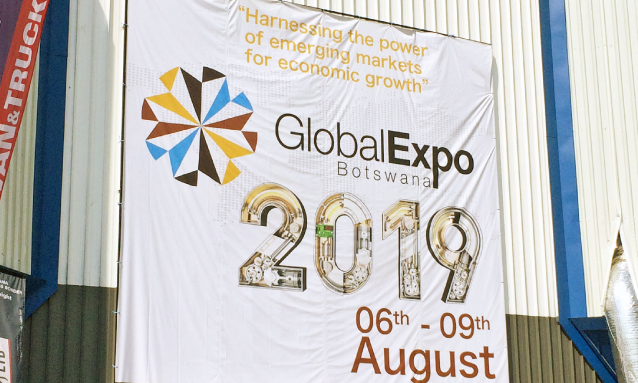 This year, we at YourBotswana were lucky to attend the Botswana Investment and Trade Centre (BITC) 's business to business (B2B) expo known as the Global Expo Botswana. In its tenth year, the expo took place from 06th – 09th August 2019 in Gaborone. The Expo was hosted under the theme "Harnessing the power of emerging markets for economic growth."
The event is a multi-sectoral exhibition hosted and managed every year by the Botswana Investment and Trade Centre (BITC) as mandated by the Ministry of Investment, Trade and Industry (MITI) of the Republic of Botswana.
GEB mobilises anything between 200 and 5,000 exhibitors and visitors. The exhibitors are from the following sectors;
Agro-industries
Textiles and garments
Information Technology
Tourism
Power and Renewable Energy
Manufacturing
Machinery
Leather products
Mining
Construction
Automobiles
Electrical goods
Engineering
Chemicals and Cosmetics
Consultancy services
The visitors are typically of the following profiles:
International buyers
Importers
Government procurement agencies
Agents
Wholesale and traders
Retailers
---
YourBotswana was able to check out nine of the best local manufacturers to watch out for…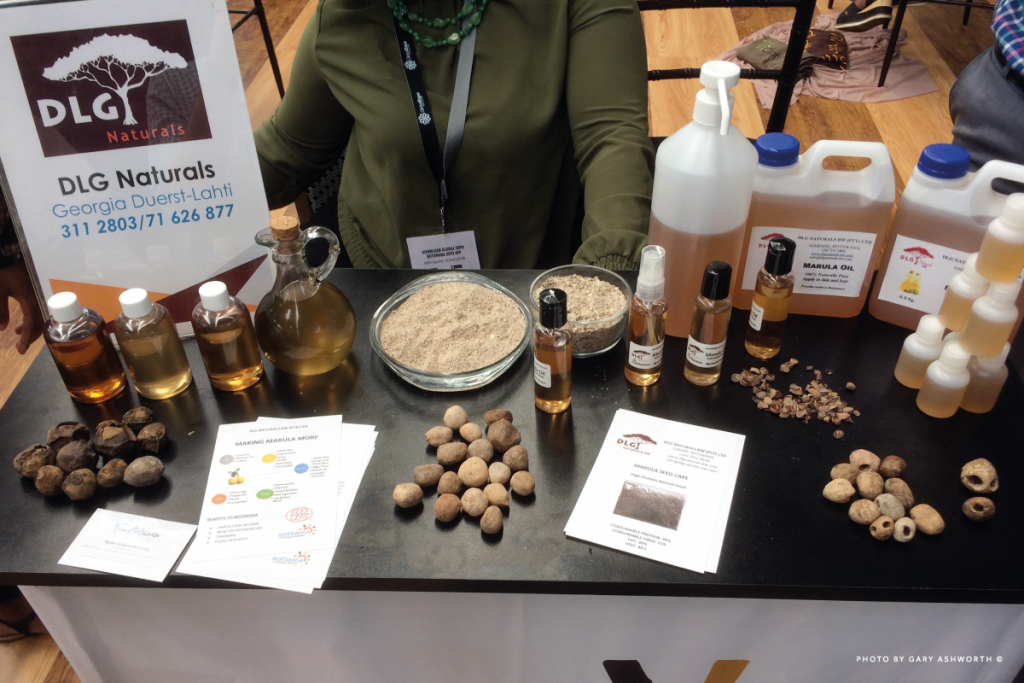 DLG Naturals – marula oil and animal feed.
Local company DLG Naturals collects morula seeds from which it then extracts the oil. The oil is subsequently sold in bulk as a carrier oil, predominantly to the cosmetics sector. It's then incorporated into various beauty cosmetics.
Morula oil, marketed globally as 'marula oil' is currently creating a buzz in the beauty industry worldwide. DLG Naturals are capitalising on marula oil popularity, exporting to the US and Japan.
DLG Naturals specialises in morula oil production. They make morula oil for export, cosmetics manufacturers, seed cake – animal feed and sell the shells to make resin for wood.
Based in Gabane, DLG Naturals welcomes the public to their plant to buy smaller quantities as well. Once the oil is extracted, the seed is then processed into a fine, protein-rich powder and sold as animal feed. The versatile powder can also be used as a detergent or mixed in with your favourites essential oil or whatever solution of preference to make a face mask or scrub!
---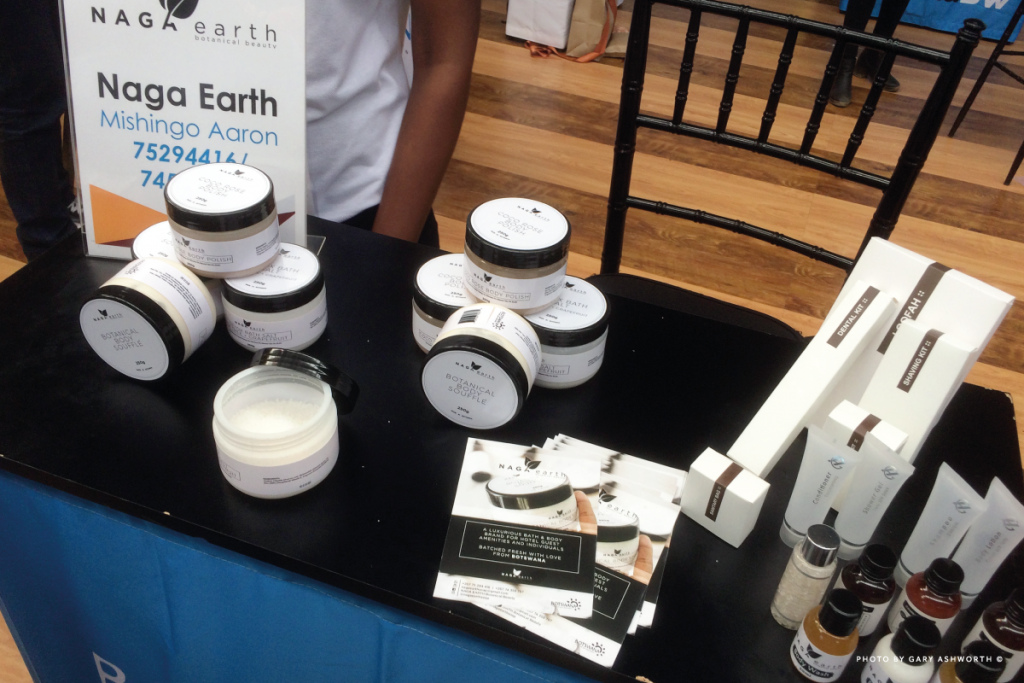 Handmade Naga Earth botanical beauty care – A luxurious bath & body brand and creative incubator for hotel guest amenities and individuals, with the use of indigenous oils.
Fresh-faced Naga Earth founder/owner, Mishingo was motivated to start her cosmetic range due to her sensitive skin. That coupled with her love of the hotel and hospitality space as well her passion for natural products drove her ambition to launch Naga Earth, which incorporates some of the local indigenous plants. She revealed to YourBotswana that she was also spurred on by her observation that the cosmetic products used in Botswana hotels are all South African.
Alongside her beloved grandmother, Mishingo initially explored various raw, natural ingredients with which to make skincare but later down the line decided to venture into the untapped market.
With her eye on the safari and hotel sector, Mishingo highlights that the brand truly complements the minimalist's lifestyle, an eco-luxury brand and the products prove that achieving beautiful, smooth skin doesn't have to be difficult.
The Naga Earth range includes conditioning shampoo, hair conditioner, body soufflé, body lotion, shower gel, detoxing bath salts, body scrubs, shaving kits, dental kits, neroli infused marula oil, baobab oil and beard oil. The products smell gorgeous and feel luxurious.
We live in a very health-conscious world with people being more vigilant than ever about what they put both on their skin and in their mouths, so customers will be happy to know the products incorporate essential oils such as marula, neroli and baobab and contain no parabens, silicones, preservatives or mineral oil. What's more, none of them has been tested on animals!
Naga Earth still being in its infancy, Mishingo works out of her home to create the products. Available at MmaMontle @Molapo Crossing, CutiKles Nail Spa, Organic Hair Salon, Self Craft Health and Wellness.
---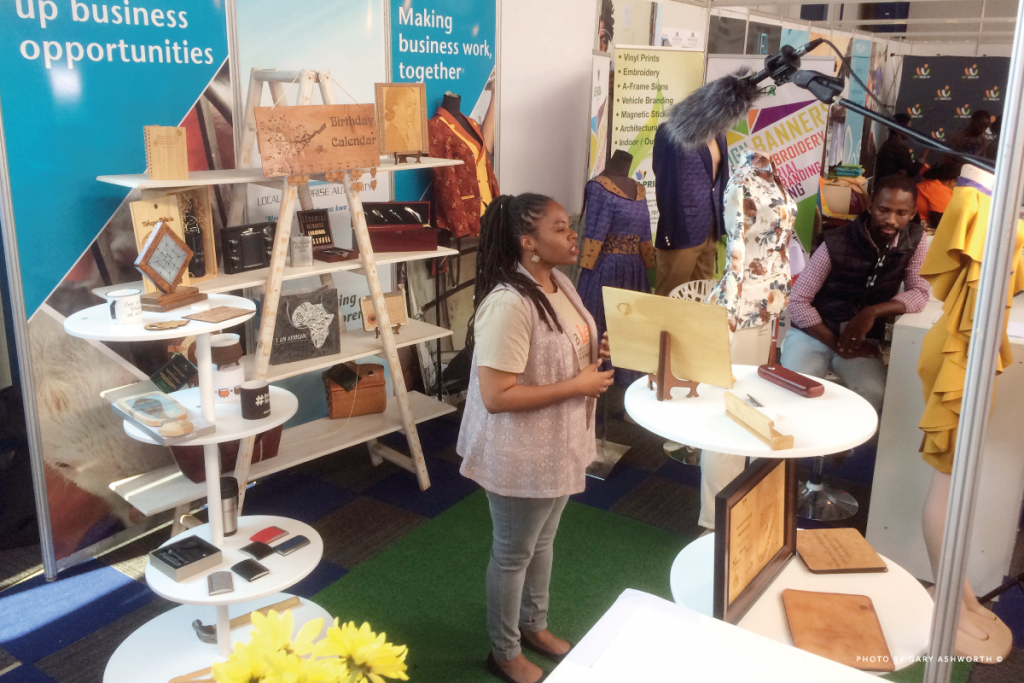 Ina Lebe provides a bespoke gift engraving service.
Founder, Tumelo Mathias set up the business three years ago. In a recent interview with Mmegi, Mathias said engraved gifts are the perfect way to transform the gift-giving experience for a personal and loving exchange.
"It is hard to get gifts that have a personal touch, that is where the inspiration of Ina Lebe came from," she explained.
Ina Lebe uses the latest laser engraving technology and creativity to engrave on wood, glass, metal, ceramic, acrylic and leather. They sell a wide range of gifts including kitchenware, lifestyle and beauty items, office stationery and many others that you can have personalised via engraving. Ina Lebe is located at Airport Junction Mall (upstairs opposite Exclusive Books), shop number 314. They can also be found on various social media platforms.
---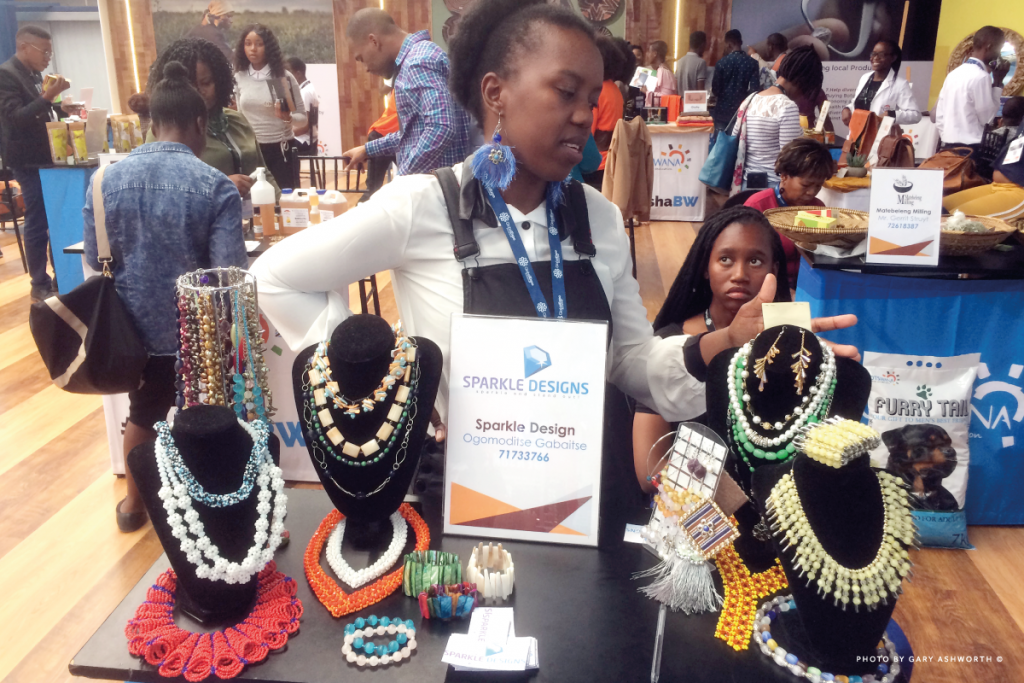 Sparkle Designs is a local crafts and jewellery accessories company, Sparkle Designs hand makes jewellery.
Owner and designer, Ogomoditse Gabaitse enthusiastically explained to YourBotswana that they are also able to custom design jewellery to each customer's specifications based on customer needs, the occasion and personal style. They also make custom cushions, handbags, custom-designed cushions, beaded flowers and accessories, placemats and cushion covers.
Ogomoditse's handmade pieces often incorporate intricate bead details. Find Sparkle Designs on Facebook.
---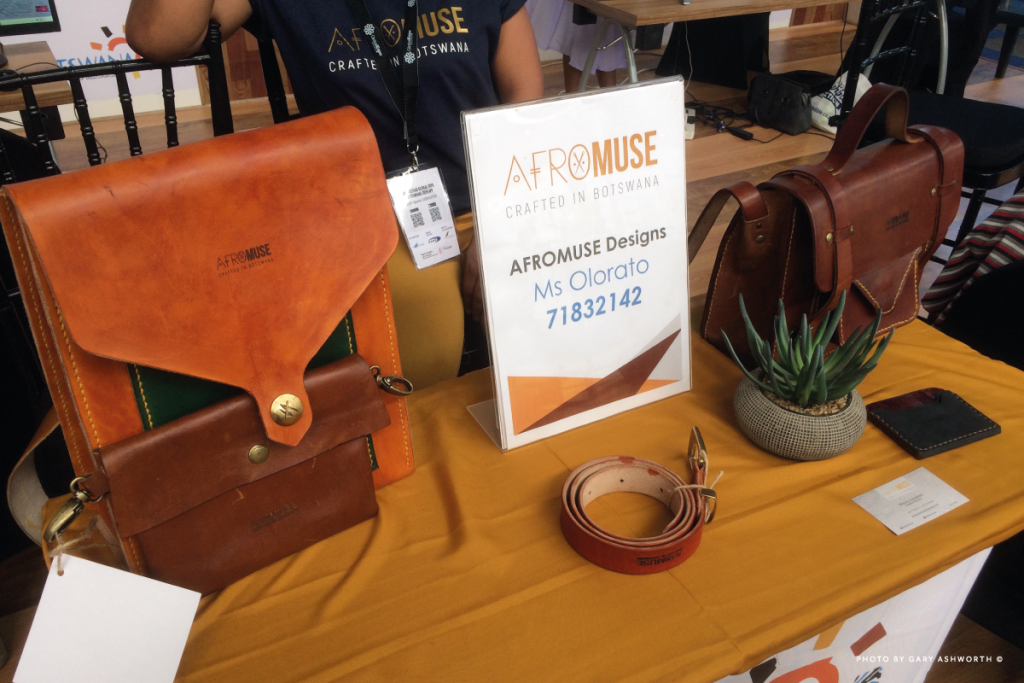 AFROMUSE Designs is a local leather handcrafts brand.
AfroMuse Designs specialises in unique, high-quality, natural handcrafted Tswana leather bags and crafts. They use practised saddle stitch ensuring prolonged longevity. Centuries-old, indigenous techniques are used in the crafting and dyeing of leather.
In an interview with YourBotswana, owner Olorato Gaorakwe said all their stunning products are 100% HANDCRAFTED. Every piece is designed, cut, stained, assembled, stitched and finished by hand. If you're looking to place your custom order, their turnaround time is 14 days!
Quizzed on how she acquired the skill to make such fantastic products, Olorato revealed she taught herself everything she knows, partly through extensive research and watching YouTube videos.
Olorato's hard work clearly paid off because AFROMUSE bagged second best product at the recent Global Expo Botswana awards ceremony hosted at Ditshupo Hall and deservedly so.
---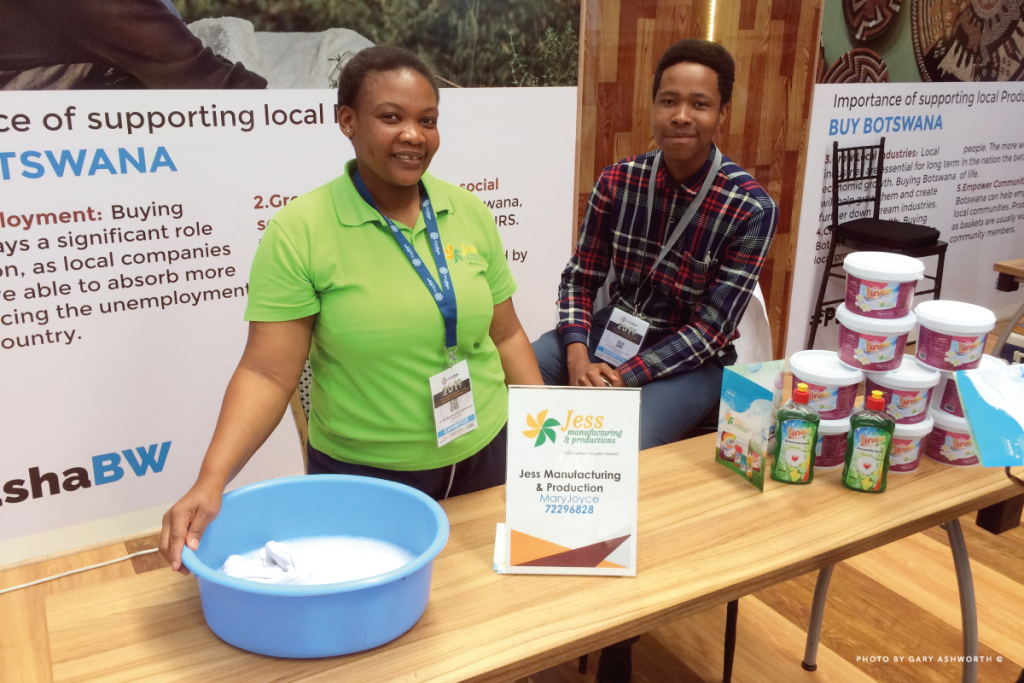 Jess Manufacturing & Productions – Linex soap and detergents.
Jess Manufacturing & Productions manufacture powdered soap ( 1 kg and 2 kg), pine gel ( 5l and 20 l) as well as 500 ml and 750 ml dishwashing liquid. The Tlokweng-based outfit, headed by founder/Director, Mary Joyce Gaseitsewe, is a 100% citizen-owned. Speaking to Mary Joyce at the just-ended Global Expo, she said customer can request a specific scent of their choice to be added to their detergent. YourBotswana was privileged to touch and smell the products and they smell divine. The washing powder also foams up fantastically.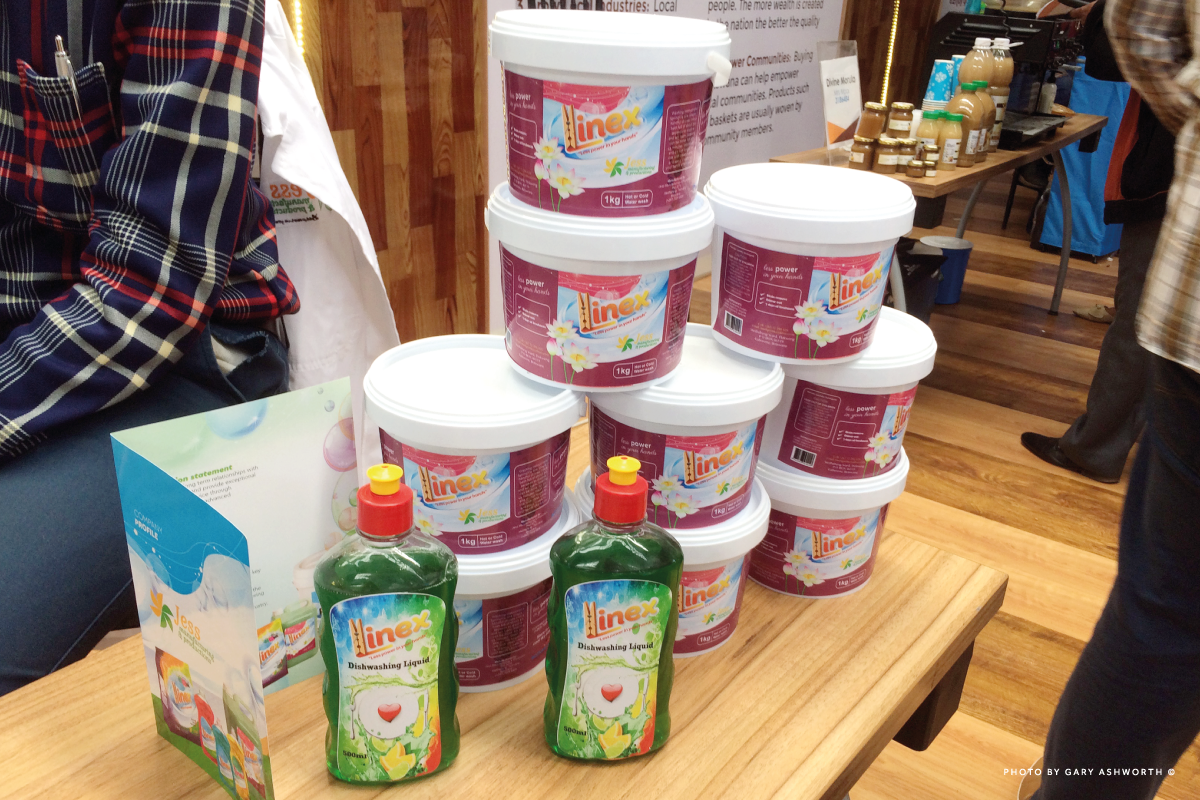 From September, you'll be able to buy Linex products from SaveRite. The company is also in talks with Sefalana and Fours about stocking their products so watch this space!
---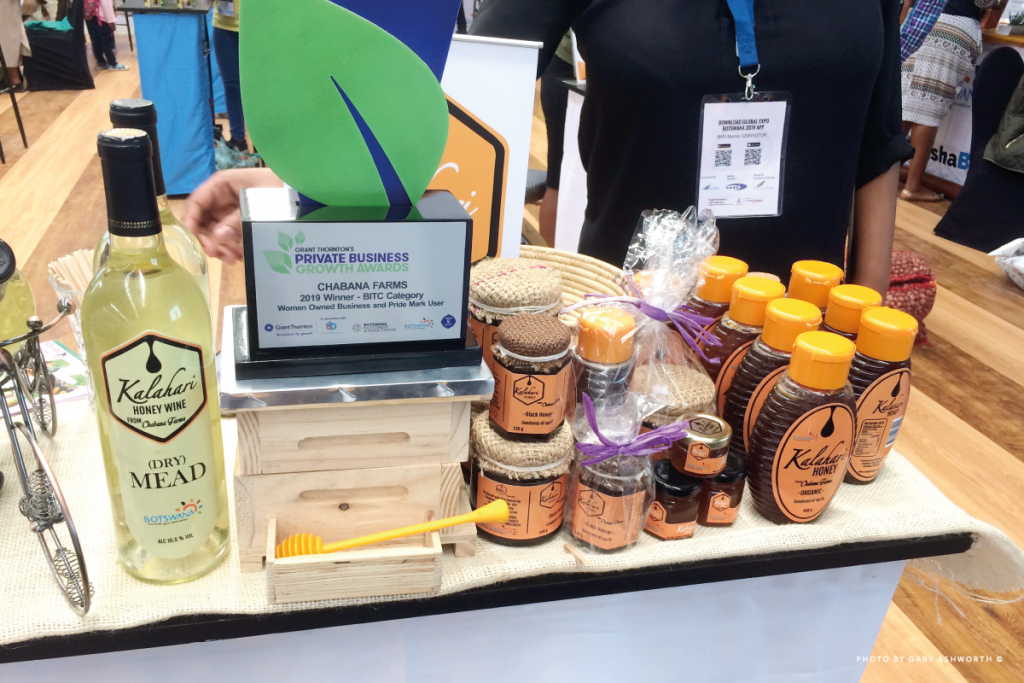 Kalahari Honey of Chabana Farms – raw organic honey as well as honey wines.
The honey is very rich in flavour, contains no additives and is high in antioxidants. Currently based in Gaborone Extension 10, Kalahari Honey supplies both the local and international market.
We at YourBotswana had the privilege of tasting the honey and were blown away! All the flavours we tasted were decadent and luxurious, especially the white honey, which tasted a bit like it was infused with some caramel. However, award-winning Mavis Nduchwa ( CEO/ co-owner of Chabana Farms) assured us there are absolutely no additives and that the honey was as God intended it. Delicious!! Nduchwa is the proud winner of the Tony Elumelu Most Outstanding African Entrepreneur 2018 Award.
Kalahari Honey is available at the following retailers:
FairGrounds Pharmacy at FairGrounds Mall
SuperCare Pharmacy at Kwena Mall Mogoditshane
Kgalagadi Pharmacy
MediPlus Pharmacy
MM Holdings Pharmacy
Food Lovers Market, Gaborone
Food Lovers Market, Palapye
Chinese Supermarket- Oriental Plaza
Chabana Factory Shop
The Desert Outlet- online store
Kalahari Honey Online store
You can also get it in Lesotho!
Tripharm Pharmacy Station
Link Pharmacy Pioneer Mall
BathoPele Pharmacy Main North 1
Best Care Pharmacy Lithabaneng
Seema Chabana
*Check out their Facebook page for further information.
---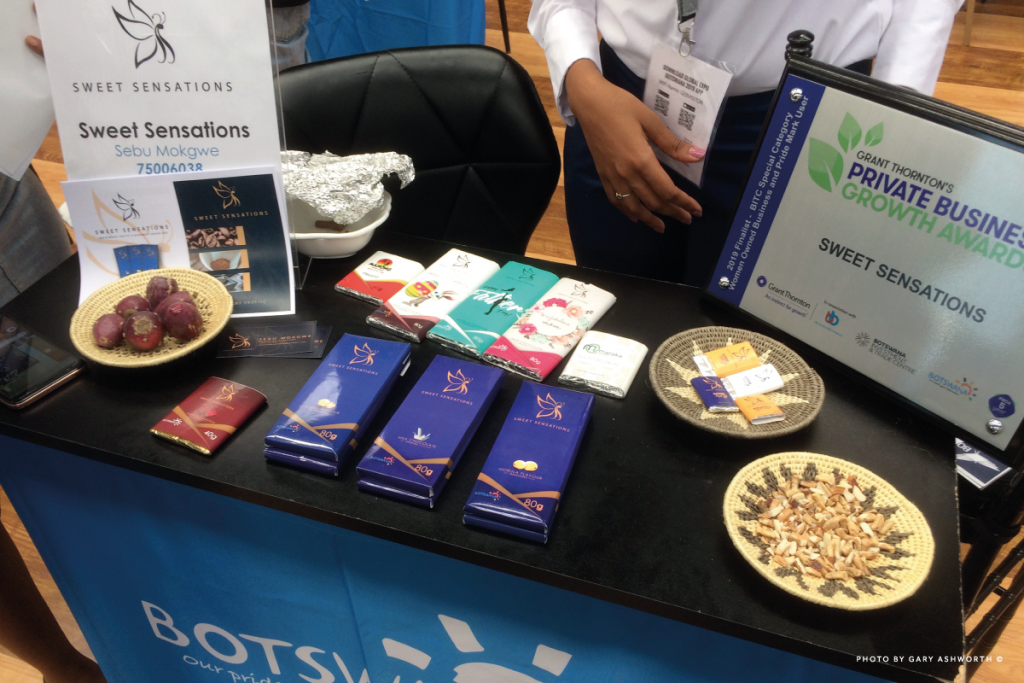 Sweet Sensations – chocolate with a taste of indigenous fruits.
Botswana chocolatiers, Sweet Sensations use indigenous ingredients sourced by elderly women seasonally. These indigenous ingredients include kgeru (giving the chocolate a deliciously nutty taste), morula and motoroko (prickly pear).
Ramotswa-based Sweet Sensations can customise orders for corporate events, trade shows, product launches, award ceremonies, weddings and various types of parties. They also supply the hotel and catering industry and are happy to personalise chocolate gifts.
Sweet Sensations chocolates are available at Square Mart, Mmamontle Conceptual Store and Sir Seretse Khama International Airport Koncept Store.
Sweet Sensations were third runner up in the Women in Business and Pride Mark user category at the recent Private Business Growth Awards 2019.
---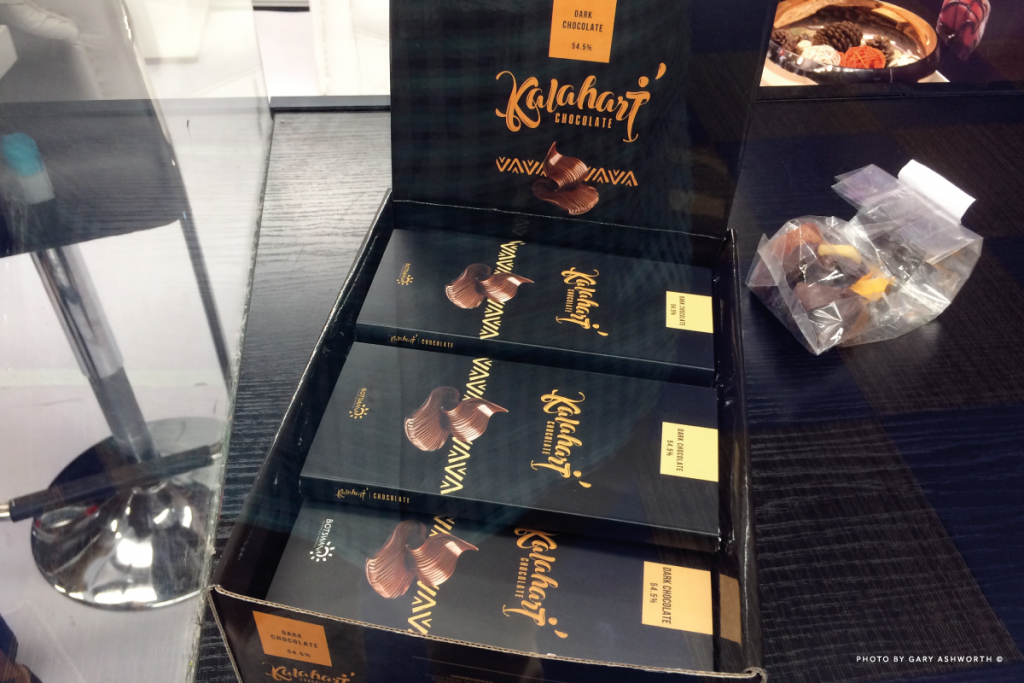 Kalahari Chocolate local chocolatiers – homegrown chocolate brand, produces premium chocolates, hand-crafted from West-African Cocoa.
Kalahari Chocolate is a self-sustaining local chocolatier, which amazingly, only started operating last September. Their effort was recently applauded by the Permanent Secretary in the Ministry of Investment, Trade and Industry, Peggy Serame, who said it was very rare to see a youth-owned company making big strides without government funding and with visible efforts of penetrating the market.
Managing Director, Calcida Mampane has huge dreams for Kalahari Chocolate and would like to see it selling beyond Botswana borders. The chocolate is currently available at the Kalahari Chocolate store at Gaborone CBD, Square Mart at the CBD and their production house at Commerce Park.
Kalahari Chocolate offers a wide variety of deliciously decadent chocolate which comes in dark, white and milk chocolate varieties. They also offer truffles (a mix of dark, milk and white chocolate) with a variety of fillings. Their chocolates can also be customised to each customer's taste and preference and branded as per customer's needs and preferences. And last but not least, Kalahari Chocolate offers some of the most delicious fudge out there.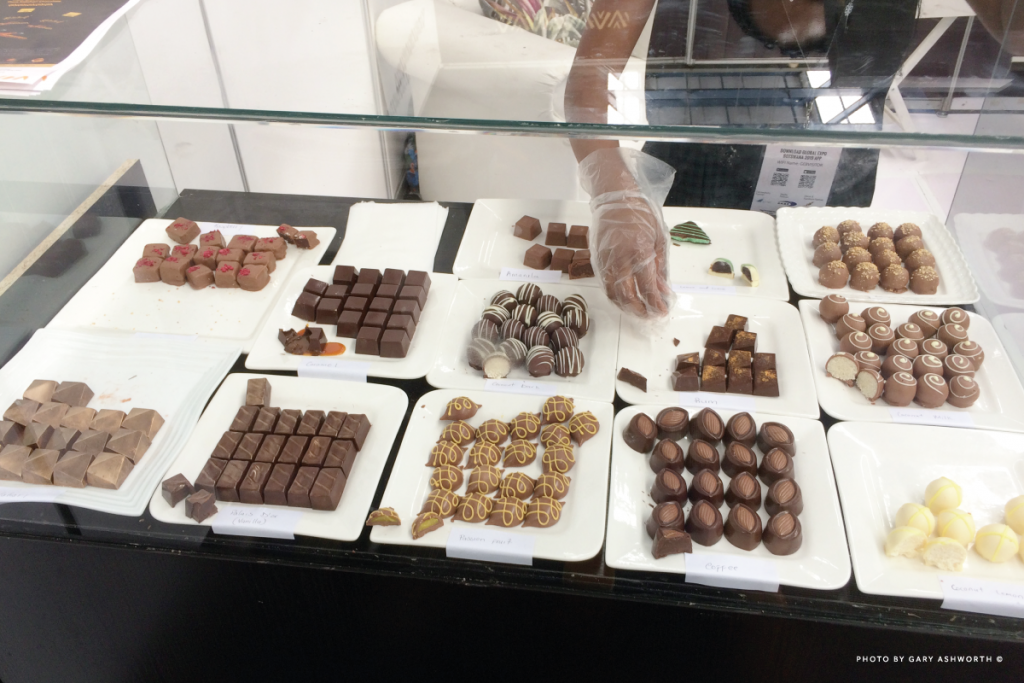 I can personally confirm the Kalahari Chocolate products are to die for. When I used to work at the CBD, I would regularly stop by to buy some of the goodies either for myself and/or friends for various occasions including birthdays. Kalahari Chocolate is also very affordable because I often bought the ready-to-buy individual pieces for anything between P1-5 each!
Visit Kalahari Chocolate Facebook page for further information.
By YourBotswana blogger