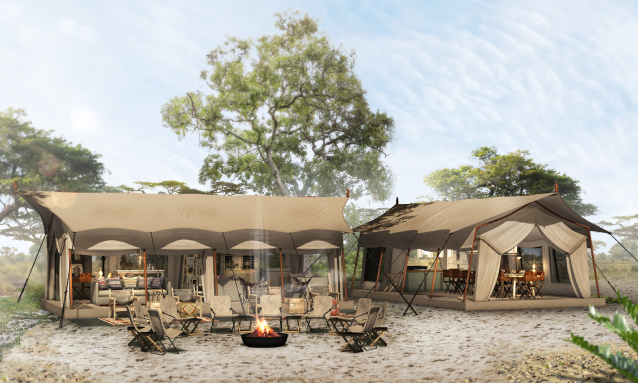 In a life of deadlines and busy cities, the new source of luxury is having wide-open space, having your undivided attention on exploring and relaxing. Migration Expeditions in Nxai Pan National Park offers just that – the unbelievable calm that comes from gazing at the horizon and having space to yourself.
Activities include morning and afternoon game drives inside the national park and visits to Baine's Baobabs. The intimate camp will be made up of 6 canvas tents set on low decks with bucket showers and two main area tents consisting of the lounge and dining areas.
Nxai Pan National Park is one of the best places to experience the longest zebra migration that spans from Namibia to the Nxai Pan area covering over 1 000 km. The migration occurs in the protected land of the Kavango-Zambezi Transfrontier Conservation Area. Migrations are essential for the ecosystems to avoid over-grazing and they ensure food sources are optimally used. Predators also benefit, as they follow the zebras and other herbivores and prey on the weak and younger herd members.
Baines Baobabs is another fascinating attraction here, a cluster of baobabs that have been around for millennia was discovered by explorers Thomas Baines and John Chapman in 1862 when trekking across Botswana in search of Victoria Falls. The baobabs were the subject of the iconic painting, which captured the lure and fascination of these unusual trees as well as the beauty and authenticity of this Botswana paradise.
Imagery below are courtesy of African Bush Camps – click to enlarge.
Activities
Experience the beauty and tranquillity of Nxai Pan National Park at Migration Expeditions. Sit back and relax on morning or afternoon game drive in search of the famous Kalahari lions, the large elephant bulls in the area or the Zebra Migration. Try your hand at new photographic techniques in this unique setting or take a half-day trip to the well known Baine's Baobabs.
*For further information, please visit the website and make enquiries directly with African Bush Camps.
Source: africanbushcamps.com