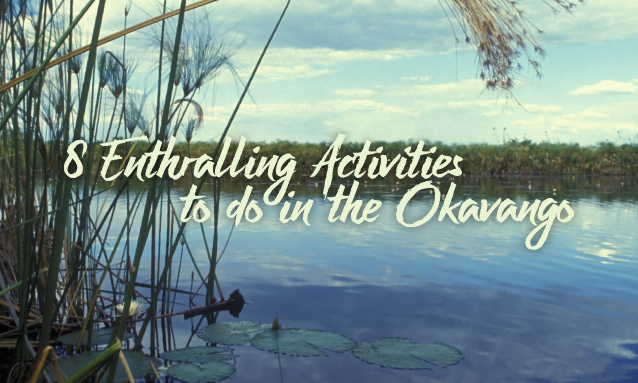 The Okavango Delta is a large inland delta and is without a doubt, one of Botswana's most popular safari destinations. This scenic natural wonder can be reached by road or air safaris that offer spectacular views of the Okavango Delta.
The crystal clear waters of the Okavango Delta set the scene for an unforgettable and unique safari. The delta is best explored on a leisurely mokoro dugout canoe cruise through the Okavango channels to witness the magnificent fauna and flora. Game you can expect to spot at the Okavango Delta includes lion, cheetah, leopard and African wild dog.
Okavango Delta accommodation is offered at various luxury lodges in Botswana. Activities in the Okavango Delta include mokoro rides, bushwalking safaris and traditional game drives.
Botswana's mighty Okavango Delta, which expands annually up to a size of almost 20,000 sq km, is one of Africa's greatest and most pristine wildernesses. To take in its beauty and all the iconic wildlife that call it home, there are eight enthralling activities available, but none as charming as a trip in the traditional mokoro (narrow dugout canoe).
---
1. The ultimate Okavango activity: the mokoro
There is no experience more connected to Botswana's Okavango Delta than a journey through its reed-lined channels in a mokoro. Propelled with poles by expert locals, these traditionally-styled dugout canoes (now fashioned from fibreglass instead of wood for environmental purposes) glide you through the wilds with your eyes just above water level.
From this reclined vantage point, the scale of everything becomes grander – trees tower upwards into the blue African sky, reeds arch overhead and animal encounters feel all the more dramatic.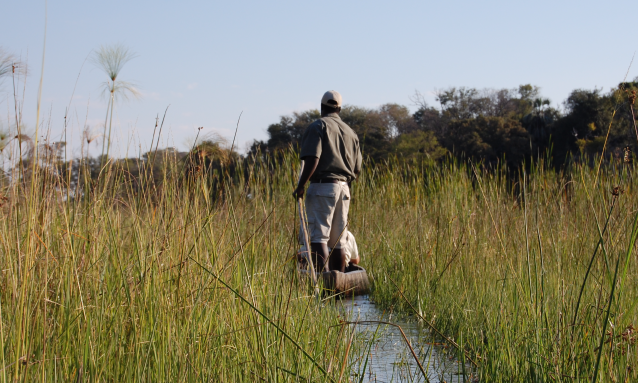 The poler, who stands at the back behind the two passengers, uses the wider view to watch for animals large and small. While you can get up close and personal with the likes of Africa's smallest frog, your guide will ensure that a safe distance is kept between you and larger species such as hippos.
That said, being told that an elephant is about to cross your path 100m ahead is still transfixing. With no engine noise and just the occasional birdsong, the sound of each watery footstep radiates to you as if it was just a few feet away. And then, when you think it can't get any more exciting, the wet, glistening body appears before you, tusks, trunk and all. Even with large animal sightings, the biggest joy of a mokoro trip is simply taking in the delta's surreal surroundings in the most peaceful way possible.
Most lodges in the delta organise mokoro trips, although some land-based camps on larger islands do not. The lodge-based trips tend to be late afternoon affairs, ending with sundowner drinks at a suitably scenic location, either in the mokoro itself or on one of the islands. These trips are almost always included in the accommodation fee.
It's also possible to organise independent mokoro trips – without the huge lodge bill – from the safari hub town of Maun. There, the Okavango Kopano Mokoro Community Trust acts as an umbrella association for all polers, with whom you can organise mokoro trips into the Eastern Okavango.
These can be as short as a day (including a two to three-hour return drive in a 4WD to the point of embarkation), or they can last as long as several days with camping done on the islands (you'll need to organise your own tent, cooking equipment and other kit). Most trips also involve some nature walks in the delta, where wildlife can also be seen. Overnight trips can be catered or self-catered, depending on your budget.
The best time to venture out in a mokoro is July to October when water levels are high and the skies are almost permanently blue. Yes, in a quirk of the natural world, the delta is at its wettest during the height of its dry weather season. This is due to the floodwaters originating not from Botswana, but rather from the highlands in Angola more than a thousand kilometres away (the water then takes several months to arrive).
Where to do it – Virtually every lodge in the Okavango will offer mokoro rides providing the water levels are high enough. Consider Shinde Camp, Gunn's Camp or Linyanti Ebony.
---
2. Boat safaris: speed and distance equals unrivalled wildlife
Although a little less serene than mekoro (plural for mokoro), powerboats offer you the chance to cover more distance, thus enabling you to delve further into the Okavango. This also increases your chances of viewing more wildlife, both in the water and on the islands themselves. Much like on mokoro trips, these powerboat adventures tend to include the option for short walking safaris along the way.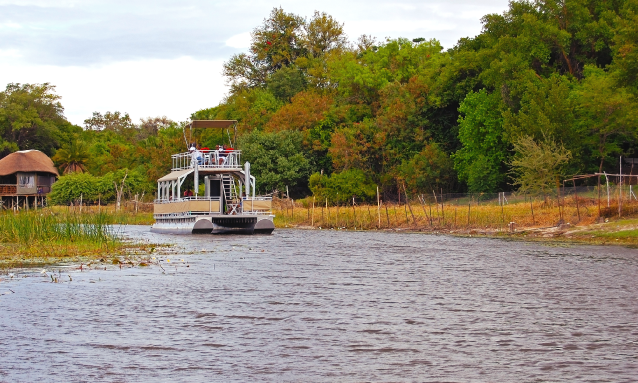 Most water-based lodges in the delta include this activity on their list of all-inclusive options, with some camps even using these boats to ferry you between their airstrip (your arrival and departure point) and camp. At the heart of the delta, within the Moremi Game Reserve, there are a few boat stations with jetties from where standalone boat safaris depart. Prices start at P650 (US$70) per hour for an eight-seat boat.
Where to do it – As long as water levels are high enough, lodges in the Delta like Xugana Island, Camp Xakanaxa and Vumbura Plains may arrange a morning of power boating.
---
3. Game drives: the classic safari dream
Climbing up into an open-sided 4WD and trundling across grassy plains in pursuit of iconic African wildlife is a safari dream for many. And drives in the Okavango do not disappoint. With the recent re-introduction of rhino, it's now possible to view all of the Big Five (leopard, lion, elephant, buffalo, rhino). No less interesting are packs of hunting wild dogs (Moremi Game Reserve is home to almost a third of the world's population), pods of hippos bobbing and yawing and cackles of whooping hyenas. Antelope numbers are healthy, including the water-adapted red lechwe. Last but not least, there is a phenomenal variety of birdlife that fills the air. And in this watery world, you'll also have the exciting novelty of fording stream after stream in true adventurous style.
Land-based lodges on larger islands, such as Chief's Island, include extensive wildlife drives year-round in their packages, while water-based camps only do so in the offseason (November to May) when water levels have dropped significantly. If you are self-driving with a 4WD, you can explore areas of the Moremi Game Reserve on your own wildlife drive during the dry season (July to October). The reserve's campsites must be booked months in advance.
Predator sightings
Moremi Game Reserve is renowned for its frequent leopard sightings. This, remarkably, is the only officially protected part of the Okavango Delta, which as a whole is a World Heritage Site.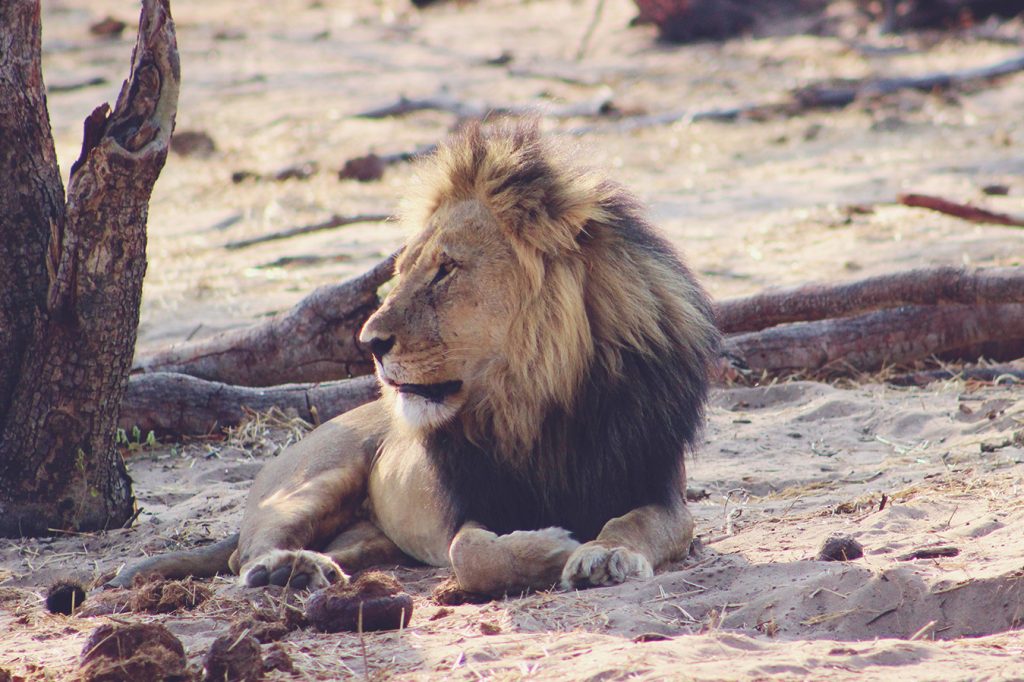 The lions of the Marsh Pride in the Savute are among the biggest in Africa: years of strenuous hunting in deep water and thick marshland has built them into exceptionally powerful hunters known to take down elephants.
But even when they're not hunting (which happens late at night when you're likely tucked up in bed), lions are still interesting: here a male marks and inspects the borders of his territory, warning competitors to stay away. Of course, if you're really lucky you might even spot lion cubs and leopards learning to take on the big world. Lions are the most social of all the cats and it's easy to lose yourself in their playful interaction.
Where to go – For a total splurge, check in at Little Mombo while Xigera has one of the best facilities in the Delta: a bridge that is also a sand trap to pick up the spoor of overnight 'visitors' to camp. Leopard tracks are occasionally found in the sand.
Experience a Moremi safari (Track the Big 5)
The Big 5 – rhino, elephant, lion, leopard and buffalo – are the must-see for every first-time safari-goer. There's a very good chance you'll see all of them in Botswana, especially in Moremi and the Delta. Rhino, sadly, are under the most threat but an innovative programme called Rhinos Without Borders is helping move these magnificent creatures, which have survived for millennia, to live another day by moving them from poaching hotspots in South Africa to safety in Botswana.
---
4. Walking safaris: to follow in the footsteps of greatness
Standing on the same earth as the very creatures you are observing is as enlightening as it is exciting and in the delta, there is much to observe. Following your guide in single file, you will get the chance to learn about the intricacies of the environment and about many of the smaller creatures that are often overlooked when on game drives. Although not as much ground is covered on foot as is done in 4WDs, you still stand a chance of seeing elephants, antelopes and other wildlife.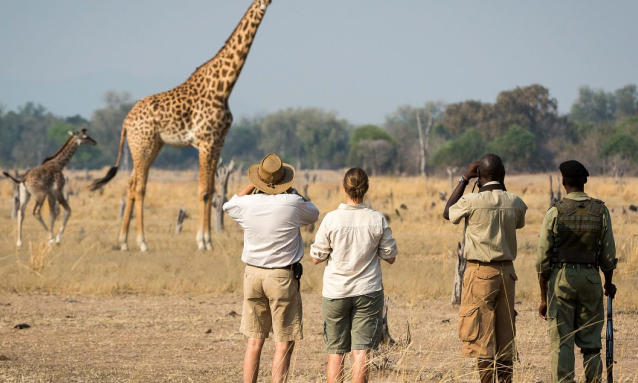 Guided walking safaris are not permitted in national parks and reserves, but they are offered by lodges within the private conservancies that make up the majority of the Okavango Delta's footprint. Short walks tend to be included with mokoro trips organised out of Maun.
---
5. Horseback safaris: become one of the herd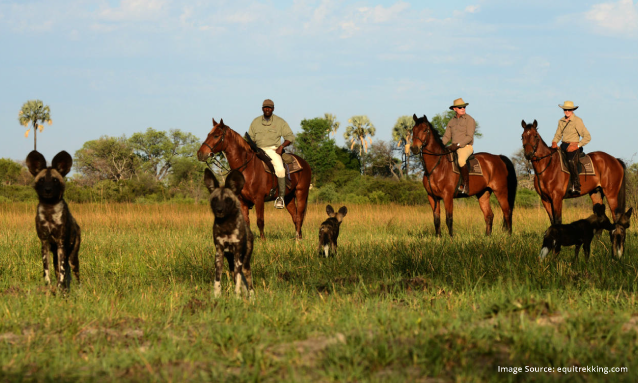 If you're no stranger to riding horses, then you have the option of booking your safari with an operator that focuses on horseback safaris. This old-school form of transport allows closer interaction with various wildlife in general, as you are viewed as just another harmless animal on the scene – as opposed to a more obtrusive attendee in a powered vehicle.
Most of the horseback operators run trips year-round, with four to six hours per day spent in the saddle.
---
6. Scenic flights: take to the skies for a bird's eye view
From ground level, the Okavango Delta is astoundingly beautiful and totally immersive, but from the air, you start to understand the greater picture. And what a picture it is: reed channels weave patterns between temporary and permanent islands, illustrating the flow of floodwaters; bleached pans reveal former waterholes, with animal trails migrating outward like rays from the sun; and the relationships between various species and their preferred habitats are laid bare. Looking down at elephants bathing in streams to beat the heat of the day, or seeing red lechwe seeking safety from big cats in the shallows is remarkable. At times you feel like you're actually in a wildlife documentary.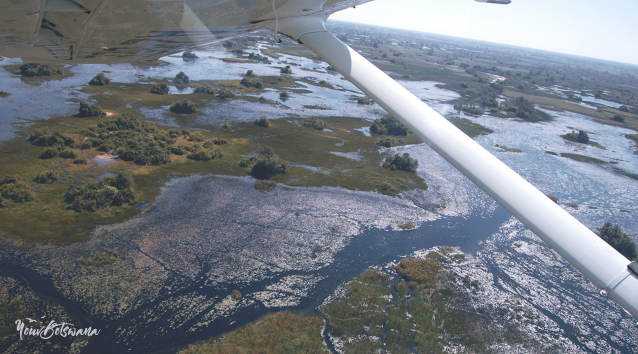 Scenic flights by plane are offered by several operators such as Wilderness Air, Mack Air and Major Blue Air, while helicopter flights are run by Helicopter Horizons – both alternatives are possible to book from Maun, although some camps can also arrange them for you. If you've chosen a fly-in lodge, you will get a taste of this activity en route to the camp. Some camps such as Vumbura Plains Camp also offer hot-air balloon flights over the delta.
---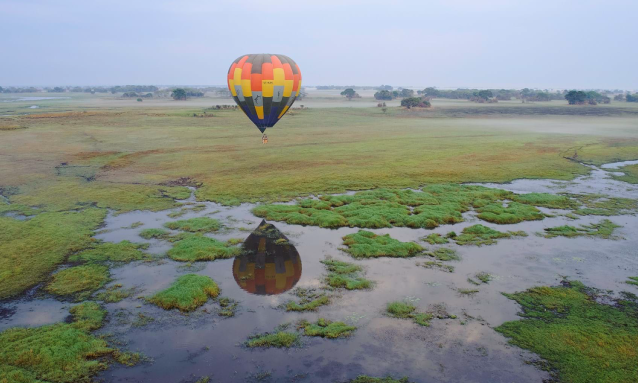 7. Hot-air balloon safaris over the Okavango Delta
The beauty of ballooning is that you get a true sense of how large the Okavango is. It's one thing to fly over it in a light aircraft; it's quite another to float serenely above its ox-bow lakes, counting the hippos, elephants and buffaloes below.
Where to do it – It's an early wake-up call at Vumbura Plains but so worth it!
---
8. Okavango Delta cultural tour
Botswana has now started diversifying its tourism offer to include cultural tours. Guests, usually led by local expert guides, travel to the remote villages of Botswana and have the opportunity to interact with the locals. Guests are completely immersed in a rich cultural experience as they get to know the lifestyle of the region's cherished river communities. Each guest is able to participate in any activity done in traditional villages and in the bush.
Cultural activities can include:
Getting to know domestic lifestyles 
Hunting and gathering
Rain-­making ceremonies
Healing ceremonies and techniques 
Catching fingerlings
Traditional fishing
Reference: Matt Phillips@ Lonely Planet / botswana.co.za / botswanatourism.co.bw