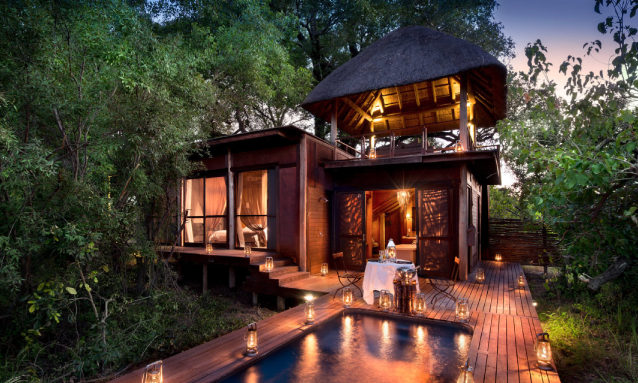 One of the country's luxurious and elite tourism spots, Xudum Okavango Delta Lodge was gutted by fire last Saturday.
According to and Beyond's Tracy Trollip, the facility was burnt down on Saturday night with the cause of the fire yet to be established.
"There was a bush fire on Friday, which people tried to put out throughout the day and at night. The fire continued on Saturday and the winds got stronger and jumped over the fire breakers and burnt down the facility," she said. 
The luxury safari operator said in a statement published on its Facebook page that teams from &Beyond and neighbouring lodges worked tirelessly to control the fire, however, the prolonged drought in Botswana and the resulting dry conditions in the Delta contributed to the quick spread of the fire. The statement said on the afternoon of May 18, windy conditions caused the blaze to jump the lodge fire breaks and move through &Beyond Xudum Okavango Delta Lodge, destroying the guest areas, guest suites and staff village.
All guests and staff were reportedly evacuated in good time and are safe and unhurt. As a result, the lodge has been rendered unusable. Alternative arrangements at surrounding lodges or in Maun were made for all guests who were at the lodge at the time of the fire.
"We are devastated at the loss of one of our all-time favourite lodges in the Okavango Delta. However, we are also grateful for the support that we have received in our ongoing attempts to fight the fire, which is still blazing. 

Our staff have shown incredible spirit and have dedicated so much effort and energy in fighting the blaze, putting our guests' safety and wellbeing first at all times, even in the face of much personal loss and destruction. We would also like to thank our neighbours, who have come together without a moment's hesitation to help us during such a critical time."

Regional Director of Xudum, Jason King, commented at the time of the statement.
---
Xudum Okavango Delta Lodge is situated in a private wilderness 25,000 hectare concession south-east of the Moremi Game Reserve in the centre of the Okavango Delta.
The incident is deeply regrettable and we can only hope that andBeyond will be able to get the lodge restored to its former glory with relative ease. Above all, we're glad to hear all the guests and staff escaped unscathed.
Source: andBeyond Facebook page