In south-eastern Botswana, hugging the Limpopo River, lies a rugged landscape unlike anywhere else in the region. Here is why you should look at this mysterious corner for your next safari.
The region is littered with hundreds of archaeological sites from Stone Age and Iron Age times through to the modern era. The thrilling Mmmagwa site, used by various peoples for more than 1500 years and isolated Leeu Kop, perhaps a refuge site from the 19th Century, are testimony to the enduring, if sporadic, presence of people.
It is this convenient link to Johannesburg and the investments of its commercial empires that explains the distinctly South African flavour of the Tuli Block of the past. Apart from a significant number of private 'retreats', there are now two commercial tourist lodges in the area: Tuli Safari Lodge and Mashatu, the latter undeniably being the larger and perhaps better known of the two.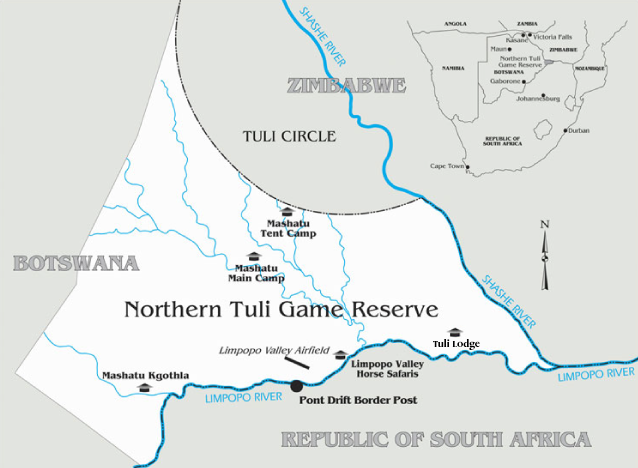 Tuli Safari Lodge nestles on the banks of the Limpopo itself – "all set about with fever trees" – with beautiful lawns shaded by giant fig trees surrounded by the most fantastical and appealing sandstone formations. Its bigger cousin – Mashatu – lingers in the hinterland, far from the banks of the great grey-green greasy Limpopo River, among a meandering maze of tree-lined river-beds and open plains.
The evolution of these camps into viable businesses today has been a long and extremely expensive journey. For decades neither made any money and survived merely because of the deep pockets and passion for wilderness espoused by their several owners through the years. Today, however, both are viable business and enter the fierce competition for Botswana's tourist dollars.
It is not unreasonable, then, to ask what, if any, are the distinctive advantages of Tuli?
How can this remote region possibly succeed against the swirl of green that is the Okavango, the riverside glories of the Chobe and the overwhelming vastness of the Kalahari?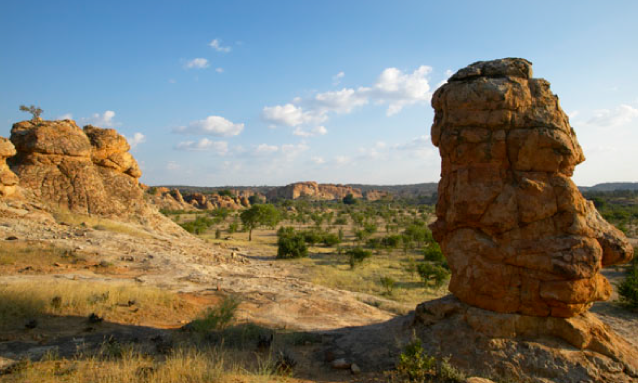 A place unlike anywhere else in Botswana
The Tuli Block advantages lie chiefly in two important factors: the characteristics of its landscape and the fact that, although it has Botswana Government shareholders, it is privately-owned. The Limpopo today does not always have year-round surface water, but large pools persist and host the usual denizens of African river systems. Beyond the deep shade of the riverine woodlands, the tortured sandstone terrain stretches far from the river into the plains beyond.
The land away from the river also has a special appeal. The unrelenting 'flatness' of the Central Kalahari and the hinterland of Chobe are not found here. Tuli is an ancient landscape worn down by relentless erosion. Ninety million-year-old basalt has capped much of the land but even this has succumbed to the ravages of time so that the region is riven by numerous dry river valleys, cliffs and an undulating surface of rounded elevations and rolling plains. With its numerous prominences and viewpoints affording spectacular vistas, it is a region quite unique in Botswana – there is absolutely nothing like it anywhere else in the country and it entirely alters the nature and the 'feel' of the game-viewing experience.
A second factor underlies this sense of difference. Because the reserve is privately owned, owners make their own rules. One is that game-viewing vehicles can drive where they wish: off-road is permitted. At first thought, this speaks of chaos and ecological disaster but, no, as visitors are not allowed to drive their own vehicles. Only reserve guides drive, and they have been carefully schooled in striking the balance between 'good, close-up sightings' and care of the veld. It works really well.
No concession fees apply
Private ownership also means that no concession fees need to be paid (a considerable expense for operations elsewhere in Botswana) and this helps counter high infrastructure costs. Mashatu, for example, draws electricity and water via a pipeline, from 18km away.
A range of activities are offered here that are not common in other reserves: horse-riding, cycling, guide training and, perhaps most striking of all, photographic training at an extraordinary venue.
Whilst not unique in Africa, Mashatu's photo-hides are certainly so in Botswana. Large sea-going containers are adapted for comfort and sunk into the ground to give eye-level views across a water-filled pan to animals and birds only metres from the camera.
The Tuli District seems to offer something for everyone and unlike other Parks and Reserves, there are more activity options thus catering for a wider age range of visitors.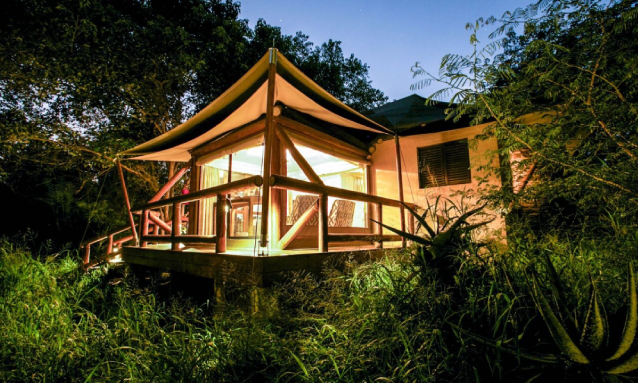 Tuli is redolent with history, adding hugely to its interest
This is the land of Rhodes' Pioneer Column that founded Rhodesia in 1890. Here, in 1891, a handful of mounted Bechuanaland Protectorate Police patrolled the open country, successfully preventing the planned occupation of what is now Rhodesia by a convoy of 40 – 50 Boer wagons led by Lewis Adendorf.
In 1892, this was a land straddled by a single strand of telegraph wire that reached from Mafikeng in the Cape Colony through Botswana to Fort Tuli, on to Salisbury and eventually, to reach Kigoma on the shores of Lake Tanganyika. Before the advent of Rhodes' railway, it gave the nascent Rhodesian settlements their only means of modern communication.
In November 1899, during the Boer War, some 400 Boers invaded Tuli District. One part of this force attacked and shelled a roadside store in the Reserve belonging to a Mr Bryce, on the banks of the Pitsane River. The attack resulted in the defeat of the Rhodesian forces, the capture of seven men and the loss of six wagon loads of equipment. At the same time, there was an attack on other forces guarding Rhodes' Drift on the Limpopo River, again resulting in defeat and retreat of Colonel Plumer's men.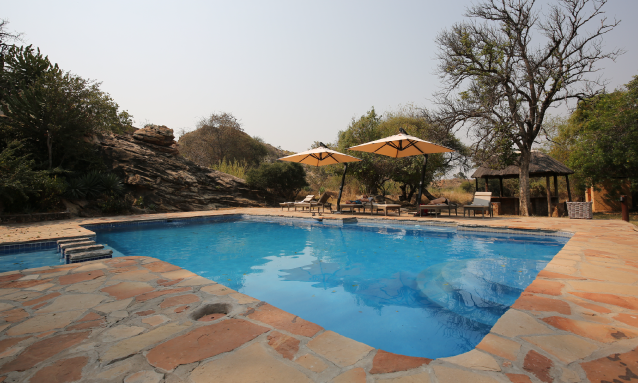 Tuli Game Reserve is massive
At more than 72,000ha, the area of the Tuli Reserve is vast. There are no fences within or surrounding the Reserve, but there is 100km of international border where South Africa, Zimbabwe and Botswana meet and this tempts petty poachers but with crack anti-poaching teams the threat is well under control.
Partly due to the history of persistent hunting there are some notable absent species. There are currently no roan, sable, gemsbok, buffalo, rhino, hartebeest or springbok, but because of opportunities to get up very close to lion, elephant, leopard and giraffe, among others, visitors feel more than compensated for their absence.
Thought is being given to introducing more species, but such introductions are not as simple as they might seem as, among other issues, proof must be furnished that they did exist in the area before. The Tuli Game Reserve has always been driven by people with vision and despite that so much has been achieved, the vision continues to reach out to even wider horizons, reviving General Jan Smuts' idea of Dongola (a transfrontier national park envisioned by him in the 1940s).
There are plans now, building on the foundations provided by Tuli Reserve and neighbouring Mapungubwe National Park, to embrace Zimbabwe and – one day – the whole Limpopo Valley in a single, enormous protected area, the antithesis of where Tuli was more than a hundred years ago.
The beauty of the Tuli Block – unlike any other in Botswana
The Tuli Block – a strip of land that lies on the eastern edge of Botswana, sandwiched between Zimbabwe and South Africa -is markedly different to the rest of Botswana with dramatic rocky scenery, towering baobab trees and thick riverine forest, dramatic rocky scenery, giant baobab trees and lush riverine forest.
This corner of the south-eastern part of Botswana, bordering the Limpopo River, is a ruggedly beautiful area of low shrubs and mophane trees and granite outcrops. Mashatu, which encompasses much of the Tuli Block, is one of the largest privately owned game reserves in southern Africa. It is also home to a large herd of elephants known as the 'relic herds of the Shashe' – remnants of a herd of elephants that roamed the Limpopo Valley which were decimated in the ivory hunts of the nineteenth century.
---
The 30,000-hectare reserve is a great wilderness to visit and seeing lion, leopard and hyena are almost guaranteed. There is also a good bird population (some 400 species have been identified). The well-trained guides from Mashatu, all on radio-linked vehicles, ensure that game is easily located on morning and evening game drives.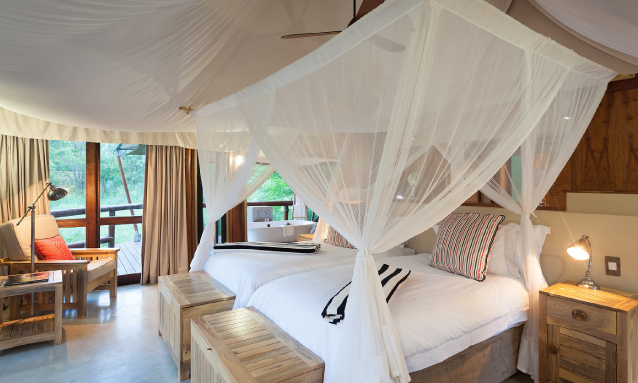 Tuli Game Reserve is also home to the stately Mashatu trees. The Tuli area has developed significantly over the years and outside Mashatu, other lodges have been built in private concessions. There is also a horseback riding company in the Tuli and the environment provides for a thrilling horseback adventure among the prolific wildlife in the area.

Horseback safaris.
Access into Mashatu itself is not possible by private vehicle. Guests are met either at the small Platjan border post with South Africa or at the new tarred runway.
Access to other lodges and camps is by road or guests can be collected from Limpopo airfield.
Luxury chalet or tented camp accommodation on a fully inclusive basis.
---
Historically, much of the Tuli Block was farmland and to this day, a large proportion if it is still privately owned. However, with forward-thinking conservation plans, much of it is now set aside as the Northern Tuli Game Reserve and it has now been transformed into one of the largest privately owned game reserves in the Southern African region.
The landscape is stunning and cannot fail to impress, the rocky red outcrops and kopjes capture the eye and contrasting with the forest that lies next to the Limpopo, the colours make for striking imagery. Wildlife is prolific here with good numbers of elephant, lion, leopard and antelope. Bird lovers will not be disappointed either with over 350 different species recorded.
The Northern Tuli Game Reserve is often referred to as the Land of the Giants – this is not only in reference to the large herds of elephant that roam this land, but also the giant baobab and nyala trees, the big skies and endless vistas, visible from the granite kopjes. It's well worthy of a visit.
The Reserve is easy to reach from South Africa and combines well in a multi destination itinerary. It lies close to the Pontdrift border post. It's possible to self-drive here or you can fly to a local airstrip. Road transfers can be organised from Polokwane too, there are regular flights between here and Johannesburg.
Access can be gained by 2×4 vehicles (only up to a point on both sides of the border) and by 4×4 vehicles on self-drive itineraries from South Africa via Pont Drift border post and from Botswana via Palapye.
Air charter flights can be arranged to the private airstrip in the Northern Tuli Game Reserve where there are passport control facilities. Pont Drift border post is open between 08h00 and 16h00 and these times are strictly adhered to.
You can fly directly from Johannesburg to the Limpopo Valley Airfield (Northern Tuli Game Reserve) in Botswana and then transfer by road to your Tuli Lodge. Alternately, you can fly to Polokwane Airport in the northern Limpopo Province of South Africa and then self-drive from there onward to Pont Drift border post. There is also the possibility of connecting with certain charter flights from Gaborone in Botswana to Limpopo Valley Airfield.
Source: Travel Africa, botswanaspecialists.co.uk