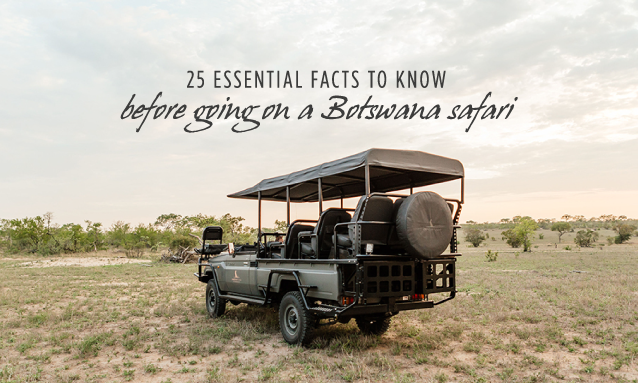 1. Accommodations
Botswana offers a wide range of accommodations; from traditional African Dome tents with bucket showers and long drop toilets to luxurious camps with all the fittings of a 5-star experience. Speak with your trip planner to choose the right option for your tour.
---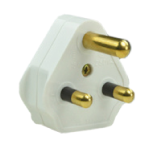 2. Do I need a converter/ adapter for the electricity?
Botswana uses 220 volts electricity and requires a 3-pin (square) plugs (Like that of the UK or Hong Kong), South African style plug (three large round pin) plugs, or European-style (two round pin) plugs but this is relatively rare. Travellers will need a voltage converter for 110-volt devices. It is best to travel with your own adapters.
It is not possible to use appliances such as hairdryers or electric shavers in the tented rooms as most of the camps in Botswana have low wattage fuses which will trip.
---
3. Are meals included?
While on safari in Botswana, all meals will be included from lunch on day 1 until departure.
---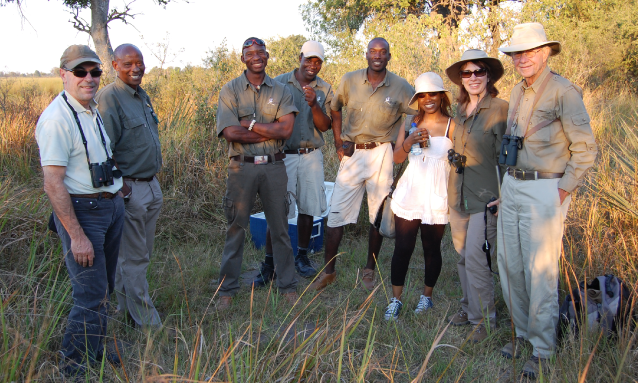 4. What are the tour guides like?
Botswana guides are fluent in English and local languages. They are from the local areas where they guide and are among the very best guides available in the region. With most, if not all trained to be licensed safari guides, the guides are always very knowledgeable and courteous with outstanding customer care skills. You're guaranteed both the major highlights and the local treasures.
---
5. What kind of food is on offer?
While on safari, western style fare is available each day and fresh, local fruits and vegetable are incorporated into the meals. The food served on safari will be some of the best you've ever tasted, with The food served on safari will be some of the best you've ever tasted, with most of it made fresh. It's always prudent to let your trip planner know about any food allergies or dietary concerns as safari operators can accommodate all kinds of preferences with notice.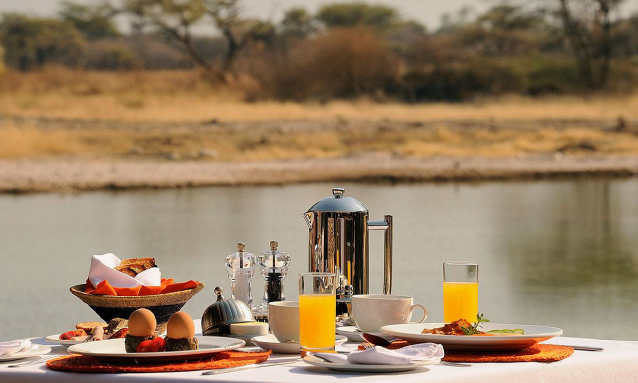 ---
6. What type of transportation is used?
Typical transportation in Botswana is open air 4×4 vehicles designed to give travellers all round visibility. There are some exceptions to this in order to accommodate certain environmental conditions such as excessive dust and/or hear, or in temperate climates where they may use closed vehicles with viewing hatches.
---
7. What is the climate like?
The weather in southern Africa is generally pleasant through the year- warm to hot days and cool to warm nights. Summer is from November to the end of May and usually brings very high temperatures. This is also the rainy season. Winter days, May to the end of August, are invariably sunny and cool to warm, however, nights can drop below freezing at night. During this time, it would be advisable to pack a winter coat, hat and gloves.
---
8. What is the typical age range for these tours?
African tours tend to attract all ages. The minimum age to join a set departure trip is 12, so if you plan to bring children under 12, speak to your trip planner about it first. All travellers must be able to climb into and out of a safari vehicle, so these trips are not suitable for those with mobility issues.
Safari options are definitely suitable for children as young as 6 (12 on set departures). Please note that this depends on the child and is the responsibility of the parents to determine whether this type of program is suitable for their child. There are long drives on Safari (sometimes lasting 6-8 hours) and the roads can be very rough. Some accommodations will not accept young children, so speak to your travel agent to find appropriate programs.
---
9. Do the rates include international flights?
Tour rates do not always include international flights. It can work out cheaper to book these separately. This also allows you the flexibility to choose the schedule and routing that is most convenient for you. You can purchase international flights on your own or through your chosen travel agent.
---
10. How do I get to the hotel from the airport when I arrive?
Always check with the agent through whom you choose to plan your holiday, but you're usually met by a Safari representative once you clear customs and the baggage claim. They then help transfer you to the first lodge or hotel booked.
---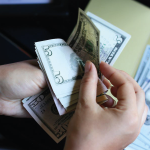 11. How do tips work?
It is customary in Africa to offer a tip for exceptional service based on personal experience. Below is a loose guide:
Camp or Game Lodge Guides, Specialist Guides, & Butlers – $10.00 per person per day.
Mokoro Paddlers and Trackers – $5.00 per person per day.
General Safari Camp / Lodge Staff – $10.00 per person per day.
Best placed in the communal tipping box to be distributed equally among all the staff.
Portages – $2.00 – $3.00 per guest per movement.
---
12. How far in advance should I book?
You can book your Botswana tour at any time and generally the earlier you book, the better. Booking early, 10-12 months or more if possible, is recommended, although 4-6 months prior to departure is certainly manageable.
It's recommended that you wait to book your international flights until after your tour is confirmed.
---
13. Are tour dates flexible?
Yes, they can be. Should you need to swap dates/lodges around, let your travel agent know early on. Depending on how busy it is, many operators may be able to make amendments to accommodate alternative departure dates as long as lodges/ hotels are available.
---
14. Can I extend or change my stay?
Check with your travel agent just in case your visa, based on where you're from, doesn't allow that as well as the availability of accommodation. But generally, Botswana does allow some nations to extend their holiday visas.
---
15. What should I pack?
Safari operators normally provide you with a detailed packing list specific to your tour after you book. This is something your travel agent will be able to advice on too.
On Safari, luggage should be limited to one item of baggage per person weighing less than 44 lbs. This weight limit includes camera equipment and hand luggage. The maximum dimensions of the soft bags which can be accommodated are 10 inches wide x 12 inches high x 24 inches high.
---
16. How safe is Botswana?
Botswana is known to be one of the safest countries to visit in Africa. However, it's always prudent to stay vigilant and exercise the same safety precautions as you would anywhere else in the world. For instance, avoid wearing expensive accessories or watches and carrying large amounts of cash. There's usually no crime in Botswana lodges and most operators provide a safe in your room to keep your valuables through your stay.
Listen carefully to and heed the advice of your tour leader, guides and hotel reception as their main concern is your safety.
---
17. What time zone is Botswana?
Botswana is on Central African Time (CAT), which is either +1.00 or +02:00 ahead of Greenwich Mean Time (GMT), depending on the UK's daylight saving time.
---
18. Is the water safe to drink?
Tap water is generally safe to drink throughout southern Africa. However, bottled and filtered water is readily available. Water will be provided in the safari vehicle and at camp.
---
19. What currency is accepted? Do I need local currency? What is the local currency, exchange rate, etc.?
The local currency of Botswana is the Pula (P) which is made up of 100 Thebe. Botswana banks only accept US Dollars, Pound Sterling, Euro, and South African Rand in cash. Any cash payments made to camps for curios or gratuities need to be in one of these currencies. Always check out the latest exchange rates.
A good currency convertor site is https://www.xe.com
---
20. Should I bring cash or Traveller's checks? Are ATMs available? Can I use credit cards?
ATMs are readily available in the larger towns and cities, but hard, if not impossible to find elsewhere. Traveller's checks are not recommended as they are hard to exchange and fewer and fewer operators and retailers are accepting them. Visa credit/debit cards are widely accepted.
---
21. Can I use my cell phone?
Check with your cell phone provider. Each company is different and they are best placed to give you the most accurate information with regards to roaming rates.
---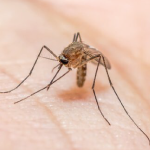 22. What immunisations are recommended/ required?
No immunisations are currently required for visiting Botswana. You should be up to date on your routine vaccinations, including Tetanus. The CDC is currently recommending the following vaccinations – Hepatitis A, Malaria, & Typhoid. Travellers are advised to bring along their International Certificate of Vaccination or Prophylaxis (ICVP) as proof of vaccination.
You may also want to consider the following vaccinations: Hepatitis B, Yellow Fever and Rabies.
Please note that some countries, such as Botswana, require a yellow fever vaccination if travelling directly from an affected country (such as Zambia). Please check with the Center for Disease Control for information for your onward travel from Botswana.
For the most current information, please consult your doctor and/or check out the Center for Disease Control website.
---
23 Do I need a visa/passport?
You will need a passport valid for at least 6 months after they depart Botswana and have at least 3 consecutive black pages (4 is recommended if visiting more than one country). Currently, travellers from the US, Canada, Australia and New Zealand do not need a visa to visit Botswana. Other nationalities should check with the Botswana Embassy in their respective countries for visa information. It's advisable to get any visas required before departure.
Entry requirements can change at any time; it is each traveler's responsibility to check with the consulate for the most up-to-date visa information.
---
24. Is travel insurance recommended?
It is a condition of booking that all clients must have and must demonstrate to most safari operators prior to their departure that they have adequate insurance for the duration of the tour.
Such insurance must fully cover personal injury; medical expenses; repatriation in the event of accident, illness or death; cancellation or curtailment of the tour by the company or client; and loss of, damage to, or theft of the clients' personal property. Activities with a greater inherent risk, such as animal tracking on foot should be covered. Theft, personal injury or any disruption to arrangements should be reported immediately to the company and to the nearest police station.
---
25. What other essentials are recommended?
Think of all the items that are likely to enhance your Botswana safari experience and ensure you bring them along.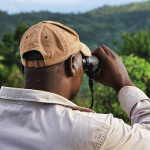 Sunblock – ensure you bring a high factor sunscreen (at least SPF 30) because the sun in Botswana, both in the winter and summer can be harsh.
A comfortable pair of shoes other than sandals and flip-flops
A small pair of binoculars to ensure you don't miss anything, especially the tiny species such as birds
A long lens camera to capture all those memories – if not possible, any camera will do
---
Is there anything else we didn't cover that you'd like to know about? Please feel free to comment or send us an email and we'll do our best to address your questions.
Source: adventure-life.com