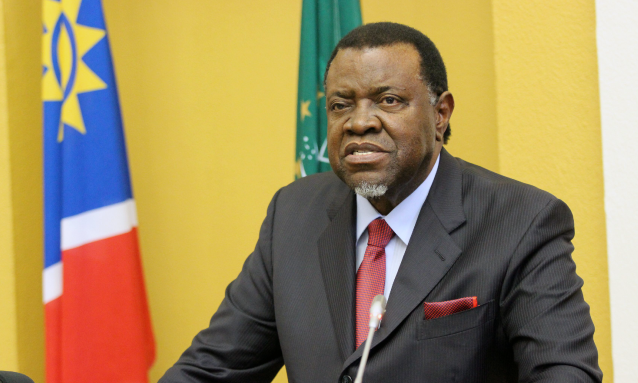 Namibia President and SADC chairperson, Dr Hage Geingob has taken a swipe at those in the global north, who criticise Kavango-Zambezi Transfrontier Conservation Area (KAZA TFCA) countries for their conservation programmes. Speaking at the end of Botswana's 2019 elephant summit on May 7, Dr Geingob said;
"I support KAZA efforts on elephants. We should not be victims of our success in conservation and the West must humble itself and learn conservation from us instead of lecturing us on what we ought to do."
He told the summit that conservation in Namibia was successful because of the effective policies and laws the country has in place. He explained that in 1995 they only had 2 000 elephants which have since increased to 40 000. This, Dr Geingob noted, calls for a sustainable method of ensuring that the ecosystem's carrying capacity is maintained. He highlighted that elephants present challenges to the environment such as loss of habitat and the Human-Elephant Conflict. As such, he welcomed the KAZA elephant management framework. The framework, he noted, would result in harmonised policies and laws on the management of elephant numbers.
Dr Geingob -also SADC Chairperson – further advocated for the controlled legal ivory trade and told the summit that he supports the implementation of the elephant strategy. The Namibian leader said the elephant population in Namibia is in safe hands and that the shared approach on elephant management would go a long way in reducing the Human-Elephant Conflict.
All three heads of states who attended the summit rallied behind Botswana's call for the region to have a unified approach in tackling the Human-Wildlife Conflict. President Dr Mokgweetsi Masisi had earlier called on the governments in the KAZA TFCA area to speak with one voice on the need to reduce elephant numbers, which are making it difficult to manage sustainable ecosystems, especially in Botswana, where their number is estimated at over 130,000.
The summit, whose theme was; Towards a Common Vision for the Management of Elephants, concluded with the heads of states committing themselves to supporting an integrated response towards the global outcry on the anticipated re-introduction of hunting in Botswana.
Reference: BOPA