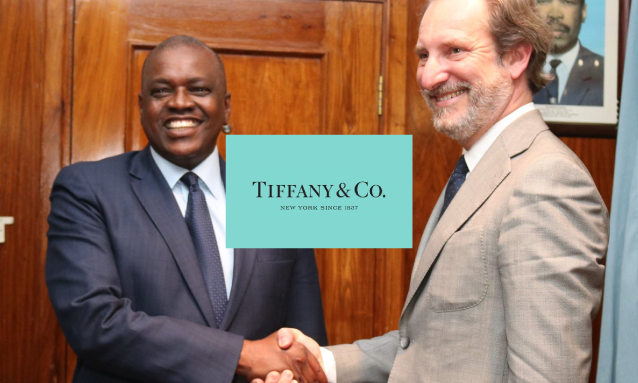 Representatives of American luxury jewellery and specialty retailer, Tiffany & Co, recently paid a courtesy call on President Dr Mokgweetsi Masisi to discuss areas of potential investment in Botswana's diamond industry.
Speaking at the meeting, Dr Masisi informed the team, led by Tiffany Chief Executive Officer, Alessandro Bogliolo (pictured above), that the diamond industry has played an important role in growing the economy of Botswana. He said the industry has contributed significantly to healthcare, education, energy, infrastructure and job creation.
Dr Masisi described Botswana diamonds as the cleanest and most precious, saying the country wants to grow the brand. He said a huge price was paid for the integrity of the country, therefore it is the government's responsibility to demonstrate commitment to legal conduct and get returns on it.
President Masisi assured the team that they are in the best hands with the government of Botswana, as it pledged to ensure transparency, stability, integrity and commitment to the rule of law. He stressed that Botswana views Tiffany & Co as an important partner in further growing the diamond industry.
For his part, Bogliolo said the 182-year-old company is famous for being retailers of quality diamonds mined in Botswana, explaining further that Tiffany & C's largest, most beautiful diamonds were sourced from the country. He said the company believes in natural diamonds and are not in the business of synthetic gemstones.
With natural diamonds, he explained, there's a high value that comes with their rarity, while synthetic diamonds are of low value that would further diminish with time. He said there would be a vast market between what's rare, precious and expensive and the widely available, but not luxurious synthetic diamond.
Bogliolo said his company started buying Botswana diamonds 50 years ago and had been operating in the country for the past 12 years. It employs close to 200 people, 95% of them citizens.
Tiffany & Co is a high-end American luxury jewellery and specialty retailer headquartered in New York City. Its pieces are made to the highest level of excellence and are the mark of ultimate class and poise. For that reason, they come with a very hefty price tag and are much sought after by jewellery lovers across the world.
Source: BOPA
Photo courtesy of BWgovernment (Facebook)