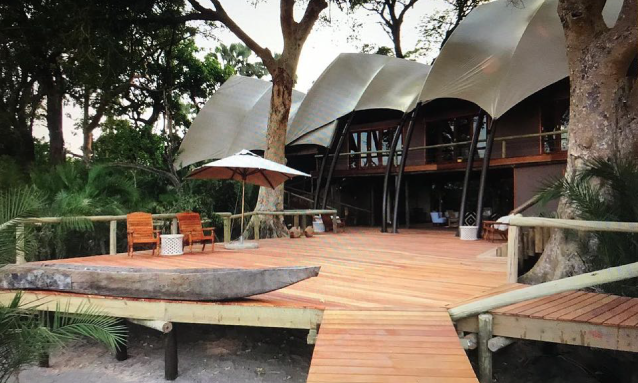 Around the World in 80 Days is a classic novel based on a bet that the protagonist Phileas Fogg makes with a colleague, that he would not be able to circumnavigate the world in 80 days in a hot air balloon. This fictional story makes you believe it is possible, but as all of us know, even in today's age, this task would take some doing.
The Jacana rebuild began on 10 January 2019. This late start was due to a few delays over the festive season. However, all that said, the rest of the world did not need to worry, as we were committed to reopening on 1 April! And so from 10 January to 1 April, our team had – just like the task presented by Phileas Fogg – an 'impossible challenge' to completely dismantle and rebuild a new camp in just 80 days! The challenges and stakes are always a bit higher in the Delta. Being based in a pristine World Heritage Site means we have to be extremely careful of our surroundings and the manner in which we build, keeping the area clean and orderly, while keeping to a tight schedule.
Our plan was, to convert Jacana to 100% solar power, which meant putting in a new solar array, new inverter and battery room, a silent back-up generator and a small fuel tank. We also committed to installing an above-ground sewage plant, which will convert all inflow into clean, healthy water to be able to return to the water table.
Further plans included a new office for the Jacana team, a small covered eating deck for staff, a new cool room to store veggies and fruit in a more energy-efficient way, and a new and advanced main kitchen. The new main area has a floating fire deck, a pool and jetty area, and all the guest rooms are bigger; each also has an inside and outside shower, and a luxurious outside bath. To be honest, at the end of January, I was wishing I was Phileas Fogg circumnavigating the world, as our task seemed far more impossible and daunting than his!Our small team pushed hard, and at one stage we were all adamant that the universe was conspiring against us… each day felt more challenging than the last. 
---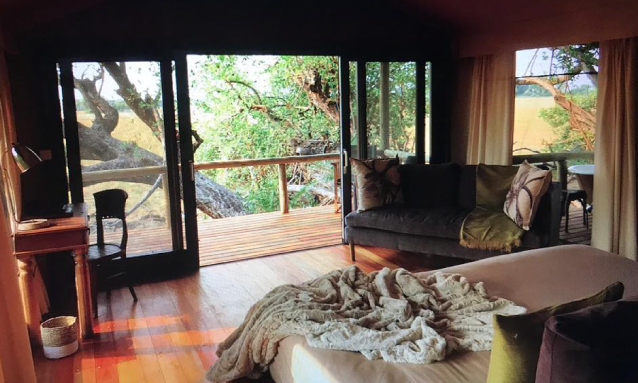 Jacana has always been unique, set around two little islands, like lily pads floating in a big floodplain, and a bigger island, consisting of thick palm growth with very large and old fig, mangosteen, marula and jackalberry trees, all coupled with breathtaking views of the floodplains and Delta. And even with water levels lower than usual at the moment, the camp still provides amazing views of the floodplains with lechwe, kudu, wattled crane, impala, and sometimes even lion.
---
In February, four new male lions came to visit, and observe our progress. And then, towards the end of the month, we had a visit from the two dominant male lions from Hunda Island to our west – were they too checking to see how our new camp was coming along? During this time, the wattled cranes around the camp became accustomed to the team. So when we began work on the floating fire deck they did not even flinch, despite our very close proximity to them. March rolled in faster than we hoped, but we were on track… just, we had our heads down for every minute of every hour, and only had 30 days left! The days were very hot, so the wildlife and birds seemed to hide in the shade from 9 am to about 4 pm – apart from our resident snake population!
The first areas completed were the kitchen and storerooms. These were inspected by both human and wildlife. Our resident troop of vervet monkeys came to investigate ways to steal from the kitchen, but we had outsmarted them and planned for their cunning ways. We are pleased to say that the new flyscreens are both monkey- and insect-proof. Our solar plant was the next addition to be completed, followed by the rooms, the office, cool room and deck. The completion of the rooms brought the most excitement, and we could not wait to begin our staff training and orientation.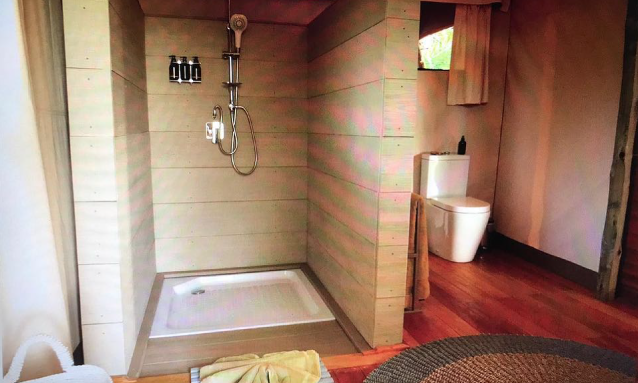 With the rooms completed, we could now focus on the massive task of erecting the main area. A two-storey building with a mezzanine level, the bottom floor has an open-plan lounge flowing onto the main deck, which links to the pool, jetty and new fire deck. The curio shop is on the bottom floor facing an open lounge area. The mezzanine level houses our bar, which leads upstairs to an open-plan dining room and lounge with large folding stack doors that overlook the floodplain.
By this stage in the build, Phileas Fogg could see his final destination. In our case some parts of the main area were still either a concept drawing or a dream. We also needed to make sure we would open in time before the annual inundation arrived – the pressure was on…
Piece by piece the build came together, lions roared every night and tracks showed that they were now doing daily inspections, and our wattled cranes were moving closer and closer as were the kudu and lechwe, all as if they knew something special was coming together.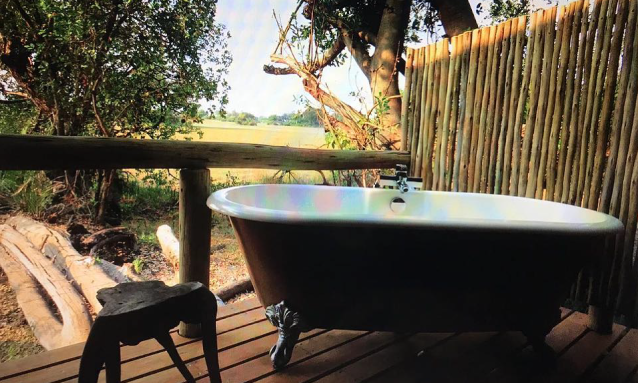 On 28 March all rooms and surrounding structures, apart from the top floor and arch frames, were in place and all we needed was one last push to get it done.
Then on 31 March, in the late afternoon, we all stood back on the floodplain. As day 79 came to a close with our two visiting lions roaring, our wattled cranes beside us, and the sun setting, we looked around and realised that we were ready. I have no doubt that this beautiful camp will leave a special imprint on the hearts of all those lucky enough to visit. As the sun set, I looked up from the main area and there, crossing the sun's silhouette, I could swear that I saw a hot air balloon floating over Jacana with Mr Fogg nodding his approval at our 'impossible' task, that, just like his, was achieved in a mere 80 days.
Source: wilderness-safaris.com
Imagery courtesy of The Jao Reserve