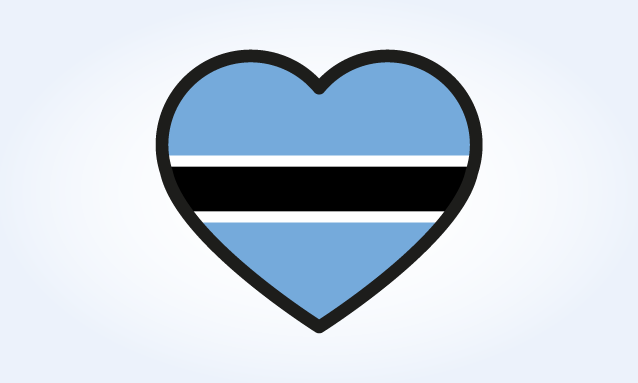 Botswana is a magnet for tourists who are looking for relaxation, natural beauty and rich memories of Africa. We have our own reasons as to why we love Botswana so much and here are our top 5.
Elephants
We're big fans of the largest land mammal in the world. We just can't get enough of these incredible animals and seeing them in their natural environments. If you love Elephants, Botswana has to be on your bucket list!
Why? Because Botswana is where you will find the densest population of Elephants in the world! You're sure to have some of the best elephant sightings ever in beautiful Botswana.
Makgadikgadi Salt Pans
Who doesn't use salt in their lives? Exactly! It's been making food tasty your whole life. The good thing about the Makgadikgadi Salt Pans is that you don't even need to be crazy about salt to enjoy it. 
Why? Because it's one of the biggest salt pans in the whole world! It was once a lake the size of Swaziland but has since dried up and become the massive salt pan that it is today. It's not all just salt though. You can head to the Makgadikgadi Pans Game Reserve and enjoy view huge migrations of wildebeest and zebra too.
Clear Your Head
There's something special about being out in nature and away from the hustle and bustle of city life. Sometimes taking a break from people can be just what you need the most. Luckily, Botswana has all the space you could ever ask for! With a population of just over 2 million and a huge country that's mainly wild, Botswana has one of the lowest population densities in the world!
Shine Bright
We've always thought Botswana was a gem of a country, but did you know that it's the world's largest diamond producer in terms of value? That's right. In the whole world! The largest diamond mine in the country produces 11 million carats a year at an average price of $145 per carat. It's estimated that that mine around $1.6 billion in 2013! The mines are vital to the local economy and provide jobs for the local people.
Okavango Delta
You can't talk about Botswana without mentioning the world-famous Okavango Delta! It's been declared as one of the 7 natural wonders of Africa and is a UNESCO World Heritage Site. The delta attracts tourists from all over the globe because of its natural beauty, density of wildlife and iconic dugout canoe safaris. 
See all the best that Africa has to offer from a traditional canoe for a once in a lifetime experience… unless you go twice.
Source: clhg.com