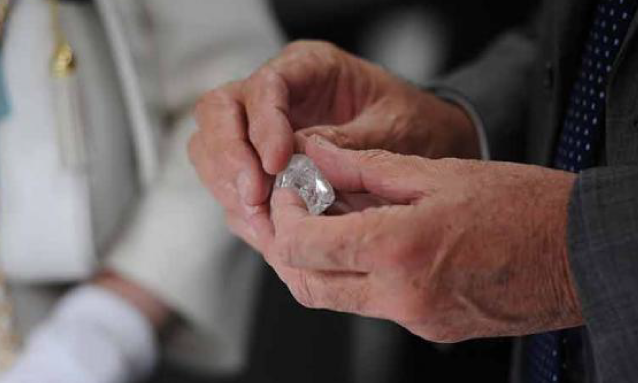 TSX-V-listed Tsodilo Resources says its BK16 kimberlite project in Botswana's Orapa kimberlite field is well placed to enter the market once the mine is established.
---
In a presentation published by the company this week, Tsodilo stated that BK16 was already showing similarities to Lucara Diamond Corp's Karowe diamond mine in Botswana, as well as Petra Diamonds' Koffiefontein mine, in South Africa's Free State; BlueRock Diamonds' Kareevlei mine, in South Africa's Northern Cape; and Lucapa Diamond Company's Mothae mine, in Lesotho.
---
BK16 is one of 85 known kimberlites in Botswana. Tsodilo CEO and chairperson James Bruchs noted in the presentation that the price of higher-quality diamonds is increasing on the back of increased demand, while diamond jewellery demand is also rising. Bruchs added that BK16 was the most prospective of the kimberlites currently being evaluated in the Orapa kimberlite field.
The project is currently in a sampling and testwork phase, with a 15 000 t to 25 000 t bulk sampling programme planned either as a new surface dug sample (boxcut) or an extension of tunnels away from dilution zones, to get a better indication of the real grades.
Following the testwork, the company will get to work on a feasibility study that includes full engineering studies and the definition of mining parameters. Interlaced consultant Stephen Coward said in the presentation that the process of sample acquisition and processing to recover diamonds is complex and could not be considered an assay, as is the case for many types of metallic mineral sampling.
"This often results in material differences between the raw and diluted recovered grade from a set of samples and the true in situ grade of the target," he said.
Coward did confirm that the BK16 deposit has the potential to host a coarse size diamond distribution, with the potential to contain high-value diamonds. Tsodilo completed 3 665 m of orebody delineation drilling in 2015, 3 668 m of pilot hole core drilling in 2017 and 3 120 m large diameter drilling to date.
Historical work on the project stopped in 2008 owing to the grade being considered too low, although Bruchs said it was under-sampled at the time, the global economic crisis and funding not being available. De Beers initially discovered the deposit and defined a grade of 1.4 carats per hundred tonnes in the 1960s.
Source: miniwgweekely.com