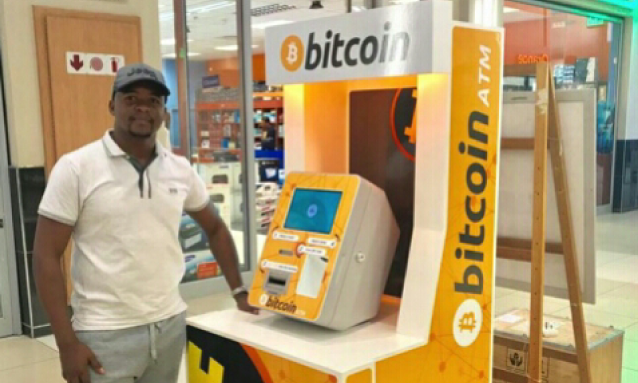 Express Minds Limited, one of the elite and leading startups in Africa, has launched a BATM (Bitcoin Automated Teller Machine) in the heart of Botswana's capital Gaborone. This brings to ten the total number of such automated teller machines in Africa. In case you are wondering how it works, it is vital to know that the fiat-to-cryptocurrencies machine is designed to allow users to buy bitcoin by simply scanning a QR code that corresponds to their wallet address. Then they will just need to feed fiat currency to the machine and a crypto-equivalent value is assigned to the electronic wallet automatically.
The move is set to drastically and unprecedentedly improve the uptake Of Cryptocurrency.
The ATM is strategically located at the epicentre of one of Gaborone's leading malls –  Airport Junction – to encourage locals to purchase cryptocurrency and then assimilate it to the mainstream economy. And this comes against the backdrop of the complexity and convolution of virtual currency trade having put off a number of prospective investors and users. What's more, transacting without the presence of human mediation may also entice a few customers, especially considering that most exchanges have recently been flagged for dubious/controversial reasons.
Going by the assurances of one of the top directors of Express Minds, BATM can comfortably handle a daily transaction volume limit of around $5,000 (50,000 BWP). At the same time, the new BATM is set to process user information intuitively and discretely, thereby introducing an unprecedented level of trust and convenience to the country's prevailing cryptocurrency purchasing and uptake experience.
"Our aim here is to work continuously and tireless to make it considerably easier for the people of Botswana to access cryptocurrency in a simplified, trustworthy and convenient manner", Brose Watlala, Express Minds Director recently told media sources.
Until now, Botswana did have Cryptocurrency exchange platform. In other words, Batswana could only buy crypto via the numerous exchanges based outside the country. In fact, most businessmen had no choice but to cross the border to neighbouring South Africa to purchase Bitcoin.
Mitigating Regulatory Risk
Although Express Minds has not made it directly clear how long the newly-deployed BATMs will be operational in Botswana, there is a glaring lack of specific regulation governing transactions involving cryptocurrencies. However, in neighbouring Zimbabwe, the government had banned operations and transactions that use virtual/digital money.
That being said, Express Minds is clearly taking advantage of its physical presence to dominate the vastly unexploited cryptocurrency market in Botswana. It's doing this by changing the negative mindset that enshrouds locals whenever digital money is mentioned. It is to be noted that virtual currencies are not exactly the most enticing technological invention in Africa at the moment.
Source: bitcoinexchangeguide.com
Image source: Bitcoin News