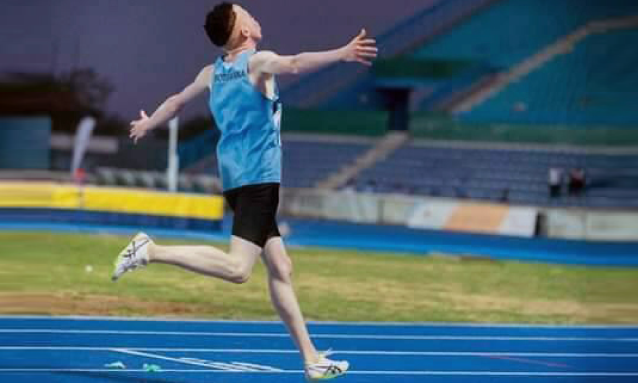 Nobody can dispute the resilience and commitment with which Batswana athletes continue to represent the country with pride year in, year out. It is truly gratifying to observe that Botswana appears to have no end of talent in that area as we continue to witness more emerging stars. 
One such athlete is 19-year-old Edwin Masuge, who has quietly carved out a name for himself in the T13 races. Masuge, a Moshupa lad who has caught the eye of many adoring fans, is currently preparing for the South African Championships. The 400m hopeful recently said in an interview with BOPA that he fell in love with athletics very early; at Matsieng Primary School in Mochudi in 2015.
Tiger, as he is affectionately known to his growing army of dedicated fans, wasn't always successful! He didn't do very well in the very first competition he participated in, the Botswana Primary School Sports Association (BOPSSA). Ever the spirited athlete, he wasn't going to stay down for long because that very year, rather than wallow in self-pity, he picked himself up to compete in the 100m, 200m, and 400m T13 categories of the Botswana Games. 
His tenacity paid off, as he scooped silver medals in the 100m and 400m races as well as a bronze medal in the 200m.
"In 2016, I was also part of the team that travelled to Angola for the Region 5 Games," he said.
While he didn't fare very well in the Region 5 Games, Tiger's confidence wasn't dented as he subsequently snatched gold in the 100m, 200m and 400m races at the Botswana Games in 2017. Last year he dazzled at the annual South African championships, scooping silver medals in both the 200m and 400m races.
"From there, I did not look back, as I trained hard because we were preparing for the Region 5 Games, which were held in December in Gaborone. I knew I would be in front of many supporters on home soil, so that gave me the upper hand. I was able to clinch gold in both 200m and 400m as well as silver in 100m," said Masuge.
Masuge, who is inspired by his coach said his aim is to qualify for the 2020 Tokyo Olympics.
"Also, my training partner, Bose Mokgwathi is my school mate and pushes me to do better and together with my coach, they are my pillars of strength," he said.
Understandably, he said another one of role models is the current Commonwealth 400m gold medalist, Isaac Makwala.
Reference: BOPA