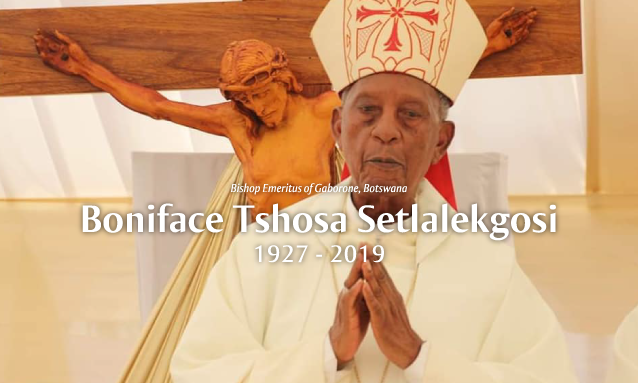 Reverend Boniface Setlalekgosi passed away on 25 January 2019 aged 91. 
The much-respected clergyman made history when he became Botswana's first Bishop and only the second Bishop of the Roman Catholic Church in Botswana.  Bishop Setlalekgosi succeeded Bishop Urban Murphy, who died in February of 1981.
Born in Serowe on 14 September 1927, Bishop Setlalekgosi was residing at his retirement home at Kgale Siding at the time of his passing. Setlalekgosi was ordained in 1963 at the age of 35, prior to becoming the first Motswana Bishop.
Sir Ketumile Masire was often quoted praising the Bishop as a great man whose calling was signified by discipline, dedication, devotion and determination.
Setlalekgosi is one of the founders of Setlalekgosi Junior Secondary School in Francistown.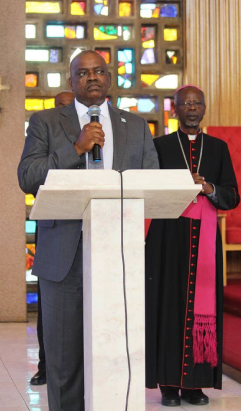 President Masisi honours Setlalekgosi
On Thursday, HE Dr Mokgweetsi Masisi joined scores of mourners to pay homage to His Lordship the Rt. Rev. Bishop Emeritus Boniface Tshosa Setlalekgosi at Christ the King Cathedral Church in Gaborone.  Setlalekgosi's body was lying in state at the Cathedral until Friday morning, at which point he was laid to rest in a private ceremony.
The President said Bishop Setlalekgosi was a hero in championing the word and works of Christ and that his devotion to Catholicism was unmatched.
"May his soul rest in peace as I, my family and this entire nation of Botswana express our sincere condolences and best wishes for his soul to rest eternally in peace," President Masisi said.
President Masisi was accompanied by Minister for Presidential Affairs, Governance and Public Administration, Nonofho Molefhi among other ministers and other senior government officials.
Bishop Setlalekgosi leaves a legacy that will be used to judge the surviving priests of the Roman Catholic Church in Botswana – Parish Priest of Serowe Roman Catholic Church, Father Sylvester Kaemana 
In paying his respects to Bishop Setlalekgosi, Father Sylvester Kaemana – Parish Priest of Serowe Roman Catholic Church – wasn't convinced he'd be able to fill Bishop Setlalekgosi's rather large boots.
"Obviously people will gauge my input and that of other priests against his stellar performance'.

"Right now I'm pondering if we will manage to sacrifice for the church as he did."
Priest Kaemana fondly remembered that wherever Bishop Setlalekgosi went, especially to the poor communities, people felt protected in his presence. Despite the church not condoning the principles of democracy, Priest Kaemana said Bishop Setlalekgosi, a humble and selfless man of God, valued consultation and extended it to those he led. So committed to growing the church was Bishop Setlalekgosi that even when he was poorly he was an active priest.
Priest Kaemana described his mentor as a simple man who rejected a luxurious lifestyle, because all he ever wanted was to grow the church. A dedicated servant of God, Bishop Setlalekgosi is said to have mobilised Catholics to stand firm against legalising abortion when calls were made to support its legalisation.
Bishop Setlalekgosi was born in Goo-Tshosa, Serowe on September 14, 1927 and grew up in Mookane. He was ordained a priest on July 22, 1963 and appointed Bishop of Gaborone on November 30, 1981. He retired as Gaborone Bishop on February 5, 2009. He died Bishop Emeritus of Gaborone on January 25, 2019 and buried at Christ the King Cathedral in Gaborone on February 1, 2019. May his soul rest in peace.
Reference: BOPA , The Monitor