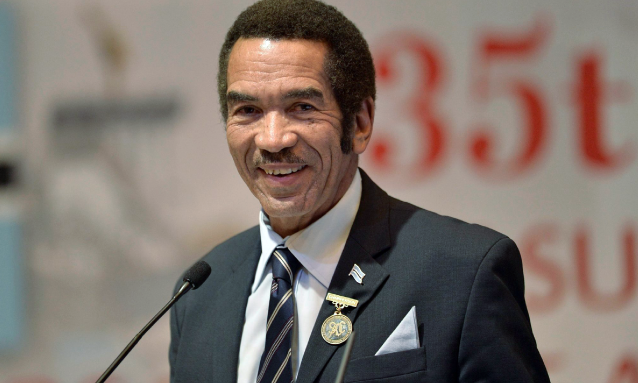 Botswana's former president, Ian Khama has said that the frosty relationship between him and his successor Mokgweetsi Masisi is not good for the country, APA learned Tuesday.
"Mr Masisi is no longer the person I used to know before I stepped down in April last year. I don't know whether there are some people who are trying to draw a wedge between us," Khama told local publication Argus Online on Tuesday.

He added: "Ruling party elders came to me asking (sic) me that they intend to arrange for a meeting where we could reconcile and I told them that Mr Masisi does not need that. He has to just pick up a phone and call me to come to see him."
Khama further stated;
"our strenuous relationship is not good for the ruling party and the country. I wish there was a way I could address this."
According to Khama, Masisi has reversed some of the programmes and policies that he supported while he was his vice president, suggesting that this amounts to a betrayal. On an unrelated issue, Khama condemned the manner in which former Director of Intelligence and Security, Isaac Kgosi was arrested by the very same organisation that he led for the past decade.
"You cannot arrest someone at the airport in front of his family and foreign dignitaries and the media," he said.
Kgosi is facing corruption charges.
Meantime… Khama rubbishes Botswana coup theory
Khama on Tuesday dismissed as baseless local media reports that his successor President Mokgweetsi Masisi last year foiled an Israeli-sponsored coup against him. He told a local publication, Argus Online, that since gaining independence from Britain 52 years ago Botswana has never had the word 'coup' in its vocabulary.
"We have a reputation that I and those who ruled the country before me built. So we have to protect that. I would never in my life support a coup. In fact, I put my head on the block that Botswana will never experience a coup," he said.
Khama said a coup is normally carried out by the military and for the local media to suggest that Masisi foiled an Israel sponsored coup is to undermine the loyalty and patriotism of the Botswana Defence Force.
"Do you think our military would just sit back and fold their arms if such a thing were to happen. Whoever suggested that there was a foiled coup is talking nonsense," said Khama.
According to the Sunday Standard newspaper, Israel attempted to back a coup aimed at ousting Masisi in an effort to protect its interest. Israel has been benefiting from Botswana's procurement of intelligence and military goods as well as diamonds.
The current administration seems to have changed the status quo, Sunday Standard reported.
Source: journalducameroun.com
Image source: Global POST Newspaper- the world revealed Facebook page