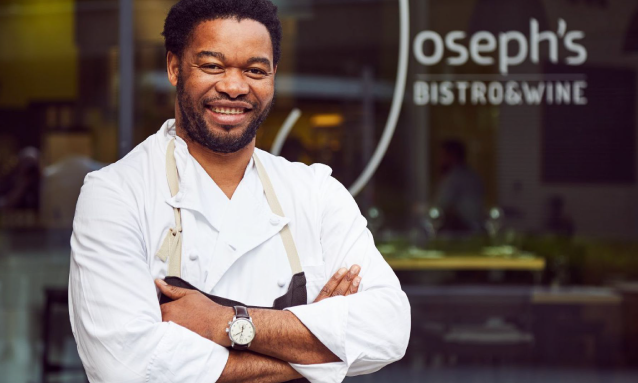 Joseph Seeletso is Botswana's Polish-based celebrity chef, who is also the first black professional TV chef in Poland. A Seepapitso Senior graduate, Joseph worked for a bank in Jwaneng and volunteered at Mokala Lodge for 18 months to gain experience. Thereafter, he went onto Sheraton hotel for a year, from where he was fired.
"I had character and stood out. I didn't take kindly to nasty treatment and was never afraid to speak my mind. Though I did not have a job lined up, I knew I was going places."
A chef in the making – Joseph's earlier days
Joseph's father was a hotel chef based in Gaborone. His childhood memories include the traditional British steak, Sunday roast and Yorkshire pudding. This obviously fused with the traditional local African food in the countryside, at his grandparents' house. There they grew watermelons, maize, marrows, pumpkins, beans and raised cattle on a small farm. He tried the wild berries and sampled the various tastes, from the sweet to the bitter. One of his early duties was to milk the goats.  Because of his aunts' love of local traditions, goat milk was added to tea and bread traditionally baked over the coals. That was to set the tone for his career path and feed his thirst for all things culinary.
Over the years, Joseph has cooked for international celebrities such as the late King of Pop, Michael Jackson, Jean Claude Van Damme, business magnate, Bill Gates and HM King Carl XVI Gustaf of Sweden. He is currently the brand ambassador of Siemens and Uncle Ben's Rice in Poland.
Becoming a professional chef and marriage 
Joseph moved to London and enrolled at the prestigious Westminster College, where he worked towards becoming a professional chef.
"A chef should be universal, creative in his approach to work and should have an open mind and good communication skills to talk to his guests".
It is while in England that Joseph met his Polish wife, Karolina.  Once married, the young couple moved back to Krakow, where his life got even more interesting.  Joseph was confronted by a new culture, language and people – musicians and society connected with Teatr Stary and Piwnica pod Baranami.  He worked at various restaurants such as the Metropolitan and Balzac.
The couple then moved to Botswana briefly, where they worked at the luxury Phakalane Golf Estate Hotel Resort. While on the continent, they travel across South Africa and met various winery owners. This is how Joseph came to realise that it requires time and willingness to develop the sense of taste in order to recognise the grape varieties, regions of wine origin, the meaning of the colour and to be able to determine the age.
Following their time in Africa, the couple moved back to Warsaw, Poland. 
It is around that time that Joseph's TV career also took off as he started working for TVN channel and VP2 channel. 
Watch Joseph Seeletso preparing a Botswana traditional food; seswaa and diphaphatha pre-snack for New Year's eve on TVP2 Morning live show in Warsaw Poland.
The man behind the chef – in his own words
Favourite food
Being home affords me the chance of indulging in my favourites such as bogobe jwa mabele (sorghum porridge) with yoghurt but preferably with madila (sour milk) and simple Setswana dishes. You can't go wrong with those.
On living in Poland for over a decade
Initially living in Poland was not easy. There are few black folks in Poland and there was a language barrier. It was a challenge but my wife and in-laws are wonderful and extremely supportive. They were a great help and continue to be a pillar of strength for my family.
It was also my drive to establish myself and I put in the work.
Similarities between Botswana and Poland
Batswana have a deep sense of culture and are guided by tradition. This also mirrors the Polish way of life. Botho is truly a universal language. People are kind, hardworking and genuinely believe in the upliftment of others. Poland is a Catholic country and I am Catholic, so that is comforting and connects the citizens.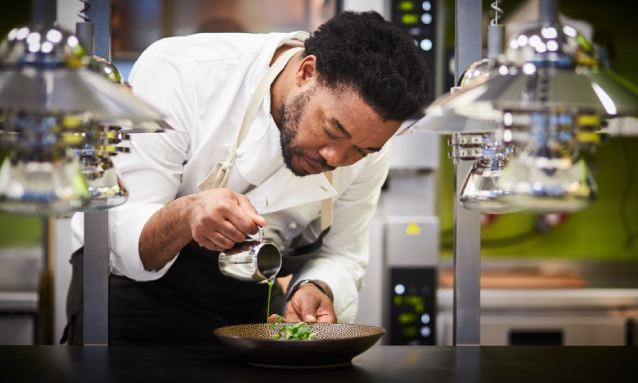 On his career highlights so far
Oh man, I have had quite a ride. My engagement at embassies has been fulfilling.
I have cooked for some very important people who gave positive feedback of my work including King Carl Gustav and Queen Silvia of Sweden. A state banquet in Tokyo, Japan where we prepared a 4 -course meal for 240 people was also very fulfilling.
Hosting a live cook show on television (TV chef) and getting recognition from the entire country is surreal. Though it was intimidating at first, I no longer felt like an outsider.
I was also on CNN promoting polish cuisine (ambassadorial role), which was exposure for me and of course, also showed that Poland was an inclusive society.
Reference: TheVoice (Oct 2016)
Image sources: dobrzemieszkaj.pl / Dobrze mieszkaj