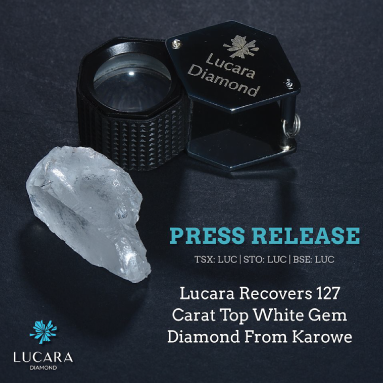 Lucara Diamond Corp. said Thursday January 10 that it has recovered a 127-carat top-white gem diamond from its 100%-owned Karowe diamond mine in Botswana.
Since mining began at Karowe in 2012, a total of 129 diamonds in excess of 100 carats have been recovered, 33 in 2018 alone. That tally includes 12 diamonds larger than 300 carats in size, of which five were recovered in 2018. 
In addition, Lucara has sold 180 diamonds worth over $1 million each and 10 diamonds have been sold for in excess of $10 million each.
Shares of Lucara Diamond soared in November 2015, after the Vancouver-based company said it had recovered a 1,111-carat, gem quality stone, named the Lesedi La Rona or "Our Light."
The stone was described at the time as being only slightly smaller than a tennis ball and the largest ever to be recovered from Botswana. It ranked as the second largest gem quality stone to be recovered in the past 100 years.
"The recovery of the latest, high-value, top white 127-carat diamond attests to the remarkable nature of the Karowe orebody, which has consistently delivered large, high-value diamonds throughout its history," said Lucara CEO  Eira Thomas.
Lucara shares advanced on the news, rising 1.27% or $0.02 to $1.59 on Thursday. The stock is trading in a 52-week range of $2.84 and $1.38. Thomas  said 2018 was a banner year, having recovered a record number of specials (diamonds over 10.8 carats in size) and, in 2019, mining will be largely focused on the high-value south lobe, including contributions from the newly refined EMPKS unit, now understood to be the source of both the historic Lesedi la Rona and the 813-carat Constellation, which sold for a record US$63.1 million.
The current mine plan is based on probable reserves from surface to a depth of 324 metres.
The Karowe diamond mine currently boasts open-pit reserves of 2.6 million carats extending out to 2026 and is in the process of completing a feasibility study that could expand mining underground to 2036 and beyond, Thomas said.
Lucara is a member of the Lundin group of companies. 
"At Lucara we produce close to half of all the diamonds weighing over 100 carats in the world," said Chairman Lukas Lundin has said. "We should definitely see more (large stones) come out," he said.
Karowe was expected to produce 325,000 to 350,000 carats, generating revenue of up to $190 million in 2018. The diamonds are sold through regularly scheduled tenders throughout the year. Karowe is a state-of-the-art operation, consisting of an open pit mine, crushers, AG mill and XRT, DMS and XRF recovery plant.
Source: resourceworld.com